While planning my Silversea Expeditions cruise to the Gálapagos Islands, I knew I couldn't fly all the way to Ecuador without visiting Peru – its next door neighbor! Machu Picchu has been on my bucket list for as long as I can remember and I did not want to leave South America without seeing it. Silversea offers fabulous Pre-Cruise packages and I found one that was perfect for everything I wanted to see: Machu Picchu Grande Explorer.
This luxurious experience offers you a chance to indulge your senses with the scenic splendor and unique history of Peru. In 5 days, we explored Lima, Cusco, and Machu Picchu and enjoyed elegant hotels and transportation. An absolute highlight for me was taking the legendary Hiram Bingham train for a picturesque train ride to Machu Picchu. I felt the value was really impressive with all the inclusions such as 4 nights in five-star hotels, 2 flights, 2 train rides, a guided tour of Machu Picchu, transfers between airports and hotels, as well as daily breakfast, 1 brunch, 3 lunches and 1 dinner.
DAY 1: Lima -> Cusco
This adventures departs from Lima so I flew there from the U.S. a couple days before to explore this beautiful capital city and recover from any jet lag.
Lima is one of the largest cities in South America, so it's absolutely vibrant and bustling. I found the colonial center to be very well preserved and charming to walk through. Plaza de Armas is Lima's main square and home to the Cathedral of Lima which dates back to the 1600s. Along with amazing history and architecture, there are so many markets to explore. If you're wanting to buy handcrafted souvenirs to take home, I'd recommend the Inca Market. But if you're a foodie, like me, Surquillo Market offers incredible produce and Peruvian specialities to try.
On the day of our flight to Cusco, we were transferred to the airport and boarded a 90-minute direct flight to Cusco. If you fly on a clear day, you can enjoy the impressive views of the Andes on your journey over so make sure to book a window seat just incase! 
We arrived in Cusco at night which is probably a good thing because you do not want a day of busy exploring on your first full day. Why? You need to give yourself time to acclimate and adjust to the change in altitude. They suggested to not drink alcohol the first day either. Instead, they provided coca tea which is a local remedy. Our luxury accommodation for the night was at the Belmond Monasterio Hotel. This former monastery has been in the heart of the city for centuries. I really enjoyed the central location, as well as the mix of old world charm and contemporary amenities. 
DAY 2: Cusco -> Machu Picchu
Our first full day was such an exciting one! We departed our hotel early in the morning and boarded the famous Belmond Hiram Bingham luxury train. I was beyond thrilled to be taking a once in a lifetime train journey to a once in a lifetime destination: Machu Picchu. The trip takes about three hours which gave us plenty of time to admire and take in the wonderful 1920s interiors. The service is also five-star and we were served a delicious lunch on board. I could've spent all day admiring the spectacular scenery of the Urubamba Valley from my window seat, or from the Observation Car. However, we had some epic hiking to do!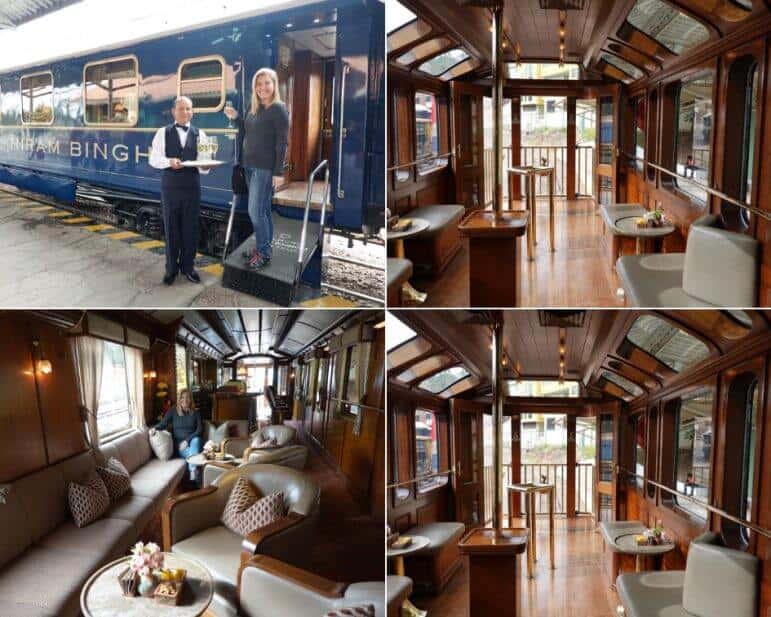 Before I knew it, we were pulling into the Aguas Calientes station at the foot of Machu Picchu. From here, we took a 25-minute bus ride through a winding road to 'the Lost City of the Incas', arriving around 1:00 PM. Around this time, many tourists are already on their way back to the train station so it wasn't very crowded!
The setting of the ruins amongst green mountain peaks is an absolutely unforgettable sight. Silversea Expeditions provided us with a fantastic tour guide who took us on a stroll through the impressive Citadel. The Lost City of the Incas feels like a magical place, and I could almost feel its pulse while visualizing the lives of all the people who lived in this incredible site. We learned that excavations have only added to the mystery, revealing the skeletons of 173 people along with the artifacts and woolen clothing, though no gold.
After an amazing afternoon, we relaxed with afternoon tea at the Belmond Machu Picchu Sanctuary Lodge. This is the only hotel located within the very grounds of the Machu Picchu Sanctuary. Lucky for us, this was our home for the night where we enjoyed dinner as well! 
DAY 3: Machu Picchu -> Cusco
After an early-morning breakfast at the lodge, we had a wonderful opportunity to witness an incomparable sight: the sun rising over Machu Picchu. Thanks to the amazing location of our hotel, we enjoyed special time in the morning to enjoy the citadel with very few other visitors around.
Today we enjoyed an ample amount of time at the ruins, getting to explore on our own and take millions of photos! Afterwards, we enjoyed lunch at the lodge before departing for the train station where we boarded the Vistadome Train. We enjoyed another picturesque ride for about an hour and a half and arrived at the Ollantaytambo train station. We then were transferred back to the historic Belmond Monasterio Hotel where we savored one more night there.
DAY 4: Cusco -> Lima
After a wonderful night's sleep, we started our day with a delicious breakfast at the hotel and then boarded the coach for a city tour of Cusco! This tour included a visit to the Koricancha, also known as "The Temple of the Sun". This was the most important temple in the Inca Empire, and used to be covered in gold leaf and filled with golden images.
We also explored the main square, Plaza de Armas, where the magnificent 16th-century cathedral is also located. We admired the architecture, inside they have a unique rendition of The Last Supper painting.
Before departing for Lima, we stopped at a local restaurant for lunch.  After a delicious meal, we were transferred to the Cusco Airport and flew back to Lima. Our home away from home in Lima was another fabulous five-star hotel in the center of the city: Belmond Miraflores Park Hotel.
DAY 5: Lima -> Gálapagos Islands Silversea Cruise
I had already explored a lot of Lima earlier in the week so on this day, I enjoyed a leisurely breakfast at the hotel before arriving at the airport to begin my incredible Gálapagos Islands cruise with Silversea! 
Just like their cruises, Silversea Expeditions provides luxurious and fascinating pre and post cruise adventures. I enjoyed being so well looked after and it certainly started my trip off the right way!
Pin This!