The Galapagos is a collection of beautiful volcanic islands located to the west of Ecuador. It is one of the best destinations in the entire world for wildlife-viewing. In fact, when Charles Darwin visited in 1835, his observation of Galapagos' species inspired his theory of evolution. It is also one of the first sites in the world to be designated a Natural World Heritage Site which, thankfully, helps ensure the preservation of the islands. For these reasons and more, a trip to the Galapagos Islands had been high on my bucket list for quite some time!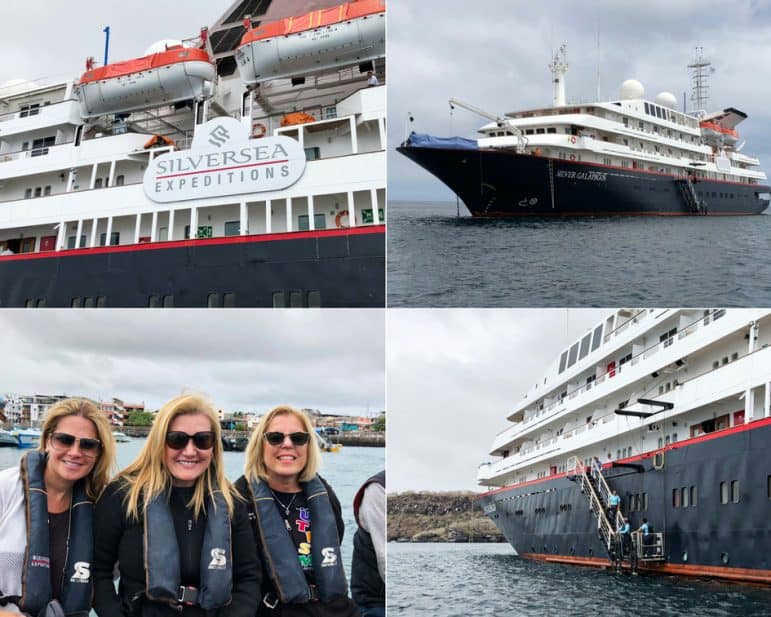 I knew I wanted to explore as much as I possibly could of this unique part of the world and the best way to do so is on a cruise! Silversea offers everything I could possibly want with their all-inclusive ultra-luxury cruises. When they say all-inclusive, they mean it! This includes plush accommodation, fine dining, seamless shore excursions, fascinating lectures and more. I was also so pleased to learn that their Silver Galapagos is their smallest ship with just 100 guests. This provided us with such an elegant and intimate lifestyle on board where quality was valued over quantity. Even with only 100 guests, there are 75 crew on board who provided absolutely five-star personal service. It is no wonder that Silversea came out on top in the 2018 Cruise Critic Cruisers' Choice Awards with Best Overall Ship, Best Shore Excursions, and Best Value!
After a short ride on the zodiac we arrived on the ship which was offshore.  We walked up the stairs and were greeted by the crew in the Explorer Lounge.  After welcome drinks, we went to the reception area, where we were given our room key and introduced to our butler who directed us to our suite.
My Accommodations on the Silver Galapagos
I chose an Explorer Suite on board the Silver Galapagos as my home-away-from-home for 7 nights as we sailed from San Cristobal to Baltra. Like all the rooms on board, my suite offered a comfortable living space with a convertible sofa bed, writing desk, and amenities such as a mini-bar, flat screen TV, radio alarm with iPod docking station and unlimited standard WiFi. Although bathrooms can be small onboard cruise ships, I enjoyed my marbled bathroom with local toiletries. It had everything I could ask for, especially with the vanity table and hair dryer. My queen-sized bed was also extremely comfortable and I enjoyed climbing into it after my fun-filled days of exploration.
I had a nice bottle of champagne waiting for me in my room, along with some chocolate candy, and a fruit bowl.
Dining Onboard Silver Galapagos
Lucky for us, the Silver Galapagos offers two delicious places to eat on board: The Grill and The Restaurant. The Grill is a more casual affair where guests can enjoy a healthy and fun way of dining.
In the evenings The Grill features lava stone cooking at its finest, sourced from volcanic rock and placed in an oven to reach an optimum temperature of 400˚C. You can even cook your food directly at the table if you wish in the evenings! You simply place your meat, fish, or veggies on top of the grill stone or inside the soup bowl and cook to your hearts desire.
We were very lucky that the evening we dined at The Grill Restaurant we got to see the Sierra Negra Volcano on Isabela island erupting from a distance.  It was quite the site to see and truly a memorable experience!
Lunch each day at The Grill was a highlight, offering a different grilled fish, rotisseries, as well as pasta, gourmet salad and a burger bar. The quality of meat was incredible.  There was also ceviche, and a Chef's station, featuring an Ecuadorian specialty every day.
I also enjoyed gathering here for cocktails some evenings to admire the sunset and discuss the day's exciting events with my fellow passengers.
The Restaurant is the ship's main dining room with sweeping ocean views and a more upscale atmosphere. We enjoyed several dinners here and had a variety of international selections to choose from. I appreciated that the chefs would always include a choice of local Ecuadorean specialties as well.
One of the benefits of having your own butler onboard is that you can order room service and have them bring it to you.  We decided to take advantage of the beautiful weather and scenery and enjoyed having lunch right outside the piano bar balcony.
The Silver Galapagos Ship
With recent renovations in 2017, the Silver Galapagos has so much to offer in terms of luxury experiences and amenities on board. I found myself enjoying the Jacuzzi quite often as a way to unwind in the afternoons on the sun deck. The temperatures were cooler so the warm bubbling water was very much appreciated!
If you have more energy to burn off, their Fitness Centre offers world-class equipment, as well as classes and personalized services. While you exercise, you can enjoy panoramic sea views.
I frequented the beauty salon and massage room on board as a way to indulge and treat myself, as you should on vacation! The Beauty Salon offers a range of salon services for both men and women which include hairstyling, manicures, and pedicures. I do recommend booking in advance as it can fill up quickly, with only one person working the spa.  I loved being able to maintain a fresh look throughout my cruise experience. The Massage Room was the perfect escape after an energetic day ashore. They offer soothing treatments which focus on spiritual and physical renewal.  I had a swedish massage which made me feel very relaxed afterwards.  Unfortunately, the spa does not offer facials.
For those bookworms on board, or for anyone who enjoys some peace and quiet, the Library is the perfect spot. Here you can browse through the ship's extensive selection of hardcover books, magazines, newspapers and more. You'll discover everything from contemporary literature to the classics. I particularly enjoyed the natural science books as well as the maps and charts of the Galápagos which gives so much detail into the sprawling 36,000 square miles of islands.
If you want to learn more about this remarkable archipelago, the Explorer Lounge hosts informative lectures, recaps, and briefings with views of the island as your backdrop. I really loved being able to learn as much as possible about the places I was exploring in the Galápagos. It really enriched my overall experience and helped me form a deeper connection to this part of the world. Along with their sophisticated AV system, there's also a photography station with an iMac where guests can download and edit their photos while on board. This is a great option for anyone who decided not to bring their laptop with them!
Last but certainly not least is the Piano Bar where I enjoyed many nights of meeting and mingling fellow travelers and expedition leaders. You can enjoy delicious cocktails here, along with beautiful music from their resident pianist. The bartenders here are top-notch and quickly learn everyone's favorite drink. Along with impressive mixology, guests can also visit the Piano Bar during the day for afternoon tea as well.
The Excursions on the Silver Galapagos
Zodiac adventures, searching for wild-life, snorkeling and hiking are just a few of the excursions that you can enjoy with Silver Galapagos! As this cruise is all-inclusive, there's no added charges for these activities which makes things hassle-free. The beautiful sights I discovered in the Galápagos will be included in my next post as  there are just so many to share!
Thanks to the quality of activities, attentive service, and luxury surroundings with Silversea Expeditions, my dream trip to the Galapagos Islands turned into a beautiful reality. I experienced and learned more than I could ever have imagined and I would recommend the Silver Galapagos to anyone who wants to splurge on a trip of a lifetime!
Pin This!