Whether you are looking for a romantic escape or a Florida family vacation, Acqualina Resort & Spa on the Beach will create your dream holiday. This Sunny Isles Beach hotel combines old-world charm and exquisite service for an experience that lingers long after the waves and sand are behind you.
Miami Beach means a lot of things – white-sand beaches, a shopper's paradise, fine dining, world-class golf – but what if you could enjoy it all from a Mediterranean villa while watching the sunset from your private terrace? That and more is what you receive at the Acqualina Resort on beautiful Sunny Isle Beach, where the attentive staff pampers every guest and the accommodations are as luxurious as they come.
From the moment you walk in, you are greeted by the most welcoming staff accompanied by a lovely glass of champagne or juice for the kids. With the glasses in hand and our eyes on the glittering, arched ceiling, we knew it was going to be a great stay.
Accommodations
As a family of five, the Two-Bedroom Ocean Front Suite afforded us all the room that we needed and then some. The rooms here were among the largest and most upscale we have experienced in the South Florida area. Our two bedroom suite resembled an upscale apartment rather than a hotel room, with almost 2,500 square feet of space including a full kitchen, a living room, and even a den which converted into an additional bedroom at night.
Upon entering the suite, the first thing you notice is a comfy day bed and a desk. Beyond the desk was a large living room with a big, comfortable couch and two modern oversized chairs. The blankets found on several surfaces were more than welcome: these incredibly soft throws were very much appreciated when the family huddled beneath them to watch a movie.
When we first entered the suite, our attention went right to the bottle of chilled champagne, the tempting chocolate covered strawberries, and a personal note from the staff welcoming us.
There was a full kitchen on the righthand side, complete with granite countertops and new luxury appliances. There was an espresso machine, dining table, and a stocked fridge (instead of a minibar). The freezer was filled with a multitude of miniature pints of ice cream, all different flavors (available for purchase).
The Two Bedroom Oceanfront Suites offer a master bedroom and second bedroom both with king-size beds, The master bedroom gives way to spectacular oceanfront views from the balcony that can be accessed from either the bedroom or living room area, and the second bedroom offers Intracoastal views facing west looking out to Collins Avenue with its own living room area.
The bathroom was enormous. There were his and her sinks, an oversized jacuzzi complete with bath salts and a rubber duckie "since no one should ever bathe alone", and a separate water closet with a bidet. There was a giant rain shower, which also came equipped with a separate nozzle.
Restaurants
Once you work up an appetite, as you're sure to, refuel at one of Acqualina's three oceanfront restaurants: AQ at Aqualina, Il Mulino, and Costa Grills.
AQ at Aqualina 
AQ Restaurant features modern American cuisine in a luxurious setting.The restaurant itself is very beautiful with palatial ceilings and colorful chandeliers. Inside, you will also find seating at an eat-in bar (separate from the main bar for drinks) with oceanfront views due to its elevated location and a walk up counter for dessert and coffee. This counter can be accessed without ever stepping in to the actual restaurant. The picturesque outdoor terrace (perfect for cooler days) is right out of a magazine. Comfortable red cushions dominate the entire outdoor seating area. The whole area is anchored together by a large fountain in the center of the space, and overlooks the hotel pool and beach.
AQ offers one of the most extensive breakfast buffets I have ever had the pleasure to indulge in. A completely phenomenal assortment of fresh fruit, charcuterie, breads, and cheeses stretch from one side of the dining room to the other. There are hot foods, pastries, at least five different kinds of muffins, and spreads ranging from dulce de leche to the ever-popular hazelnut Nutella. And if by some odd stroke of luck something you desire is missing, you can ask for a made-to-order omelet. The selection was superb.
Il Mulino
Il Mulino's classic Italian atmosphere was the perfect wind-down for the evening. We got to have the thrill of dressing up and going out without actually going through the effort of organizing transport and leaving our hotel. This restaurant can be found through a charming side entrance that leads to a wide room with romantic lighting. One of the aspects that set this dining experience apart was quite unexpected; upon being asked by our waiter if we would like some cheese on our pasta (sounds familiar, right?), an enormous block of parmesan larger than our heads was carried out balanced on a plate and was set in front of us before our server expertly shaved bits of it into our respective dishes. Once we had recovered from being presented with the largest piece of cheese we'd ever seen, we enjoyed our food, which was excellent. We even took what we couldn't finish in to-go boxes to be devoured later.
Costa Grill
The oceanfront Costa Grill is the perfect spot to enjoy a beachside lunch or a light snack, or to relax and unwind with a tropical cocktail as the sun sets. This beachfront Miami restaurant serves an array of gourmet cuisine including sandwiches, burgers, wraps and salads that you are welcome to enjoy in your comfiest slacks and flip-flops just a few feet from the ocean.
Pool/ Beach Area

 
There are three pools, one of which is adult only. Red and white cabanas line either side of the pools, providing relief from the sweltering sun as well as a comfy way to repose after being in the water.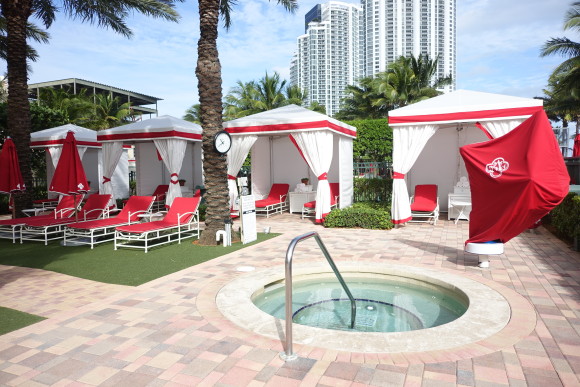 The beach area is very well attended and lined with comfortable sun beds with mattresses, perfectly white clean fluffy towels, umbrellas, and even flags by each seat to attract the attention of waiters and not to forget jugs of ice cold water to keep us all hydrated.
Kids can experience marine biology-based activities through the resort's on-site Acquamarine program for children ages 5 to 12 years old while those with more mature tastes can enjoy poolside reflexology treatments, nearby nightlife, or complimentary chauffeured transportation to the famous Bal Harbour Shops.
After a busy day of hitting the shops at Bal Harbour, it is not uncommon to unwind with a signature body treatment at the renowned European ESPA spa.
ESPA SPA
There is a full service spa where you can relax and indulge in the treats offered, such as a sauna, steam room, and all their other amenities.
The Acqualina is a place where you can tastefully immerse yourself and those you love in sheer elegance and refinement. We left with pleased palates, relaxed shoulders, and sandy toes. This last week was nothing short of perfection.   Stay tuned for a sneak peak inside The Mansions at Acqualina.
Acqualina Resort & Spa on the Beach, 17875 COLLINS AVENUE, SUNNY ISLES BEACH, FL 33160  RESERVATIONS DOMESTIC US & CANADA: 877-312-9742
Disclaimer:  We were guest of Acqualina, and enjoyed very minute of it.  All the opinions here are my own.