The Mediterranean is a wonderful place filled with cobblestone streets, historic buildings, sparkling blue water, along with delicious food and wine. From Split to Sicily, there is just so much to see and do in this incredible part of the world. One of the greatest ways to experience the best of the Mediterranean is by ship, which is why I chose a 13-day Mediterranean Cruise on board the MS Koningsdam with Holland America!
For an impressive 145 years, Holland America has been introducing guests from around the world to new places and new cultures. They understand how a great travel experience can be transformative. Thanks to their carefully crafted itineraries, elegant ship, and five-star hospitality, I savored every moment on our Mediterranean Sea journey.
Ship Overview
The Koningsdam was built in Italy in 2015 and is the largest ship ever constructed by Holland America. It is also the first of their Pinnacle-class ships, and combines 21st century elegance with nautical tradition. I learned that the ship's design inspiration is from music, with its fluid lines, light-filled spaces and innovative dining and entertainment venues.
This ship can hold just over 2,500 guests, but with the incredible amount of space on board, it never felt too crowded. From multiple restaurants, theaters, clubs, casinos, pools, a spa and more, the MS Koningsdam is truly a destination all her own. On our sea days, I looked forward to exploring the ship as much as possible. You will never run out of things to do on board, trust me.
Accommodations
When I'm on a cruise, I love to go to sleep and wake up to the sights and sounds of the ocean. Therefore, a Verandah Suite was the perfect option for our home-away-from home with Holland America.
These staterooms are filled with light thanks to floor-to-ceiling windows which overlook a private verandah. I enjoyed sipping my coffee every morning out on the verandah, watching the world go by.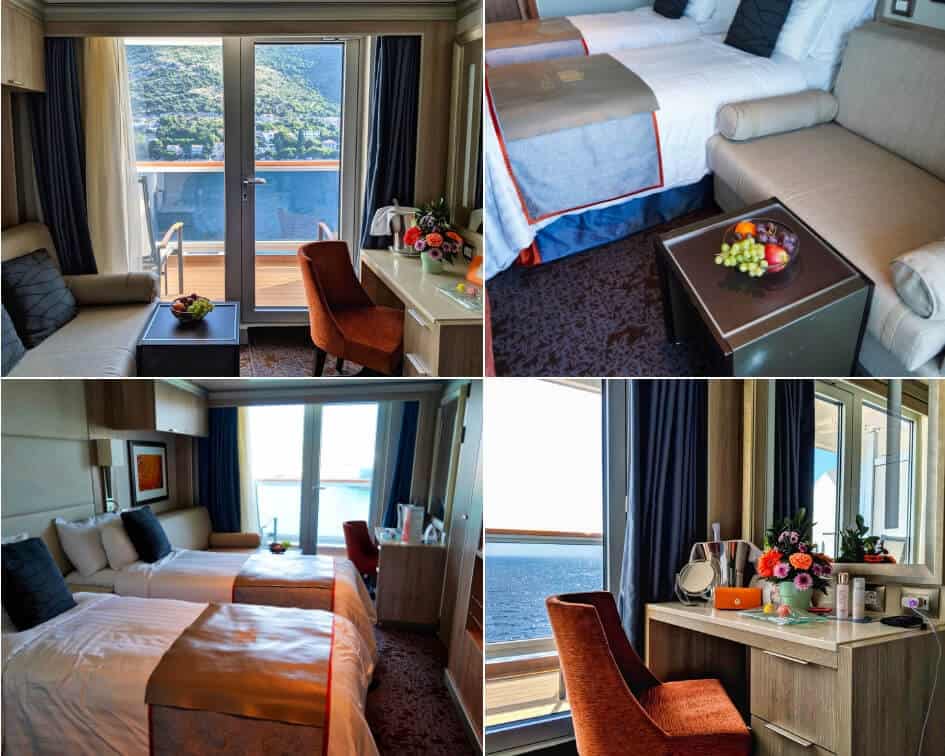 The space inside was just as enjoyable, with a sitting area situated next to two plush beds with Euro-Top mattresses. Holland America's signature Mariner's Dream beds are extremely comfortable, offering a wonderful night's sleep after a busy day of exploring. Also, having that extra space with the sitting area is definitely worth the money, so that you never feel too cramped with you and your guest.
When you need to go to the bathroom in the evenings,  a nightlight switches on which is a nice touch so you can see where you're going. Also, the USD ports on each side of the bed were very convenient for sharing your electronics overnights. I used the desk for a vanity, the perfect spot to do my makeup every morning. Thankfully, they provide you with a makeup mirror.
The bathroom had a good amount of counter space and plenty of shelves for storing our toiletries. The walk-in shower was also very spacious, with shampoo and conditioner product dispensers provided so you do not need to bring your own.
If you want to upgrade to an even more spacious room, then the Neptune Suite is an ideal choice. It also give you access to the Neptune Lounge.
Dining Options
There are almost a dozen dining options onboard the Koningsdam, offering everything from fresh sushi to sizzling steak. 24 hour in-room dining is always an option for those who are too relaxed to leave their room to eat.
Most meals can be enjoyed in the beautiful main Dining Room. They offer an elegant breakfast spread, leisurely lunches, or unforgettable multi-course dinners. And best of all, this is all included in the price of your cruise.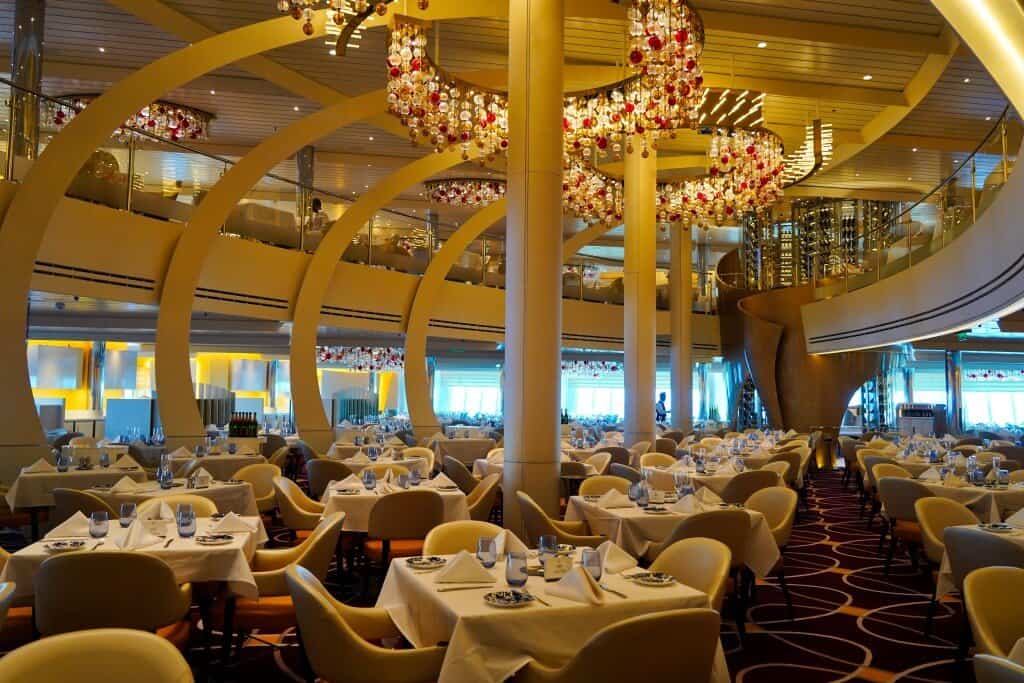 My most memorable meal I had in the Dining Room was their lobster dish served with roasted asparagus and carrots. It was a generous helping, with every bite being flavorful and delicious.
Another delicious and convenient option is the Lido Market, with a world of intriguing culinary possibilities to choose from. This modern marketplace is located steps from the Lido Pool. I thought all of their grab and go options were always fresh and tasty. In the morning, it was hard to resist their homemade bread and pastries. If you want something on the healthy side for lunch, their hearty salads from Wild Harvest really hit the spot. I also found myself coming here in the evening to enjoy ice cream and other desserts from Sweet Spot.
As far as fine dining that's worth paying extra for while on board, Holland America is known for their culinary prowess. In fact, one of my favorites meals of the trip was at Tamarind, which earned praise from Condé Nast Traveler for cuisine "that rivals the top restaurants on land".  
Tamarind's menu explores the culinary traditions of Southeast Asia, China, and Japan. Master Sushi Chef, Andy Matsuda, wanted the food here to honor the elements of water, wood, fire, and earth. You can enjoy deliciously creative dishes such as wok-seared lobster, Asian sea bass in a banana leaf, along with fresh sushi accompanied by chilled or heated sake.
Along with Pan-Asian cuisine, there are additional restaurants on board that serve Italian, French, and American specialities.  We, of course, tried them all! The majority of the specialty restaurants are on Deck 2, clustered together on the way to the main dining room. One of the exceptions is Tamarind, which has a stunning spot overlooking the sea right at the back of the ship.
We enjoyed several breakfast meals and dinners in the private Club Orange venue. All Holland America guests who stay in Neptune or Pinnacle Suite categories are able to access exclusive Club Orange benefits: private dining venue, priority services, dedicated concierge hotline and more. For those staying in non-suite staterooms who are interested, Holland America does offer a small number of Club Orange memberships that are available for purchase.
Eating at the Pinnacle Grill was another highlight for us while on board the Koningsdam. Their menu focuses on premium ingredients, such as wild-caught king salmon from Alaska and sustainably raised beef from Washington State's Double R Ranch. Every evening here, guests are offered a chance for you to experience the signature recipes of Culinary Council Chef David Burke. You can also expect boutique wines from around the world which perfectly compliment your meal.
If you're traveling with kids and want to keep it really simple and casual, check out Dive-In for burgers and gourmet hot dogs, or New York Pizza for thin-crust pizzas and salads served up poolside. The Grand Dutch Cafe is another great option thanks to their specialty coffees, sandwiches, or cocktails and snacks in the evenings.
Activities Onboard
Most large cruise vessels have classic onboard facilities such as pool areas and casinos. While Holland America's Koningsdam ship offers both of these, there is so much more to do in terms of relaxation and entertainment. There are actually too many to list but I'll share a few of my personal favorites!
At BLEND, wine connoisseurs and even novices can experience the art of wine making. This was such a unique activity which I absolutely loved. Created by Chateau Set. Michelle, Washington State's oldest and most acclaimed winery, this intimate space allows guests to really get creative, and learn how to make their own special blend of wine. This is the only purpose-build wine-blending venue you'll find at sea. The tasting table holds 10 guests who can choose from a selection of five barrels of single-vineyard red wine. We even got to take it with us to enjoy later at dinner and back in our stateroom!
Along the same lines of culinary fun, America's Test Kitchen is a great space with an enticing variety of live cooking shows, and hands-on workshops. This was designed exclusively with Holland America Line, and is offered on select ships including the Koningsdam. You can learn foolproof techniques and recipes for making delectable dishes with confidence. How amazing is it to be able to learn a new skill while on vacation?!
As a foodie, I also enjoyed going behind the scenes on the Koningsdam and seeing one of the ship's galleys. With state of the art facilities, the talented chefs on board are able to create amazing dishes for us lucky guests at sea.
For those leisurely sea days, you can definitely find me at the spa. The Greenhouse Spa & Salon is a fantastic place on board to refresh, relax, and rejuvenate your mind and body. This tranquil retreat nurtures every aspect of your well-being with renowned spa rituals and healing touches.
I enjoyed their ELEMIS Aroma Stone Therapy several times, and the ELEMIS Pro-Collagen Age Defy Facial. The Hyperthermal pool and steam room are a great way to relax before or after your treatments. Before attending the captain's dinner, I treated myself to their Fire & Ice Pedicure and had my hair done at their salon.
The Fitness Center is equipped with the latest cardio and weight machines. You can work out at your own pace or try one of their many classes focusing on indoor cycling, Pilates, and more. There's also some great outdoor space to exercise on the deck with the fresh, sea air. You'll also discover backbetll and volleyball courts here.
Entertainment
Evenings on board the Koningsdam are absolutely electric thanks to the multiple entertainment venues you have to choose from. I was especially impressed with the World Stage. This is a two-story, 270-degree wraparound LED screen that surrounds you in high-definition. This dazzling theater combines innovation with entertainment. Here we enjoyed live music, dance, and a myriad of performances throughout out voyage.
As part of an exclusive partnership with Lincoln Center Stage, select ships with Holland America showcase exceptional live chamber music performances featuring classically trained violinists, violists, cellists and pianists. These world-class musicians perform multiple ensembles nightly and even play afternoon recitals during leisurely days at sea!
Two of my favorite shows were Frozen Planet Live by BBC Earth Experiences, and the classical quartet Vox Fortura's performance at the World Stage who us all.
The variety of entertainment that Holland America offers is very impressive! You can also enjoy world-class musicians from the B.B. King's All Stars Band with two vocalists backed by a drummer, bassist, guitarist, sax players, trumpeter and organist. From funky and fast to soulful and smooth, the band does it all while you enjoy a signature drink or dance the blues away!
Billboard Onboard showcases the talents of live musicians, including two pianists, a guitarist and a DJ, who take turns performing dynamic shows centered around the interesting facts and figures of the music industry as chronicled by Billboard. Featured on select ships, guests can sing and play along with trivia questions presented on screens throughout the room. It's very entertaining and interactive!
Last but not least, is the vibrant casino. It's hard to pass up on a game of roulette or black jack in the evening;  we enjoyed stopping after the shows and playing a hand or two.
Conclusion
While the Koningsdam is certainly Holland America's biggest ship, I was really blown away with how many intimate spaces and experience there were to enjoy on board. We called this floating city home for two weeks, and never ran out of exciting things to do and places to eat. Holland America really understands how to take care of you and makes sure your journey with them is memorable from the moment you step aboard, to the moment you say goodbye.
Disclosure:  We were guest of Holland America, but all opinions here are our own.