Silversea not only offers ultra luxurious cruises, but also fabulous Pre-Cruise packages which I took advantage of before my cruise around the Galapagos Islands. While on the Machu Picchu Grande Explorer, I enjoyed the very best in comfort and elegance thanks to the various Belmond Hotel properties. The wonderful world of the Belmond brand consists of an impressive collection of 46 iconic hotels, trains, and river cruises in 24 countries.
I stayed in 3 of Belmond's luxurious hotels while exploring Peru and each one was unique, elegant, and offered five-star service and quality.
LIMA: Belmond Miraflores Park Hotel
After a long flight from Florida, I was so happy to check into my home away from home in Lima at the Belmond Miraflores Park Hotel! Guests get to live the high life here in Lima's hottest district. Set in a lush garden, Belmond Miraflores Park is a true urban sanctuary that's right next to the city's cultural gems. What more could you want in terms of location?!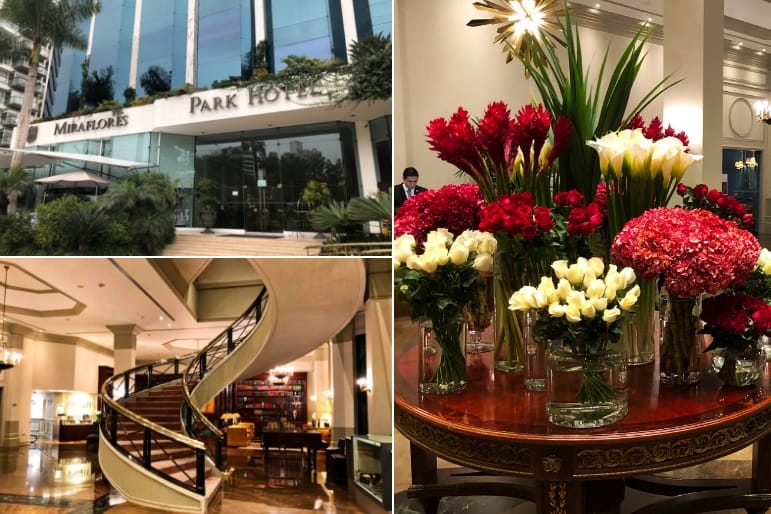 I loved the hotel's lobby with its fresh flowers, a spiral staircase, and bookcases. It is modern yet extremely elegant and cozy at the same time.
As far as accommodation, each of the hotel's suites flaunt a warm interior with native accents of Peru. I absolutely love all-suite hotels and Belmont Miraflores Park does not disappoint! All guests can enjoy marble bathrooms, king side beds, and private terraces. I felt extremely pampered in my Junior Suite and appreciated the extra living area with a desk to work.
One of the most impressive aspects of this extravagant hotel is their fine dining options. At The Observatory, I enjoyed the spectacular views of Lima and the Pacific Ocean from the 11th floor. Their irresistible breakfast buffet is served here every morning and is the perfect way to start your day with fresh breads, pastries, local Peruvian specialties, as well as charcuterie, fruit, and eggs cooked to order.
Here you will also find their heated rooftop swimming pool which is fun for both children and adults who can take in more of the city views.
For fine dining the Tragaluz Restaurant is the place to go. It is colorful and quirky, yet very elegant. Their dishes reflect the surroundings and are creative as well as being delicious!
Whether you're staying at Belmond Miraflores Park in Lima for business or pleasure, you are destined to leave impressed. I know I was!
CUSCO: Belmond Monasterio Hotel
Before our journey to Machu Picchu, we spent an incredible 24 hours in Cusco, a beautiful city in the Peruvian Andes Mountains. Our home away for the night was the Belmond Monasterio Hotel which is so completely different from our first Belmond property. This timeless retreat n the heart of the city offers historic charm with a modern twist. This is certainly one of the most unique hotels I've ever stayed in.
I was thrilled to learn that Belmond Monasterio is a protected national monument. It is truly impressive how they've turned a 17th century Baroque monastery into a five-star hotel without losing the historic elements and character. One of the most incredible parts of this well-preserved hotel is their art collection, one of Cusco's finest collections of 18th century colonial religious art. You can find original paintings both in the guest areas and in the bedrooms.
Speaking of the bedrooms, mine was beautifully decorated with rich wood furnishings, antique paintings, and a plush bed. Every room is different at the Belmond Monasterio but each one has absolute luxury in common.
When you're not relaxing in your room, you must visit the hotel's jaw-dropping symmetrical courtyard. I found myself strolling through the walkways, admiring the flowerbeds, and gawking at the towering 300-year old cedar tree that sits in the middle.
For breakfast and lunch, guests can enjoy a sumptuous meal at Illariy, nestled in the cloisters with views of the leafy courtyard. If you want a more intimate and romantic setting in the evenings, head to El Tupay. This restaurant offers exquisite international cuisine, with locally sourced ingredients, and live music 3-nights a week.
From the original artwork found in each luxury suite to the atmospheric arcades around the historic courtyard, every detail of the Belmond Monasterio Hotel took my breath away!
MACHU PICCHU: Belmond Sanctuary Lodge
I've saved the most memorable hotel for last! The Belmond Sanctuary Lodge Machu Picchu is the ONLY hotel located at the entrance to Machu Picchu. I was so beyond excited not only to visit this ancient Inca empire, but to stay so close to it. Because of the prime location, staying at this stylish retreat means beating the citadel's crowds in the early morning or late afternoon.
This lodge is an oasis of calm and was the perfect place to rest our heads after a day of exploring Machu Picchu. It has only 31 rooms which makes it feel very intimate. My room boasted cool botanical fabrics and cherry-colored wood furniture. I loved having a King-sized bed as well which provided so much space to properly unwind. The rooms are a perfect balance of modern, luxurious, and comfortable.
From breakfast to afternoon tea and dinner, we enjoyed all of the tasty food the Belmond Sanctuary Lodge has to offer. Tampu Restaurant is exclusive to guests of the hotel so it never feels over crowded with tourists visiting Machu Picchu. I loved the floor to ceiling windows which flooded the restaurant with natural light during the day. What's better than enjoying delicious Indigenous dishes while looking out onto the impressive green views?!
Speaking of lush greenery, one of my favorite places in the hotel is their magnificent gardens which boast stunning views across Machu Picchu. This is a perfect place to relax during your stay. Here you can marvel at the almost countless variety of flowers and birds that populate the region. This is the perfect hideaway located behind the main building edged with orchids and teeming with butterflies. Absolutely magical!
The Belmond Machu Picchu Sanctuary Lodge offers a gateway to the Inca Empire and a unique chance to unwind in the shadow of the Lost City!
I enjoyed each and every Belmond Hotel I had the pleasure of staying at in Peru. Every property is completely different, yet you can always expect five-star service and luxury! Discover more on their website.
Pin This!