We live in a fabulous area of Fort Lauderdale called Coral Ridge.  I live literally two miles from the ocean and have the intracoastal waterway in my backyard.   I have a privileged position in terms of local Waterfront Dining in Fort Lauderdale.  When we are looking for ambience as well as great food, some of our favorite restaurants are down the street. This is fortunate since my husband hates to drive far when we go out in the evening.  The City of Fort Lauderdale has a superb selection of restaurants for Waterfront Dining.
Since there's so many great choices, I'm going to write a series of articles covering Waterfront Dining in NE Ft Lauderdale. I'm starting with the three great restaurants on the Intracoastal Waterway at Commercial Blvd. It's just on the edge of Lauderdale by the Sea:
Located right before the intracoastal draw bridge on Commercial Blvd.  Kaluz offers great atmosphere and views of the passing boats on the intracoastal waterway. The patio is amazing but on a hot or rainy day you can eat inside and still enjoy the view with the mile high windows.  They have both an indoor and outdoor bar area where you can enjoy the view as well.  Our favorite appetizer is the shrimp & goat cheese flat bread.  Part of the fun is that there's always a few people who show up on their boats or yachts. Kaluz seems to have some staff whose job is to help them with docking.  It's also a great place to go and enjoy a drink outside. They offer only valet parking. Reservations are highly recommended
Address: 3300 E. Commerical Blvd. Fort Lauderdale, FL  33308
Phone:  (954)772-2209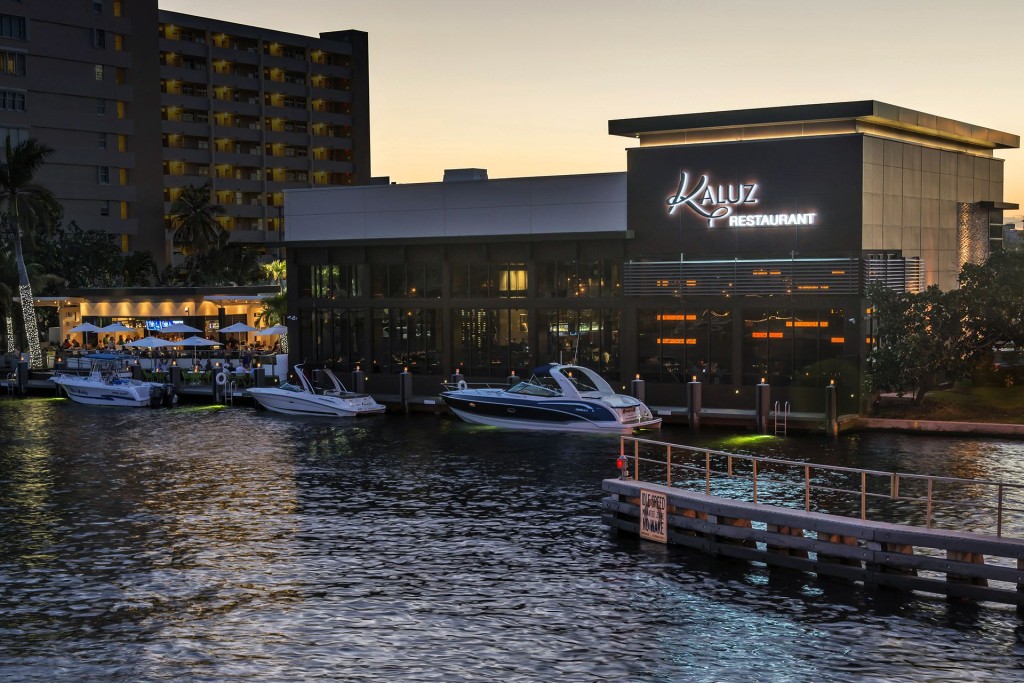 Recently redecorated, the Blue Moon has long been a family favorite with panoramic views of the Intracoastal Waterway.   We particularly like going for lunch during the week with the great food and amazing deserts.  This waterside restaurant is a caddy corner from Kaluz and they both get a great view of the draw bridge, the boats going by, and best of all, the food.  Desserts are extravagant.  Sunday brunch is one of the best in town. Voted "Best Waterfront Dining in Fort Lauderdale" by Zagat and OpenTable,  Blue Moon Fish Company delivers excellence in each aspect of the culinary experience. They offer valet parking.  Reservations are highly recommended.
Address: 4405 West Tradewinds Avenue, Lauderdale by the Sea, Florida, 33308
Phone:  (954)267-9888  
Benihana is a hibachi-style restaurant that offers a wide range of Japanese cuisine, including sushi and freshly prepared steak, chicken and vegetable entrees. It has been a restaurant of choice for family celebrations.  Our kids always enjoyed being entertained by the hibachi chef cooking at the table with the show he puts on with the food.  The hibachi tables can accommodate up to eight at one table.  The downside is that if your party is less than eight you get to share a table with others.  We all order different meal combinations when we go. They serve you a soup and salad with your meal, and a combination of vegetables.  Most of us have ordered the steak, chicken, shrimp, and fried rice. The portions are so big that we've had to get a doggie bag to bring some food home.  Reservations are required.
Address:  276 Commercial Blvd, Lauderdale by the Sea, Florida, 33308
Phone:  (954) 776-0111  
These three great waterfront restaurants are about a mile from our house.  We know them well.  Stay tuned for my next post where I'll review restaurants with an ocean front view.
Don't forget to check out:  Best Family Restaurants in Fort Lauderdale.