The Town of Lauderdale-by-the-Sea is home to warm tropical breezes, spectacular ocean views, quaint downtown shops, a pier that extends 876 feet over the ocean, and, as I'll detail down below, some fabulous restaurants.
The center strip of Lauderdale-by-the-Sea was renovated in 2013-14 reducing the traffic and increasing the walkability of the central strip of Commercial Blvd near the beach.  There's a nice strip with Cape Cod-style chairs to sit out and enjoy the day in the block just before the beach.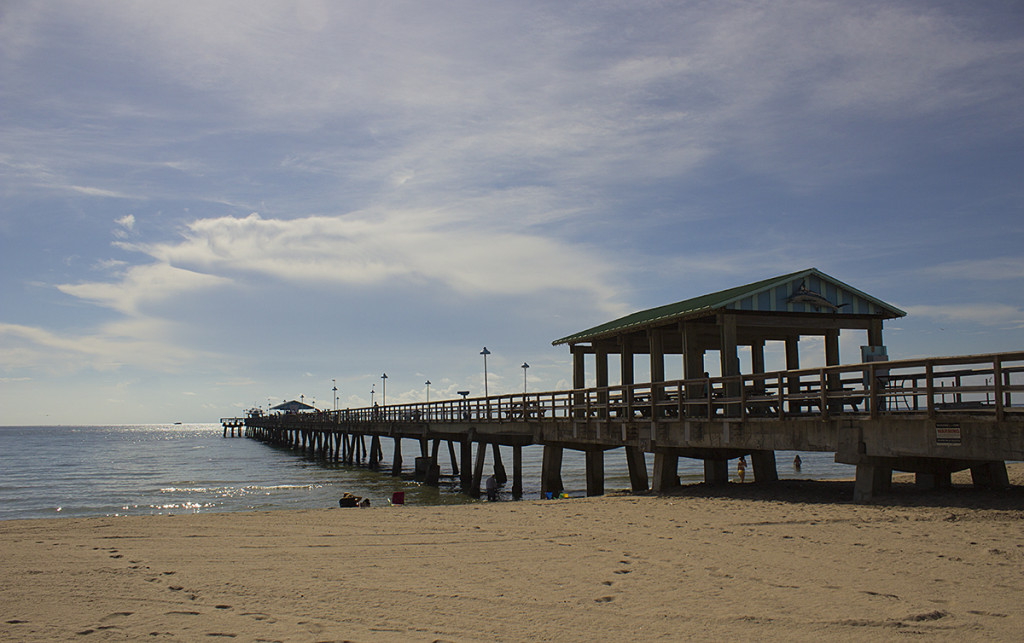 Lauderdale-by-the-Sea isn't far from the Everglades, the Florida Keys & everything else South Florida has to offer. Take a swim, snorkel over a beautiful reef, drop a baited hook in the water from Anglins Fishing Pier or just take a quiet stroll long the shore to collect seashells. With a number of fine local Lauderdale-by-the-Sea restaurants, specialty stores and boutiques within walking distance, there is plenty to do and enjoy, even if you decide to kick back, relax and never leave the beautiful beach.
Athena serves traditional Greek fare & seafood dishes in a festive environment with belly-dancing shows.  It's one block in from the beach so there's a constant stream of people in bathing suits strolling by giving it that holiday feeling.  The food is a mix of Greek and locally caught fish.  On a nice day, which is most of them, the side of the restaurant is open so you can sit just outside or inside with a pleasant breeze.  The restaurant has been there for as long as I've been eating there (more than a decade) although it was renovated a few years ago and looks wonderful. 
Address: 4400 N Ocean Dr, Lauderdale-By-The-Sea, FL 33308 Phone:(954) 771-2900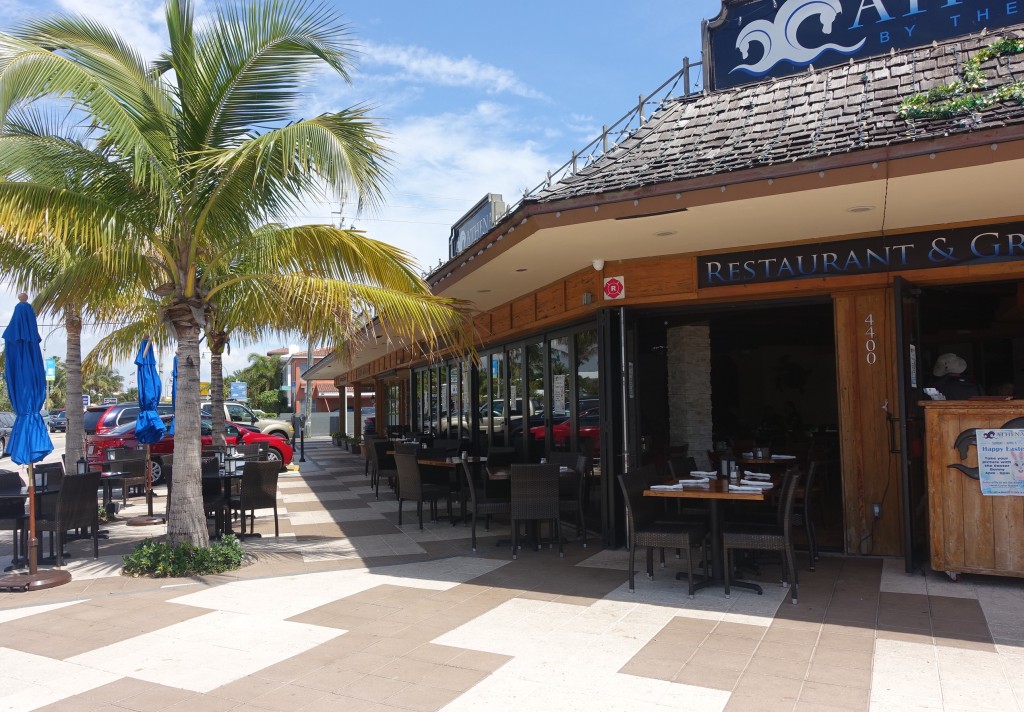 Aruba Beach Cafe is located right on the beach. It is a perfect spot with picturesque ocean views from the dining area. There's room to dine inside or out.  In the weekend evenings, there's a band and a small dance floor.  It's great to have a salad, burger, steak or seafood and enjoy the beautiful beach and atmosphere. .  With very large windows over looking the ocean, Arubas has the feel of a tropical getaway.   Each time I've been here I've been served fresh tasty food. It's a great place for those nice rum drinks, the margaritas, or just a beer. They have their own valet parking which is good since parking can be tough in this part of town.
Address: 1 Commercial Blvd, Lauderdale-By-The-Sea, FL 33308  Phone:(954) 776-0001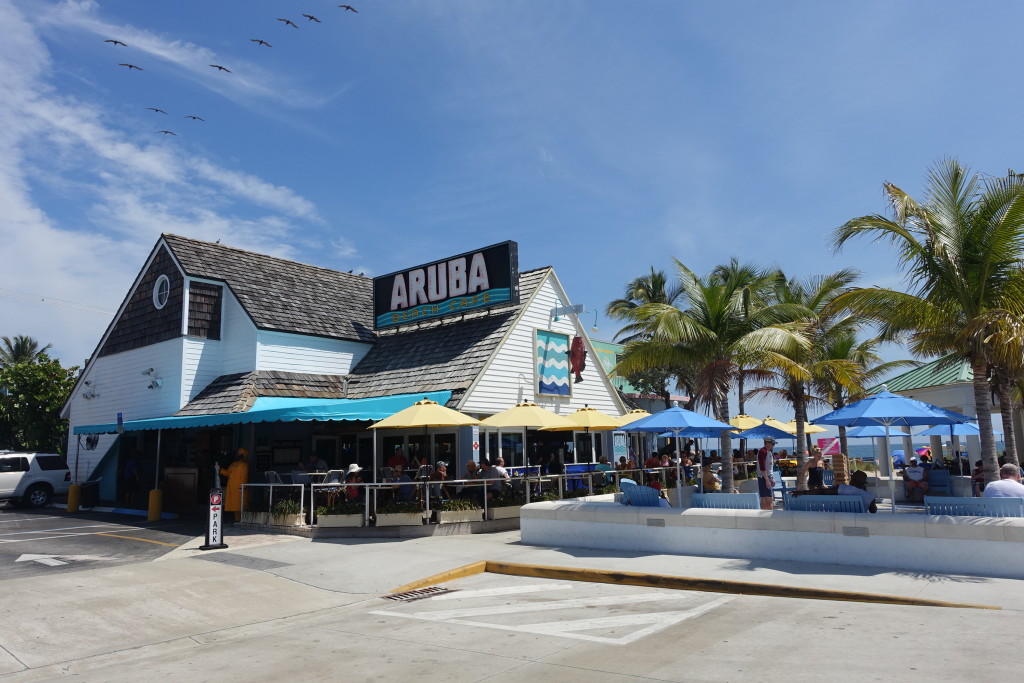 The Village Grill is located just half a block from the Atlantic Ocean and features excellent food, great drinks and a friendly casual beach atmosphere.  Open for breakfast, lunch and dinner.  The Village Grill has long been a favorite of mine for the days when I go to the beach with a girl friend and then we walk out for lunch in coverups.  We usually have the thin crust pizzas or a salad.
Next door and associated with the Village Grill, there's the  Village Pump, a casual bar and restaurant.  Established in 1949, has long been a Fort Lauderdale landmark and is a favorite meeting place and sports bar for locals and visitors alike.  The best view is outside at a table right along the street, which is perfect for people watching. Both the Village Grill and Pump have outside tables which are dog-friendly.  On some mornings, it's a festival of doggies!
Address: 4404 El Mar Dr, Lauderdale-By-The-Sea, FL 33308 Phone:(954) 776-5092
101 Ocean is the most upscale restaurant in Lauderdale-by-the-Sea. They have both inside seating and tables along the two sides (it's on the north west corner of Commercial and NE 1st Terrace.  It is only 50 yards from the ocean and is open for lunch and dinner only.  They offer both indoor and outdoor seating.  Happy hour in the outdoor bar area makes it a fun place to enjoy cocktails while people watching.  The food is wonderful, we've had their flatbread appetizers, their salads, and some fish dishes. Like most of the restaurants in the area, they are dog friendly as long as you  sit outside.
Address: 101 Commercial Blvd, Lauderdale-By-The-Sea, FL 33308  Phone:(954) 776-8101
The Anglins Beach Cafe is a small restaurant on the base of the pier.  Nothing gourmet or fancy about this, it's a grill that's great for breakfast and burgers and beer.  Come as you are and enjoy being right on the beach.  My husband loves biking over in the morning and having basic eggs, juice, and coffee. He also likes the evening when the light is changing and he can enjoy a mellow beer.  During the day, it's nice to come out of the sun and enjoy a cold drink. But if you are not in a bathing suit, it can be a little hot during the day.  The restaurant is on the start of a Anglins fishing pier that goes out nearly a kilometer into the ocean which is great for fishing and sight seeing. Don't have any equipment or bait? No problem, you can rent it (the equipment, you have to buy the bait) at a little store as you start to go out on the pier. It's $2.00 per person to go out on the pier sightseeing and $7.00 per person if you want to fish. The pier is open 24 hours a day.  Stay as long a you want.
Address: 2 Commercial Blvd, Lauderdale-By-The-Sea, FL 33308 Phone:(954) 491-6007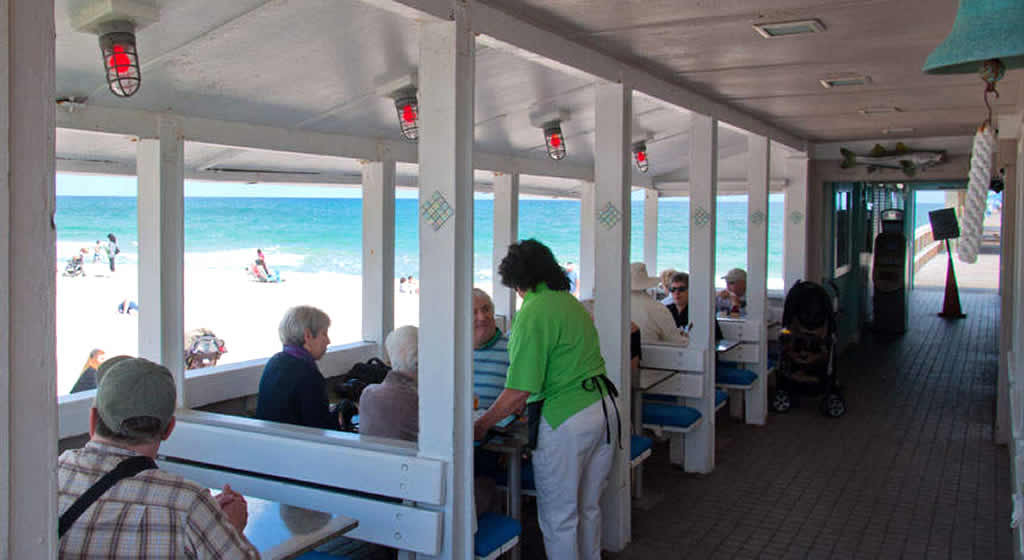 Pronto Cafe By the Sea
Pronto By the Sea, Italian restaurant  is one of the newest additions to the restaurant community of Lauderdale-by-the-Sea. It's located on the corner of Commercial Blvd and Seagrape, a few blocks from the ocean. It's a little quieter and better for talking than the beach places.  Their pasta is made fresh in house on a daily basis.  My favorite dish is the coal stone pizza. The food is delicious and while I have been off deserts for awhile and haven't really tasted them yet, they have an impressive selection of fresh cakes and pastries. My husband, who is a coffee drinker, says that they have great coffee.  They offer both indoor and outdoor seating.  It has a very modern decor, small takeout area for fresh breads and pastries, and flat screen TV's all around indoors.  Food Network followers may recognize Chef Claudio from his TV debut on Iron Chef America.
Dogs eat free on Tuesday, yes that's right they even have a dog menu!
Address: 222 Commercial Blvd #103, Lauderdale-By-The-Sea, FL 33308 Phone: (954) 648-9889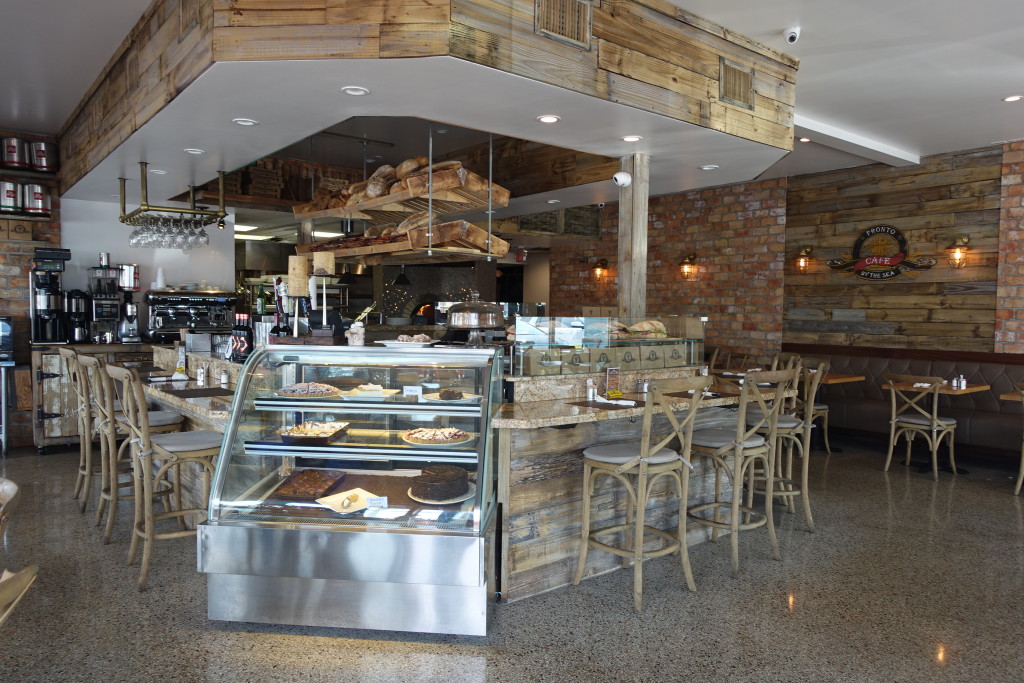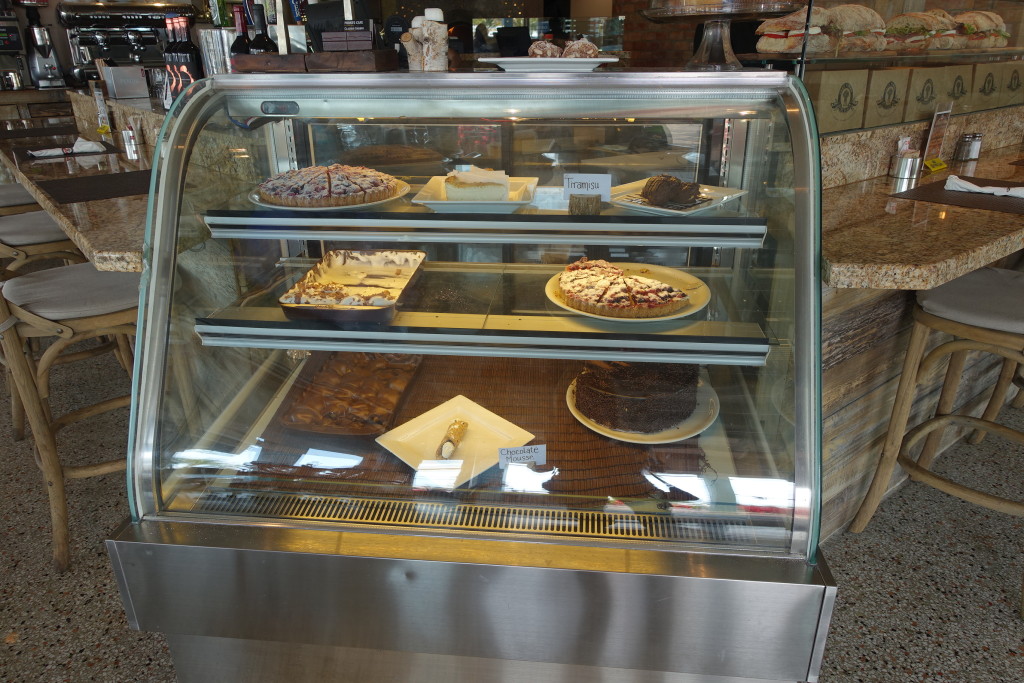 As a Fort Lauderdale local, I always love coming to Lauderdale-by-the-Sea. It always feels like I'm on vacation. Friday night the intersection of Commercial Blvd. & El Mar Drive is closed and most restaurants, set up tables, portable bars and a band in the street. It's a lot of fun!
Be sure to read my post about the three restaurants located where Commercial Blvd crosses the Intercoastal:  Waterfront Dining in Fort Lauderdale