Isabela de Sagua is a little town which was once one of Cuba's major ports. Today it's a fishing enclave with a proud maritime tradition.  When you're in the town, it's striking that all the streets lead to the water.
There was a time, decades ago, when travelers from far and wide would disembark in Isabela de Sagua and continue their journey by train or by smaller boats that sailed up the River Undoso.
The word Sagua (Cagua) means place where a lot of water flows.
In the 1800s, Sagua was one of Cuba's most prosperous towns. It was a center for import and export of products like sugar.  There were at the peak a hundred operating sugar cane plantations in the region.
With the demise of the Cuban trade economy, the port lost out.  While it is still an important city, the second-largest in Villa Clara province, its real glory is in the past. This city clings to its rich eventful history.
The locals, known as sagüeros, are proud of their history and town despite the occasional building in ruins.
Many locals build little huts in the water, which are used as restaurants.  They cook the fish dishes in their homes and bring out the food to the huts.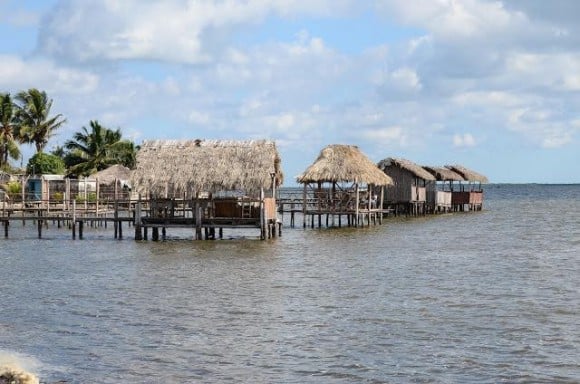 Sagua is greatly influenced, in the late 1800's, by spiritist Allan Kardec who said (and millions agree today) that the dead can "speak" to the living through a medium.  Through the centuries, there were many shipwrecks.  Some say spirits of local pirates and victims are strong here.
It is said that one part of the maritime tradition continues.  Isabela de Sagua has had many Cuba rafters leave during the night on makeshift rafts and fishing boats seeking freedom in the US.
Today, the waters around  Isabela de Sagua are among the most guarded waters in Cuba.
Read about some of the other Cuban towns such as Trinidad,  Remedios, and Cienfuegos.