When my cousins in Cuba asked me if I wanted to go visit some friends in Cienfuegos, Cuba,  I signed up right away!  I wasn't going to pass an opportunity to go sightseeing in a city that in spanish means 100 fires.  When I think back to my last trip to Cienfuegos two things come to mind.  The  Statue of Benny, which sits in the middle of the Paseo de Prada and the Malecon.
Who was Benny?  Benny Mode was a legend of Cuban music, admired by Cubans for his talent as singer, composer and bandleader.   Most tourist and visitors that pass through Cienfuegos stop and have their picture taken with Benny.
Cienfuegos, is known as the Pearl of the South "Perla del Sur", it's located on the southern coast of Cuba on Caribbean Sea, 250 km east from Havana and 83.7 km from Trinidad.   If you keep heading south on the main road called Prado, the street becomes the Malecón as it cuts alongside one of the world's finest natural bays, offering exquisite views. Like all sea drives (Havana's being the archetype), this area comes alive in the evening.
Cienfuegos was built on a rectangular pattern with wide streets, numerous parks and promenades, and attractive buildings. The historic city centre was designated a UNESCO World Heritage site in 2005.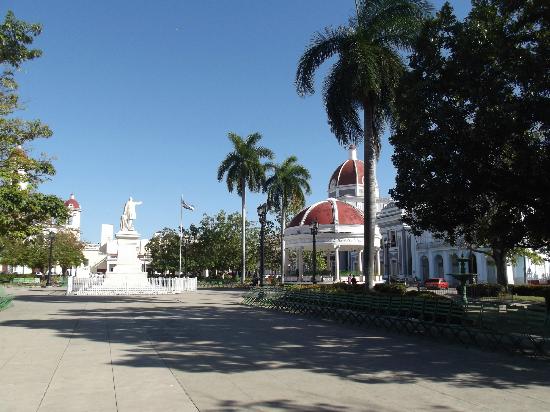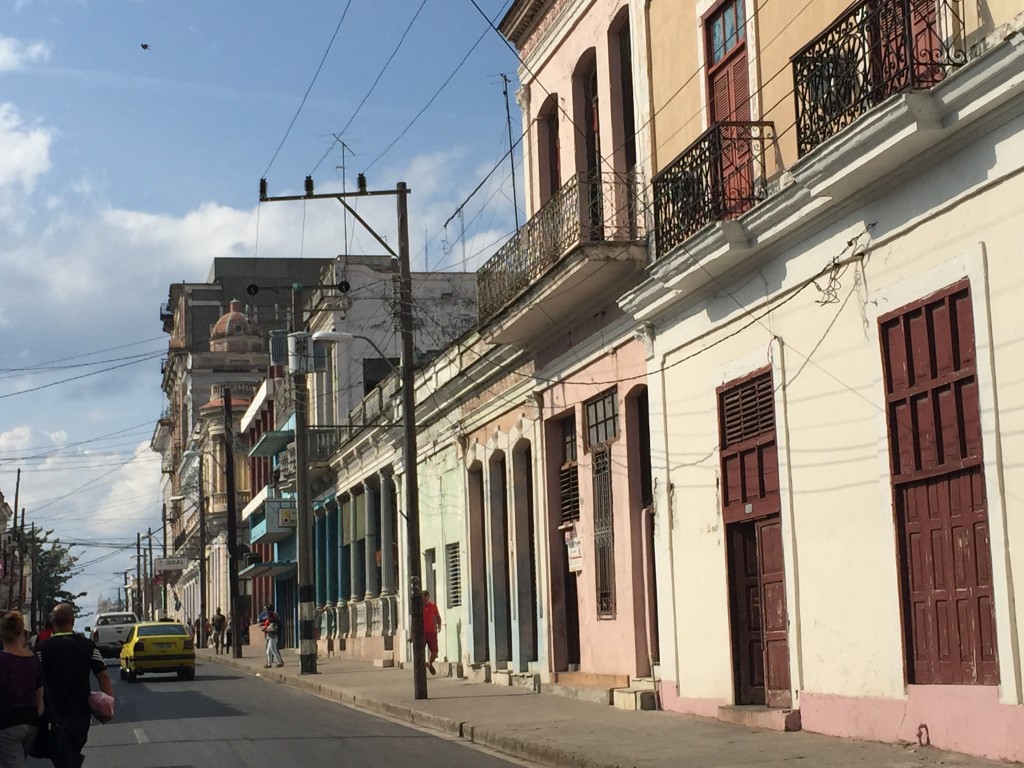 After walking around the center of town in Cienfuegos we decided to get something to eat.  Someone told us about this restaurant that was the best seafood restaurant in Cienfuegos, famous for its' Spanish paella at the very end of the Paseo de Prado street called Restaurante Covadonga,
The restaurant had pretty painted murals all along the walls of pictures of the town of Cienfuegos.  One of the pictures caught my attention.  It was a picture of Fidel Castro with a lady.   The people at the restaurant said it was the former owner of the restaurant in the picture with him.   She left Cuba after Fidel took over and he tried to persuade her to return and re-open the restaurant.  She never did…
We sat at a table which was nicely arranged with a table clothe, plates were laid out and cloth napkins.  I was a little surprised to see this, especially, in Cuba.   It was seven of us and only one menu for the table to choice from.  Since we had heard that the house speciality was the paella, six of us decided to order paella.   I had an upset stomach so I asked the lady to make me a plain fish meal with white rice.    Once she took our order,  she started to collect all the plates including the cloth napkins on the table.   When I asked her for napkins for the table, she told me they didn't have any.   Can you imagine a restaurant without any napkins?   Good thing I kept tissues in my pocketbook at all times.  I pulled out  my tissues and gave each person one.
We asked for bottled water and the only water that was available was tap.  So one of us went next door and bought a huge bottle of water for the table.   The meals came and she served me my plate of battered fried fish with a ball of rice on the side.   When I went to cut into my fish, I noticed the meat looked a little dark.   I took one bite of it and it was a little chewy.  I called the waitress over and asked her what type of fish this was, she replied "Ray".   My eyes widened and I almost lost it on the table when I realized what I was eating was stingray.    Let's just say I didn't eat anything else after that at the restaurant, nor did the rest of our friends who were going to eat the paella, which was also watery and tasted very poorly.   We asked for our check and left without eating anything.  It was probably one of the worse meals I had in Cuba.    I'm sure this restaurant was great at one point, but now it's just a relic.
Disappointed and hungry we left the restaurant and started to walked across the street when I noticed these pay phones.  Here in the states we hardly see or use pay phone anymore.  In Cuba they are used very often since most individuals don't have cell phones.
Across the street we found an architectural jewel called Palacio de Valle hotel located at the end of the Punta Gorda, and reminiscent of Spanish-Moorish art with influences of Gothic, Romanesque, Baroque and Mudejar arts. You can walk up the two flights of stairs and get a bird's eye view of the area around Cienfuegos. The scene is idyllic, tranquil, and absolutely unspoiled.  Well worth the 2 CUC's each to wander around this old hotel and then sit and relax on the roof top terrace overlooking the bay.
This visit to Cienfuegos, Cuba was one that I'll never forgot.   It's a beautiful city with many historial buildings and waterfront properties.  It's apparent that back in the day it was a beautiful city to live in.