A good tiki bar has a relaxed, laid-back atmosphere, tasty cocktails, and decor that can transport you to a faraway island. Luckily, Florida has so many amazing options to choose from! Some tiki bars can be dark and stuffy, but that's quite the opposite of what you'll experience at these three beachside properties…
#1 Lido Beach Resort | Sarasota, Florida
Specializing in Gulf coast sunsets and all things R&R, vacationers consider Lido Beach Resort their go-to destination when life demands the simplicity of a nice tan and Piña Colada. When it's time to catch some rays, a 300-foot stretch of powder white sand beach awaits, or hit one of the property's two pools – one family friendly and one adults-only.
The adults-only pool is perfectly situated next to the Tiki Bar, which features a fresh cocktail menu and tasty beachside bites served in poolside baskets. Guests can also enjoy stunning nightly sunsets, and the unreal Bloody Mary Bar at the Lido Beach Grille, complete with Sarasota's only panoramic view of the west coast shoreline and city skyline.
#2 Opal Sands Resort | Clearwater Beach, Florida 
With direct access to the beach, Sandbar at Opal Sands Resort in Clearwater Beach is a restaurant and bar enclosed in a tiki hut roof that provides both local beachgoers and resort guests with a view stretching all the way down the best named beach in the nation. Sandbar's beach atmosphere is the place to be for relaxed and casual gatherings with friends during the day and night time.
The culinary menu features lighter, casual fare, paired with an extensive cocktail program incorporating fresh juices, fruits, and herbs. One fabulous option is the Mango Poolside that combines Bacardi superior rum, mango puree, cold pressed Persian lime and Valencia orange juice, with a touch of 100% organic agave nectar, topped with fresh mint.
#3 The Palms Hotel & Spa | South Beach, Florida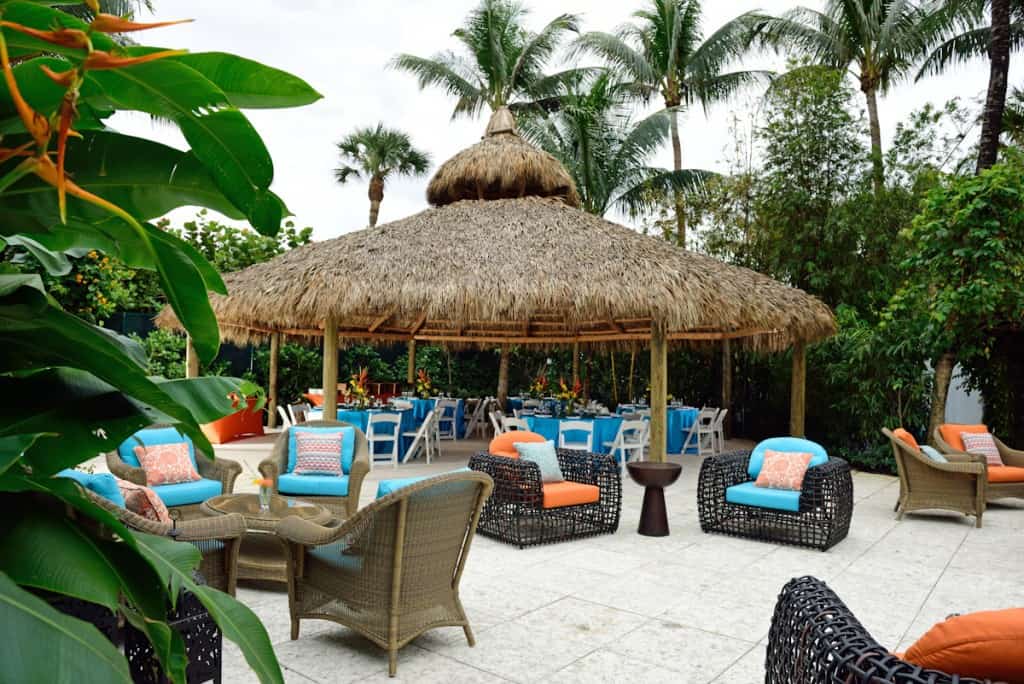 The Palms Hotel & Spa combines oceanfront serenity, genuine service, and laid-back sophistication into a 251-room destination where complete wellness and environmental awareness are at the center of each experience. The Tiki Bar at The Palms Hotel & Spa provides a poolside setting, swaying palm trees, a relaxing ocean breeze, views of the lush tropical gardens and tiki-style thatched roof bar which instantly reminds you where you are: a relaxing, Miami Beach sanctuary inspired by nature.
The resort offers a "Cocktail of the Day" special, rotated daily from their cocktail list. Along with a variety of beach-friendly dishes, the Tiki Bar also has poolside private cabanas, furnished with two lounge chairs and privacy curtains, along with wireless internet, a 32-inch TV, iPod docking station, and two bottles of sparkling and flat water. What more could you possibly want?!
Pin This!