Best luxury shopping in Madrid, Spain? I'd say Las Rozas Village, one of the Collection of ten Chic Outlet Shopping® Villages. It is an exclusive collection of luxury outlets and dining in an open-air promenade. It is home to more than 100 boutiques of Spanish and international luxury fashion. I was in 7th heaven with all the world-leading brands with great discounts. I saw discounts ranging from 30% to 70%.
I'm very familiar with the American luxury outlet villages. For decades, I've shopped at one in South Florida which people travel to from all over the US and Latin America.  It was news to me both that this concept has made it to Europe and that there are now ten of these heavenly shopping destinations around Europe and China.  Here's where you can find them: London, Paris, Milan, Dublin, Madrid, Barcelona, Frankfurt, Munich & Brussels and Suzhou. They're only a stone's throw away from the cities. The heart of the luxury fashion village idea is that it houses renowned labels such as Michael Kors, Burberry, Carolina Herrra, Escada, and Versace but offers this and some of previous year's collections at steep discounts. The Chic Outlet Shopping Villages is truly a godsend from fashion heaven.
Las Rozas Village is located only 30 minutes away from the center of Madrid as well as from the airport. The Village provides their own Shopping Express™ direct coach, operating from Plaza de España in central Madrid and the Village, every day of the week; a swift, direct, and comfortable service.
My VIP experience began with a luxury chauffeur service picking us up at our hotel Villa Magna in Madrid.  It's a 20 minute drive to La Rozas Village. As we pulled up to the village, I noticed the massive free parking lots.  We arrived at the guest service office and I pick up my $200 Euros gift card, which I had won at the TBEX Costa Brava Conference.  I also got a VIP card which entitled me to 10% off your shopping at any of the villages.
The guest services offered at the Chic Outlet Shopping Villages are unlike any other I've seen. Not many shopping destinations can say they offer free Wifi throughout the premises and children's play area.  The highlight of these services has got to be the hands free shopping, which is what many celebrities do.  For just a small fee, boutique assistants deliver your shopping bags to you once you're done shopping so you can go about shopping without worrying about snapping your wrists from your shopping load. Talk about a luxurious shopping experience!
When you're surrounded by fashion brands, where do you start?  We started off strolling down one of the villages alleys just admiring the number of top brands.  With over 100 exclusive outlets, I felt I had to be strategic about which dozen I was going to hit. At the end of the first alley, I sat with my friends and cousins and ordered a Coke. We studied the map of Las Rozas Village to pick a plan of attack to hit our favorite stores.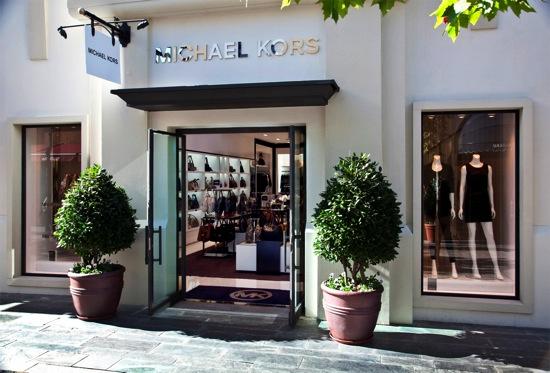 Restaurants
After all the intensive shopping we did, we ended up famished.  At the Chic Shopping Outlet Villages there's a few restaurants to sate your appetites.  The Lobby Cafe and Cafe & Tapas restaurants offer an extensive array of dishes to satisfy your taste buds.   We ate at Cafe & Tapas in one of their outdoor tables.  For coffee lovers, you can also grab a latte in the Starbucks.
The villages draws international tourists. It's sort of funny to hear so many different languages all in the same place talking about the same thing; premium retail items.
Despite the great shopping at Chic Outlet Shopping Villages, be sure to notice the design of the village. It's quaint and cosy with the boutiques dotting the sides of spacious centre paths for visitors to stroll leisurely. As it can get crowded at times, the layout is mapped so that the flow of shoppers keeps moving and it doesn't feel congested. Perhaps you're accompanying a friend or family member on their shopping extravaganza and you don't feel like going into the stores. You can enjoy a nice walk throughout the village. You won't feel like you're walking through a mall but a quaint little village.
The Ten Chic Outlet Shopping Villages
6.      Fidenza Village Milan • Bologna
7.      Maasmechelen Village Brussels • Antwerp • Cologne
If you are a brand shopper, the Collection of Chic Outlet Shopping® Villages in EuropeVillage is definitely worth visiting, a truly delightful shopping experience.
LAS ROZAS VILLAGE:
www.lasrozasvillage.com
C/ Juan Ramón Jiménez, 3
28232 Las Rozas de Madrid
Spain