Our Mediterranean Cruise on the Royal Caribbean, Splendour of the Seas started in Venice. Our first port stop was Split, Croatia.
The ship offered excursions in Split to local beaches and sightseeing tours.  Living in Florida and having the beach at home, we thought it would be better to spend the day walking around town seeing Split and decided to it on our own.  We took the tender to shore.  Once we arrived on shore on Riva Harbor, we found a few local tourist companies offering tours to passengers coming off the ship which were more reliably priced. Riva Harbor Promenade is lined with cafes, palm trees and boats in the harbor, this is a lovely place to sit on a bench and look out over the Adriatic Sea, or have a seat at one of the many cafes along the street for a bite to eat. No matter your preference, Riva definitely is a must to visit.  One of the entrances to Diocletian's Palace is along Riva Harbor which makes it very convenient.
We walked along the promenade and through an alley and found a local fish market.   The Split Fish Market (Ribarnica) is an institution in the old town of Split on Marmountova Ulica Street. In the morning the smell of the seafood is alluring, fresh, and clean. What makes the Split Ribarnica interesting, as opposed to other fish markets that I have seen, is that there are no flies to be seen. In fact, you would be hard pressed to find a fly anywhere in the old town of Split or around Diocletian's Palace. The palace and old town are situated above sulphur springs which keep flies away (this is well known to all Split locals and part of local legend).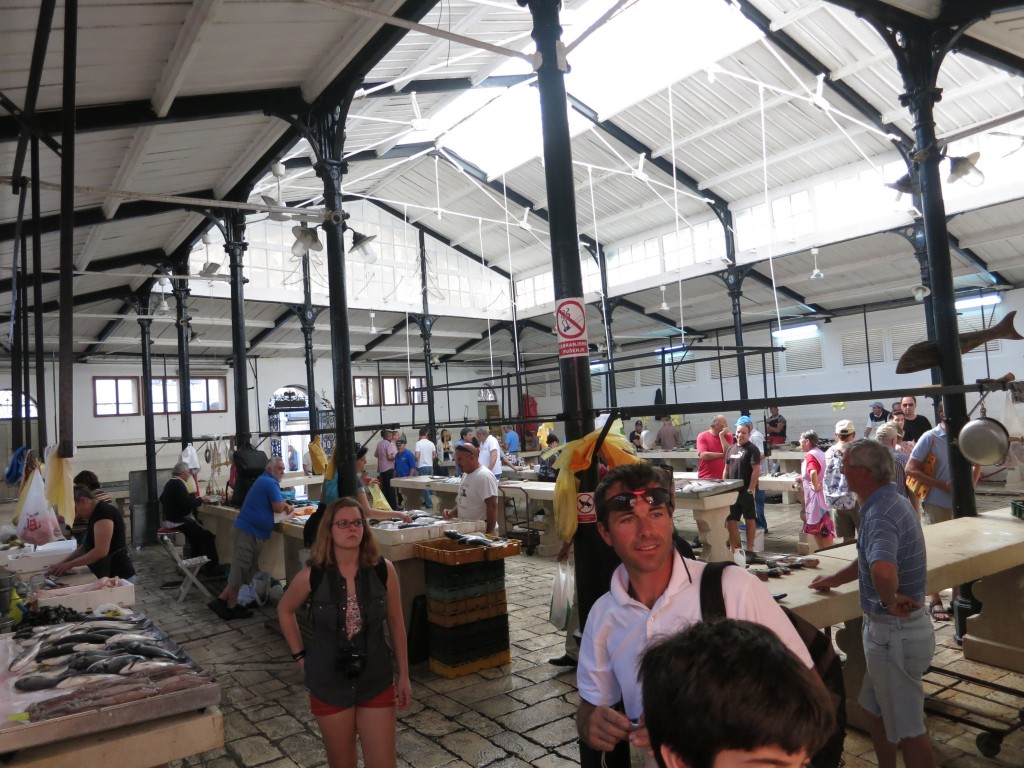 We enjoyed seeing some of the locals selling their catch of the day, especially this strange looking fish with caught my eye with its sharp teeth and eyes staring at me.   This fish is edible?  Does the fish think we are edible?
Around every corner you find alleys that led you to courtyards with restaurants, hotels and boutique stores.   One of these jewelry boutique stores caught the eyes of my girls: "Michal Negrin".  Michal Negrin is a well known for her beautiful handmade vintage jewelry with Swarovski Crystal.  My daughter Ariana fell in love with the jewelry which has this antique victorian vintage look to it.    I bought her a necklace which she wears everyday.
Split's narrow streets hide a multitude of treasures.  Even buildings that are sometimes literally built into those ancient walls provide an environment where the breath of history mingles with contemporary design and the attractive Dalmatian lifestyle.
On top of the list of things to see in Split was the Diocletian's Palace.  The ancient palace whose remains now form part of the historical center of this beautiful city.    We ventured inside the palace gates to see the roman walls of the Diocletian Palace with its warm stone pavements and bumped into a few Roman warriors.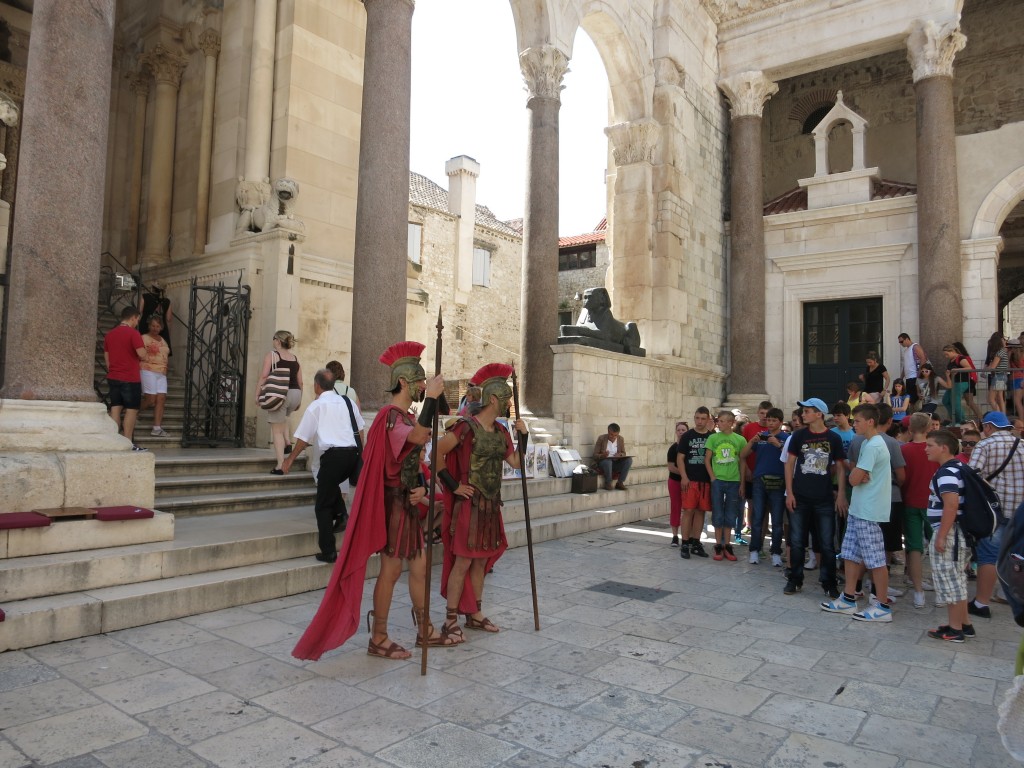 The symbol of the city is the bell tower of the Cathedral of Saint Domnius.  The bell tower is the highest building in the town of Split.  On a clear day you can see the whole town and surroundings islands from its top.  According to historians it took 3 centuries to build it.    You are allowed to climb if you are energetic enough.  We didn't have the energy to climb it.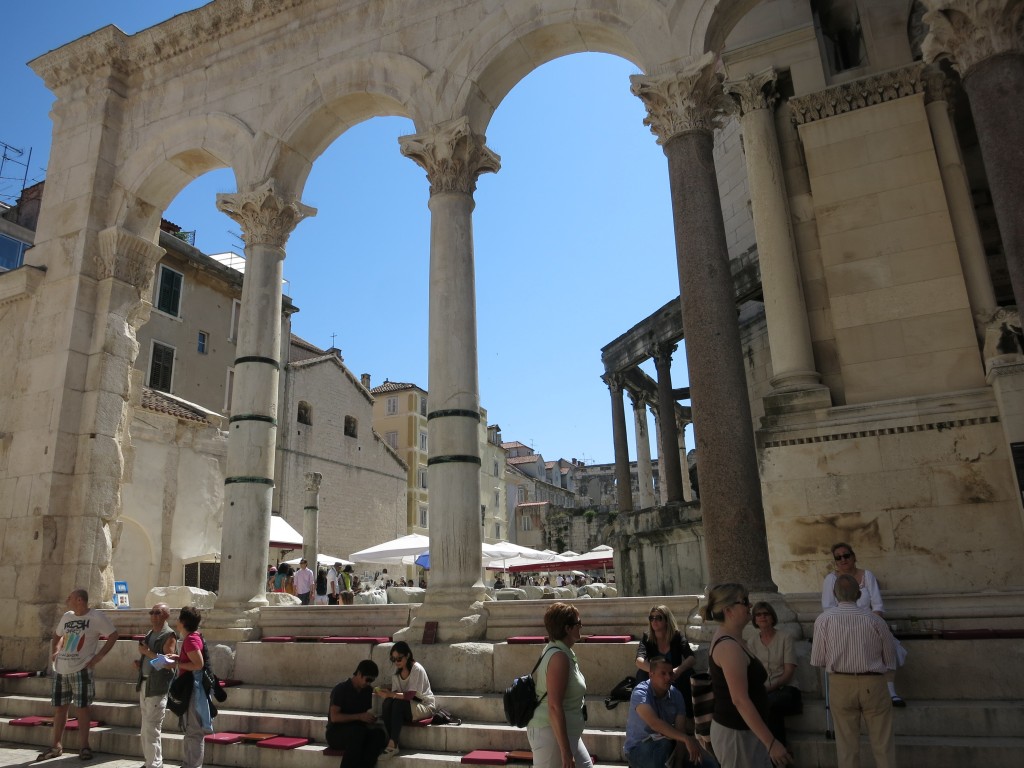 Diocletian's Palace was built by Diocletian, the Roman emperor at the turn of the 4th century, A.D. for his retirement from politics. It was once an imperial palace and a fortified town. Now it is home to 3,000 residents; commercial centers, and pricey resident apartments/hotels with a captivating view of the Adriatic Sea. 
Diocletian's Palace is a remarkable ancient monument which is surrounded by later medieval buildings and is now a thriving archaeological, historical, and artistic complex.   In 1979, it was  added to the UNESCO World Heritage List. And of course, it is of huge interest to tourists.
After you tour the palace, you can simply relax on the Riva (at the port), have an ice cream, and people watch for a while.
We enjoyed our visit to Split, Croatia although is was a short one.
Our next port stop to come: Kusadasi, Turkey