I've always loved visiting the Florida Keys. Pelicans, iguanas, blue skies, hot sun and ocean all around, what's not to like?   I can see why Ernest Hemingway fell in love with Key West and made it his home in 1931.  
After many visits to Key West including walking by his house, I finally toured the house Ernest Hemingway lived in from 1931 until 1939.
When we arrived, we were immediately taken with the lush gardens and old-style architecture. Built in 1851, Hemingway and his second wife, Pauline, bought the sprawling mansion in 1931 for the grand sum of $8,000.
Inside the house, much of the Hemingway's original decoration and furniture is still present, with additional touches of Hemingway-themed paintings on the walls. During his time in the Keys, Hemingway had become an avid sports-fisherman.  He enjoyed spending this time fishing alongside with some of his other friends (including Joe Russell, who opened the still-beloved 'Sloppy Joe's' bar on Key West's Duval Street).  Many of the decorations and paintings throughout the house reflect this passion and explain the inspiration for one of Hemingway's most famous books, The Old Man and the Sea, in which a Cuban fisherman, long without a catch, battles with an enormous marlin in open waters.  The Old Man and the Sea was the last work published by Hemingway before his death. It won the Pulitzer Prize in 1952.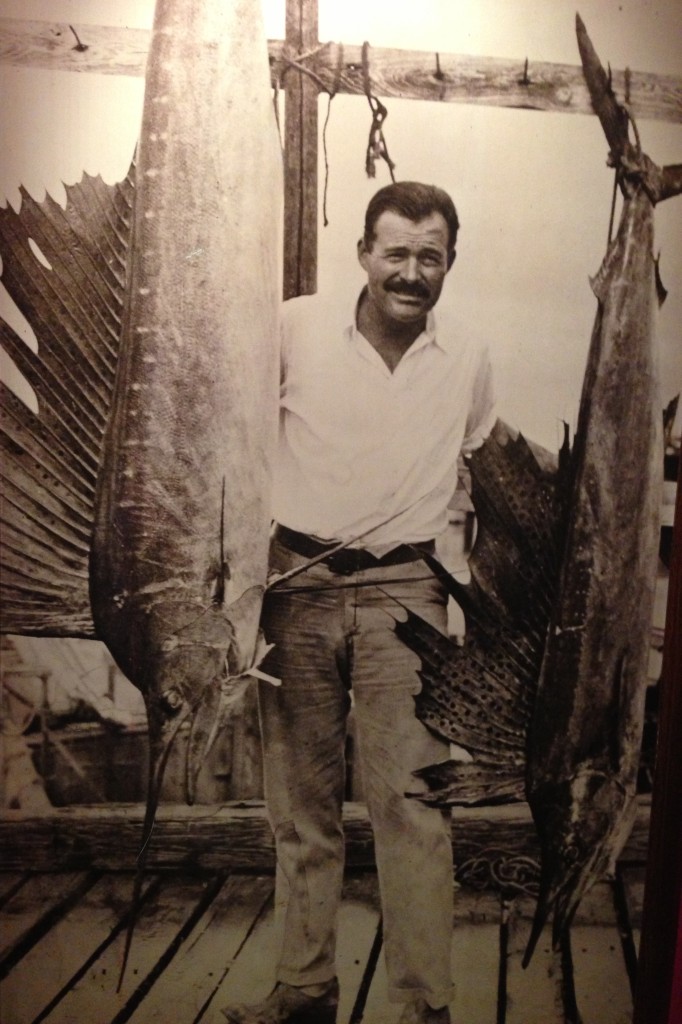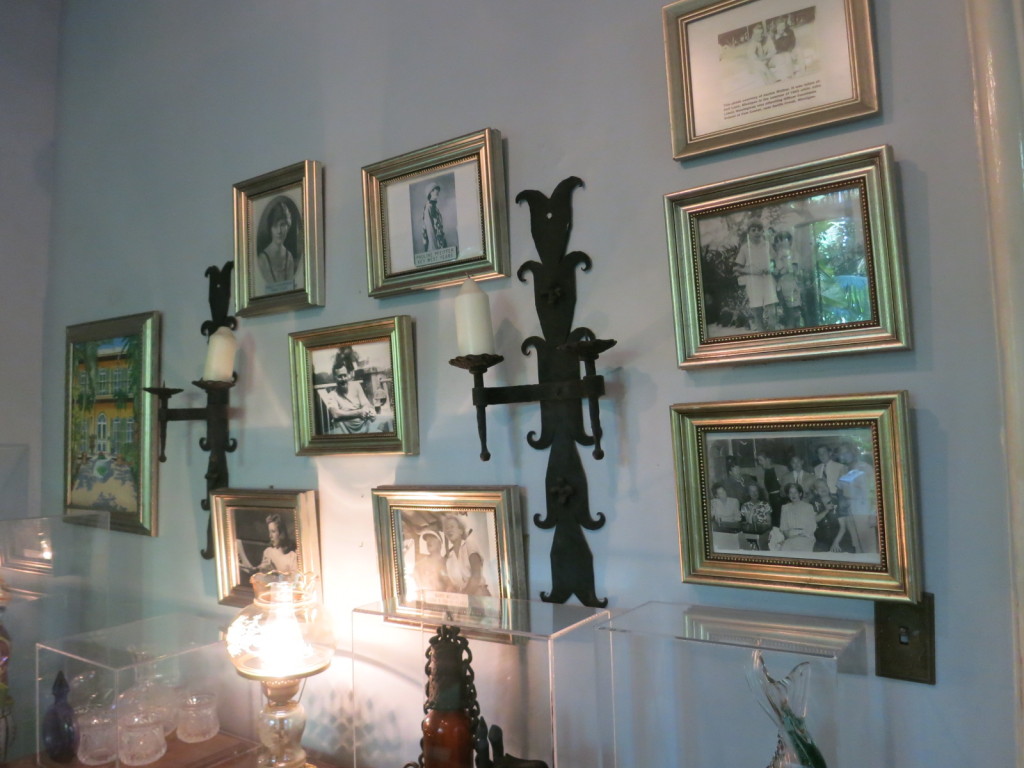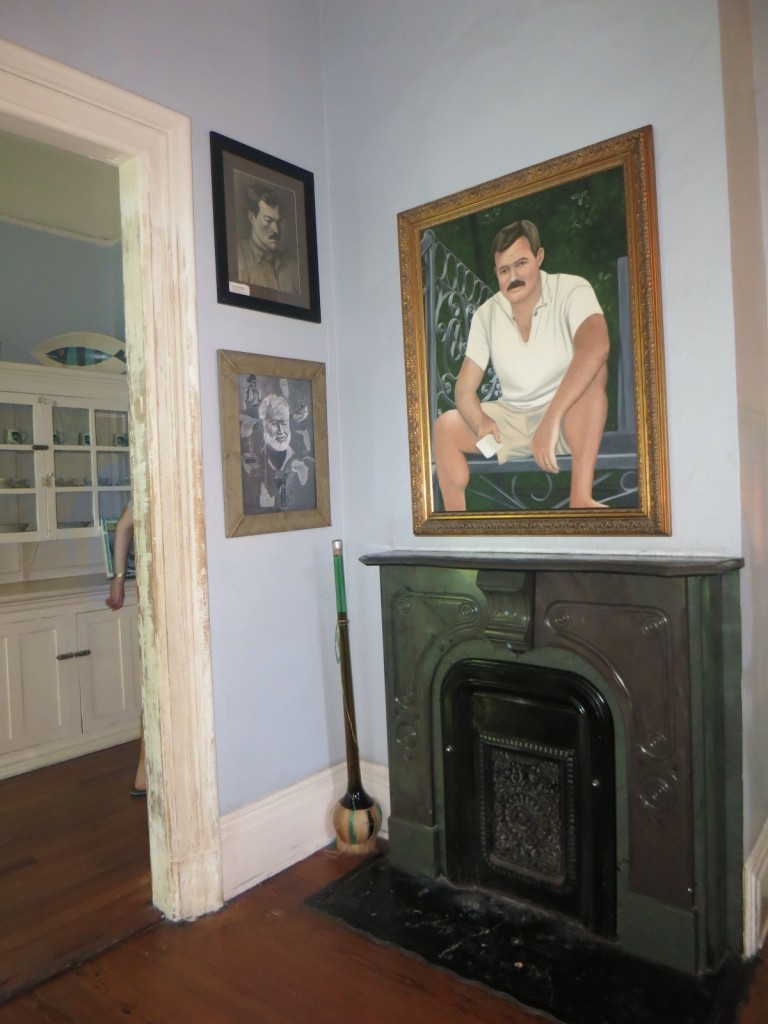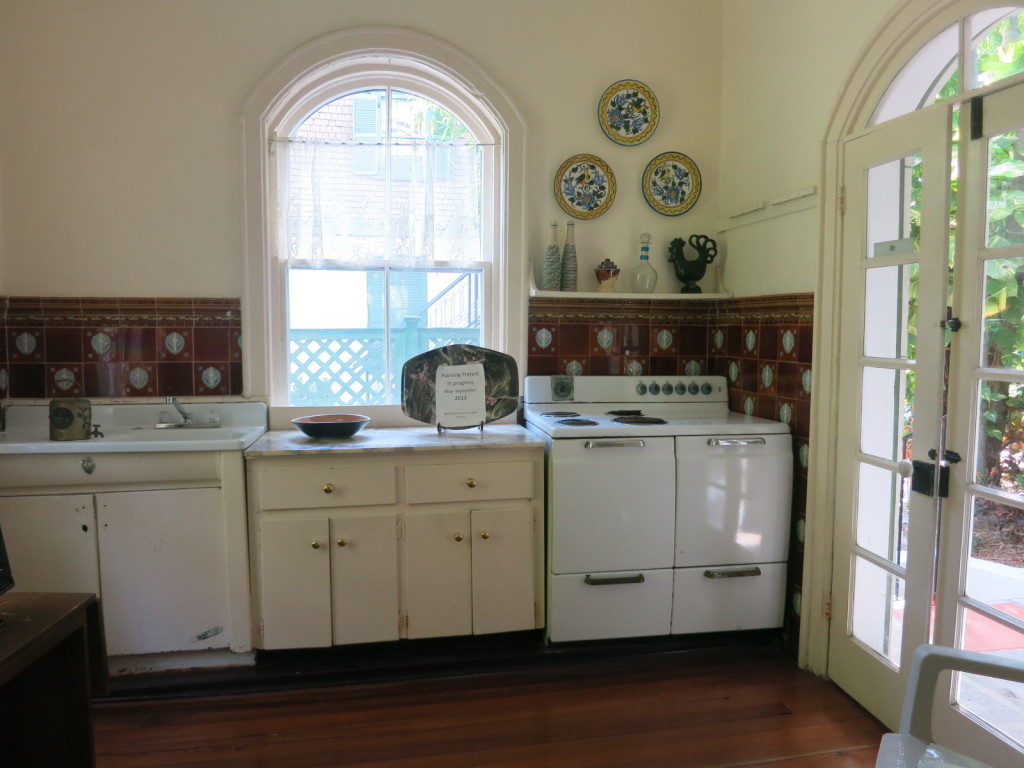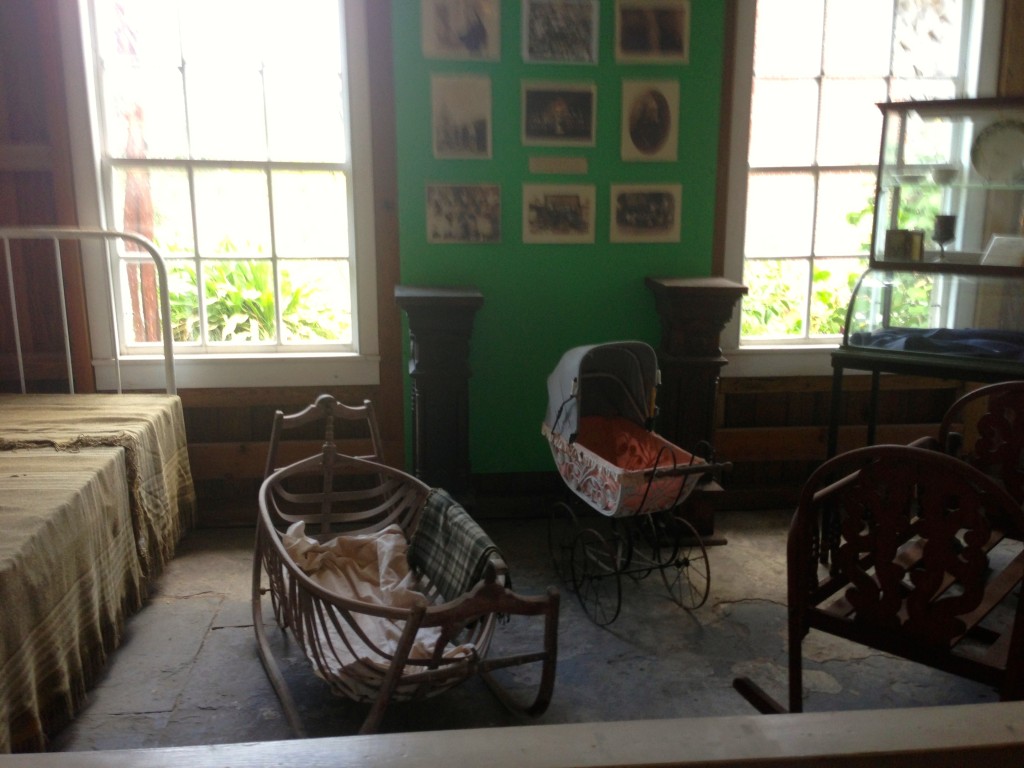 The house is cheerful, painted pale yellow-white, with beautiful green shutters framing its many high, arched windows. Outside, the upper floor is wrapped with a spacious verandah, showing views of the grounds, the neighborhood and a nearby lighthouse. The interior is full of light, with high ceilings, and no ceiling fans.   Pauline had a passion for chandeliers, and upon moving in, she had all of the ceiling fans (which she deemed unforgivably tacky, despite their practicality in the tropical climate) ripped out, and replaced with chandeliers.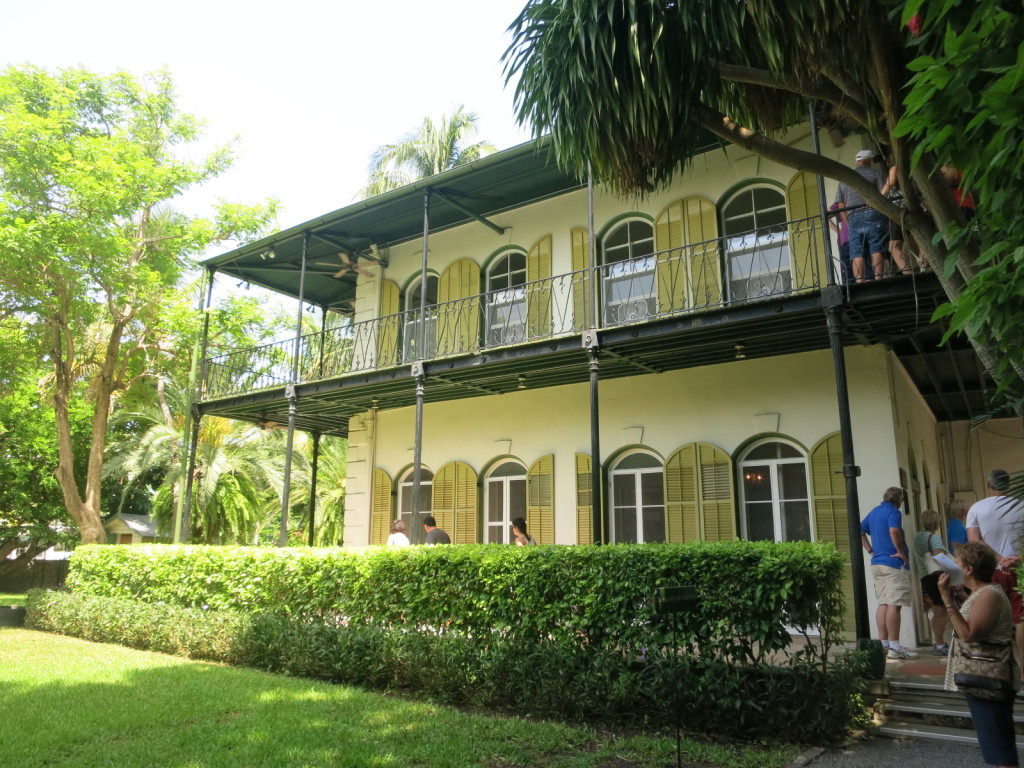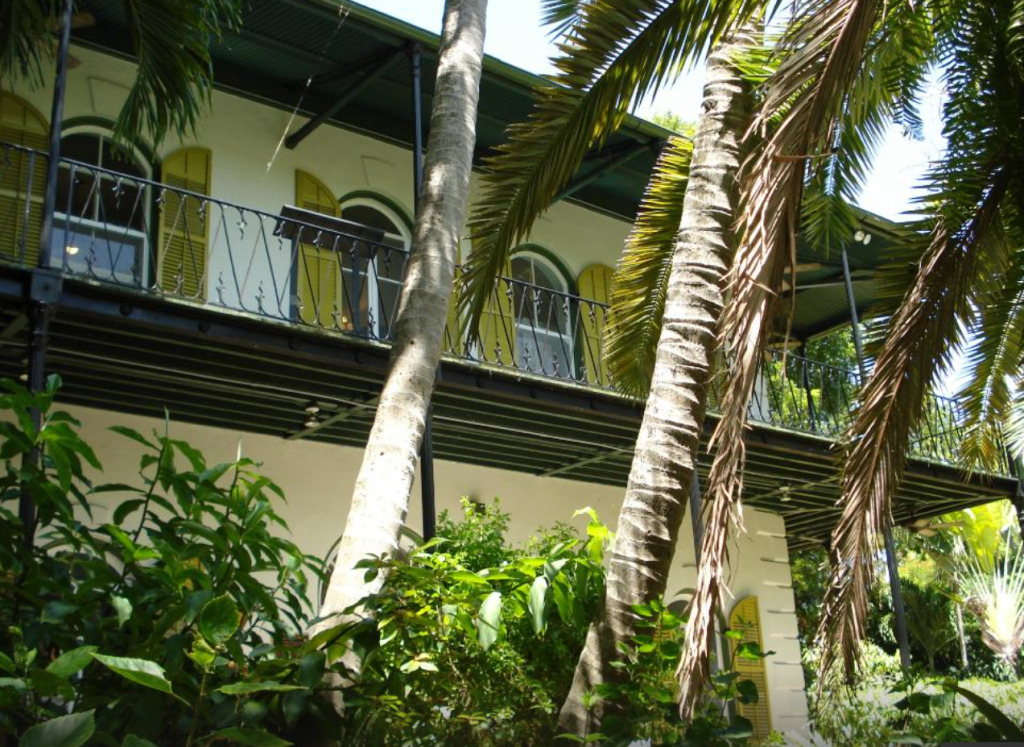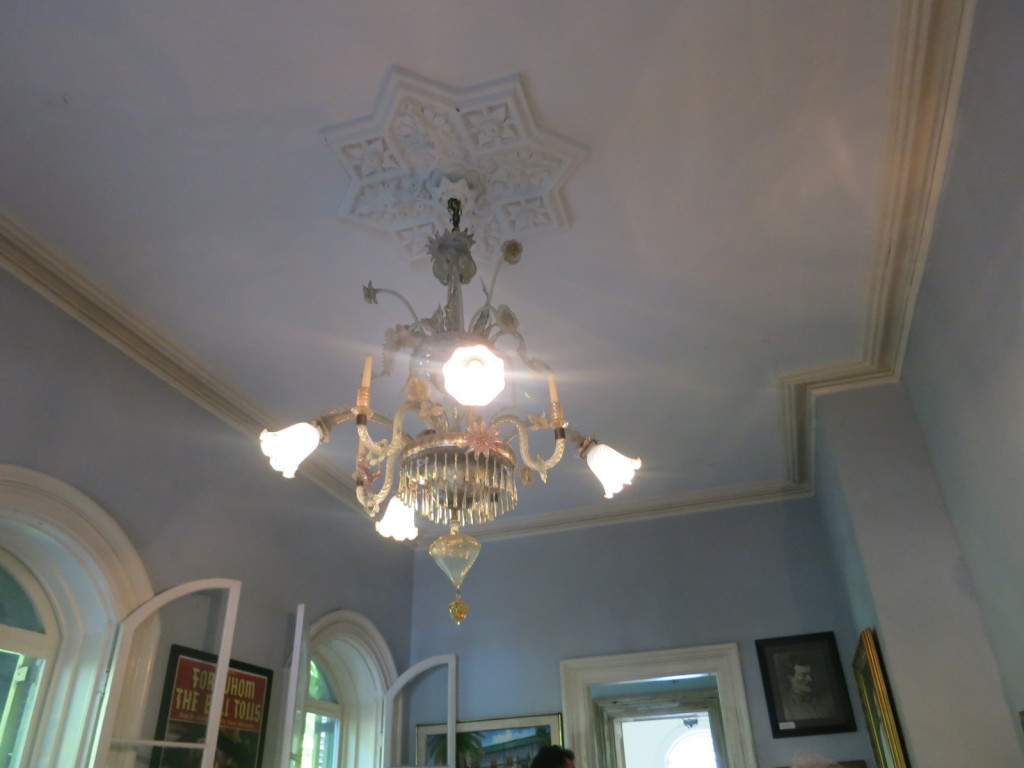 Hemingway loved cats and kept them most of his life. Today, there are a large number of well-cared-for cats roaming the estate. They aren't just ordinary cats either, they are mostly six fingered. The story goes that Hemingway had become friends with a ship's captain during his time in Key West.  The captain had a cat with the unusual trait of being polydactyl, i.e. an extra toe on each food. Hemingway admired the cat and the ship's captain gave it to him.  Many of the cats at the Hemingway home are direct descendants of that original pet, and the average number of toes per cat is pretty high!
Several small cat-houses and food and water stations punctuate the property. Each cat is named, tracked, and well cared for. Many are somewhat aloof, but we found several eager for a cuddle.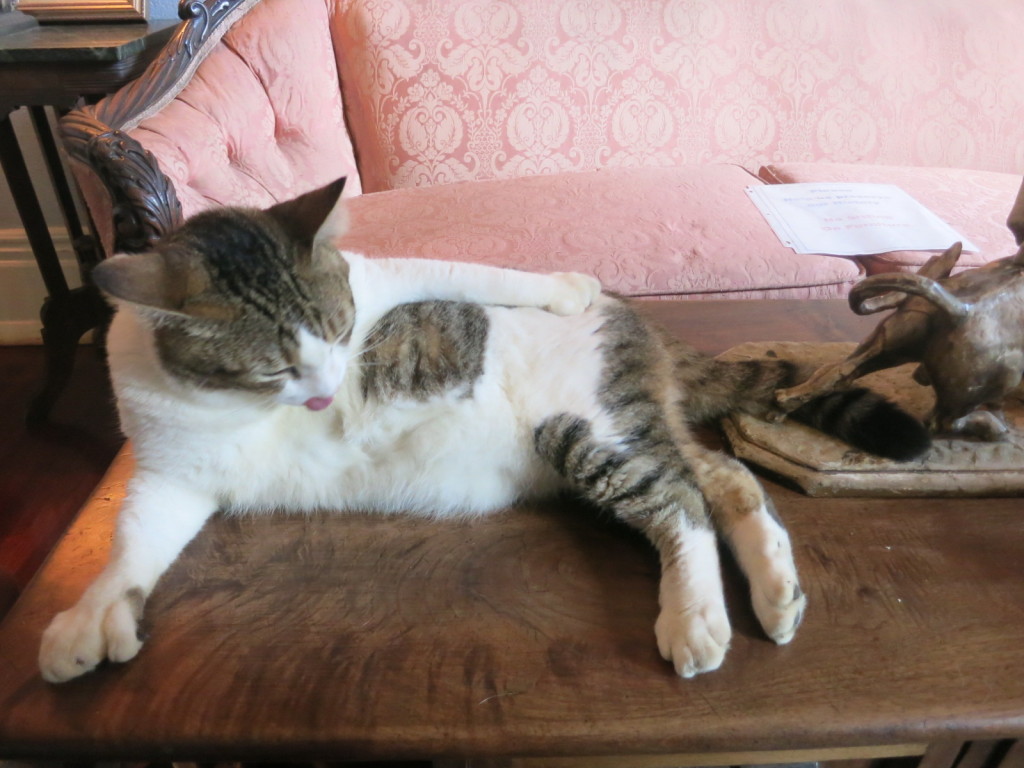 Something I found interesting about the house is that it sits 16 feet about sea level, and was built out of limestone quarried from the site. It's the second-highest site on the island.  As a testament to its construction and location, it has survived many hurricanes. It even has a basement which has never flooded.
One of the most striking features of the grounds was the swimming pool.  Hemingways' pool was the first private, residential swimming pool built in Key West, and is the largest to this day (it's 65 feet long). Surrounded by grass and tropical plants, and boasting the occasional decorative statue around its edge, the pool is a thing of beauty.  But there's a story behind its construction…
Keep in mind that Hemingway only paid $8,000 for the entire estate in 1931, it was Pauline (his second wife) who had the pool put in during the winter of 1937-1938, at the tremendous expense of $20,000.  She had the pool build while Hemingway was away and without informing him.   When he returned and found the lavish pool, he was so angry that he told her that she was spending too much and "could be spending his last penny." He threw a penny on the ground which is somehow still there, protected under glass on the concrete ground by the pool.  Ernest and Pauline divorced shortly after, and Hemingway moved onto his third wife, Martha Gellhorn.  Ladies, you might want to think about this story before you have the house remodeled while your husband is out of town….
Above the pool, in an outbuilding that was originally a carriage house, is Hemingway's writing studio. The author liked to write in the morning, and so he had a sort of sky-tunnel built leading from the main house directly to his second floor studio, so upon rising in the morning, he could walk across and immediately begin his day's work. The studio and has been preserved as Hemingway left it, with his leather writing chair, his books, his table and his typewriter.  Visitors can view it from the doorway, cats are free to enter and wander.
Hemingway moved to Cuba in 1939, and divorced from Pauline a year later. The author owned the Key West house until his death in 1961. Pauline had lived there until her death in 1951. Sadly, Hemingway committed suicide with a shotgun in 1961 after a few years of deteriorating mental health (Bi-Polar Disorder). His father, sister and brother all died by suicide as well.  Living in Ketchum, Idaho, with his fourth wife, Mary, Hemingway was 66 when he died.
Museum is open daily 365 days a year from 9 a.m.-5 p.m
Admission / Location: 
Adults:            $13
Children:          $6
(5 and under):  FREE