The Key West Lighthouse and Keeper's Quarters Museum is directly across the street from the Hemingway House.
The original lighthouse was built in 1825. In 1832, the first woman Keeper of a lighthouse was named. Barbara Mabrity became the Key West Lighthouse Keeper in 1832 after the death of her husband, the previous keeper.
In 1846, the Great Havana Hurricane hit Key West and destroyed the lighthouse. That was before the current naming scheme for hurricanes. It earned the "Great Havana Hurricane" name since it was a direct hit on Cuba on its way to Key West.
In 1848, the tower we see today was opened measuring 15 meters high.  In the years following, the Key West Lighthouse underwent a number of upgrades including the installation of a Third Order Fresnel Lens, an extension to the tower which allowed the light to be seen from a greater distance, the addition of Keeper's Quarters, and finally the electrification of the light.
The lighthouse itself is quite a climb with 88 steps trekking up to the top of the tower.  We started the climb up the very narrow and winding stairs.  I constantly felt like the stairs were moving and began to get the shakes.   With the lack of a/c, it was quite hot and probably not a good thing to do during the hot summer Florida months.  Once we reached the platform around the lighthouse it was quite narrow and there were placards pointing out sites like the southernmost point of the Continental US.  I could see all the sides of the island.  I pushed myself against the wall of the platform and took a few pictures.   The climb down was just as frightening.   Having to stop every so often to allow someone to squeeze by.   It was well worth the workout.
The lighthouse was decommissioned by the Coast Guard in 1969, since there was no longer a need for a full-time Keeper due to technological advancements.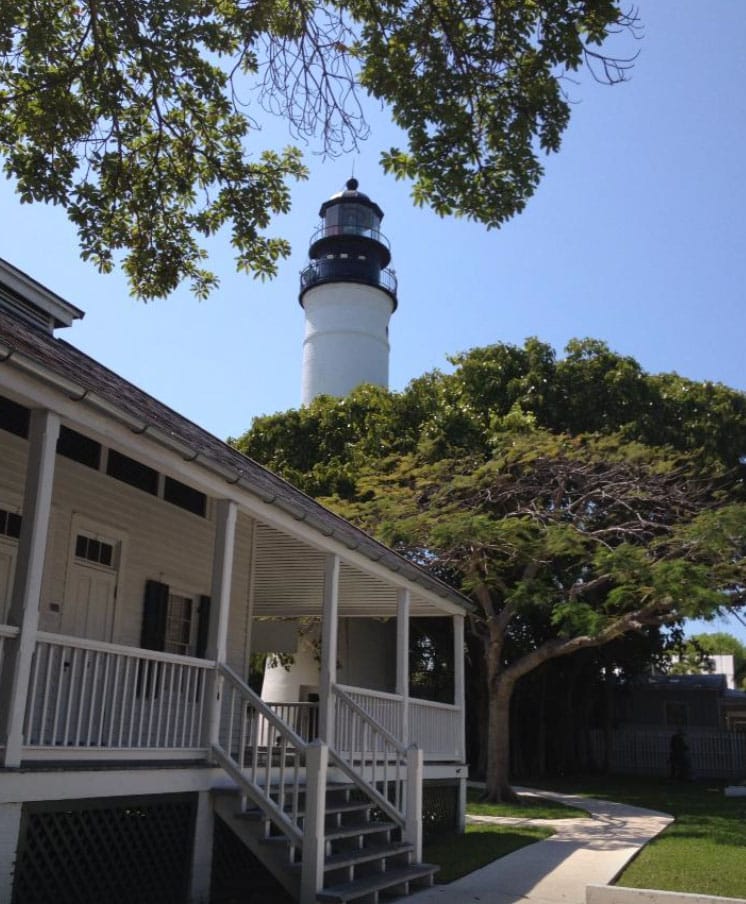 Today, this Sentinel of the Sea stands as a museum dedicated to Key West's maritime heritage and to the men and women who bravely kept the light burning to protect the ships and sailors.
The lighthouse is surrounded by a set of sculpture exhibits on the Key West Light House grounds.  The statues are by world renowned artist, Seward Johnson.
Admissions:
Adults: $10 Children (age 6 and up): $5
Children under 6: FREE Students with ID: $5
Seniors (62+), AAA Travelers, and Locals with ID: $9
KWAHS Members: FREE