There are some places I've been that have stayed with me more than others, which are impossible to forget.  When I travel I collect memories.  Memories that will stay with me for many years.  I expect that the snapshots of these travels will be ones that I cling to forever.
So when Justin and Lauren of Justin Plus Lauren nominated me to write about My Top 5 Favorite Destinations that I'd most like to revisit, in conjunction with "Booked.net – Top Destinations to Go There" challenge, my mind started wandering with all the possibilities.  It was actually harder than I thought it would be to narrow the list down to only five, here are the five places I'd return to in a heartbeat in no particular order.
Tenerife, Canary Islands
The volcanic island of Tenerife which is the largest of  the seven Canary Islands, has so much to offer that I can write endlessly about all there is to do.  It's also where my family on my dad's side lives.  One of my favorite things to see in the island is the third largest volcano in the world called "El Teide".   The drive to El Teide is spectacular.  You feel like you're in another planet.  The south of the island is famous for its black volcanic beaches.  One of the best places to stay is in "Playa de las Americas".   I've been to Tenerife several times already, and can't wait to go back to visit the family and see new sites around the island that I haven't been too.
Positano, Italy
We visited Positano a few years ago on our way down to Pompeii. I'd always wanted to visit.  It is said that Positano is one of Italy's most romantic and luxurious towns.  They were right!  It was exactly as I had pictured it, with its crystal blue waters and homes built vertically along the hillside cliffs.   The stop in Positano was fantastic but a little rushed. I'd love to be able to spend an afternoon and evening soaking up the atmosphere.  Positano is definitely on my list of towns that I would like to return to one day.
Venice, Italy
Venice is one of those cities that no matter how many times you visit, you never get tired of it.  We been to Venice three times already, and I want to go back again.   Most people say it's one of the world's most romantic destinations and I have to agree.   Venice has so much more to offer than just its gondola rides and canals.  It's a city bursting with art galleries, historic buildings, winding alleys, fascinating museums, monasteries, synagogues, and churches.  One of the great things about Venice is that there are no vehicles.  Walking around the city makes the Venice experience special.
Mykonos, Greece
I had always dreamed of Mykonos, the beautiful blue water with the white houses lined up on the hilltop with their beautiful blue doors.  I was super excited last summer when we got the chance to see it for ourselves.   When I think of Mykonos, my mind wanders to one of the most striking features of the island, the windmills set on the side of a hill overlooking the Aegean sea with whitewashed homes.  Pristine whitewashed and looking like sentential guarding the town below.  Cute little walking paths for streets that you can get lost in a minute, great little shops and a diverse group of cafes and bars.  The most powerful feature of Mykonos is the colors. I don't know if it's because of the light or the white buildings for contrast but as you can see from the photos, the colors just seem more vivid and charming than almost anyplace that I've ever been.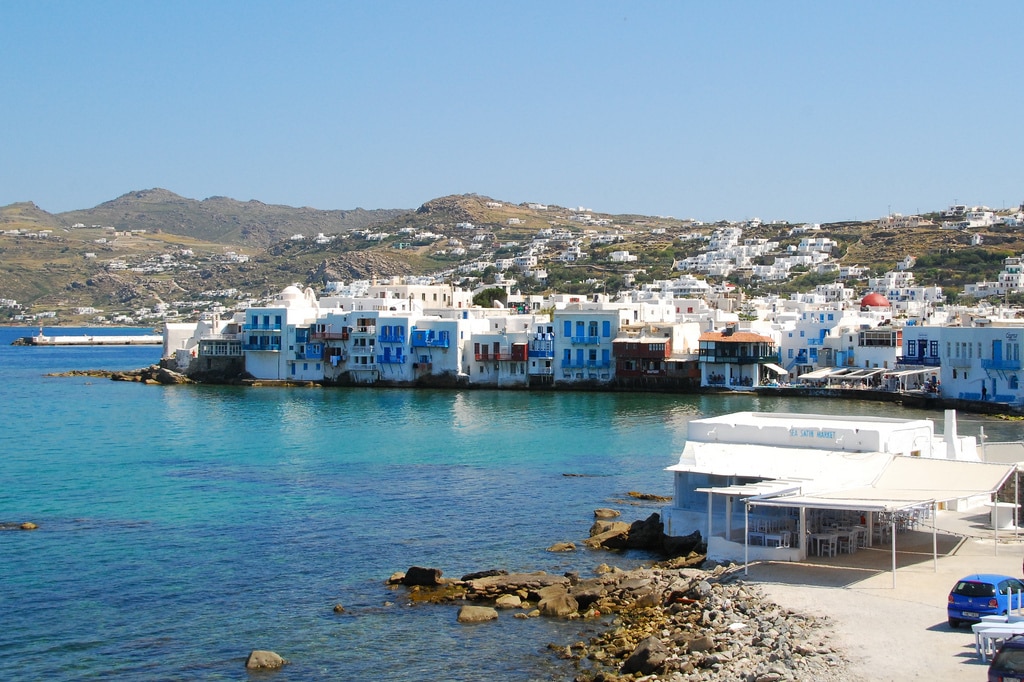 Trinidad, Cuba
Cuba is another place that I'm passionate about, especially since I was born there.  I left the island when I was only four years old and went back for the first time fourty-four years later.  This year I had the opportunity to travel to Trinidad, which I had always wanted to visit.  It's one of the oldest Spanish colonial towns in Cuba dating back 500 years.  I had heard from other travelers that it was a picture-perfect location, between mountains and the Caribbean coastline, and also had an abundance of natural attractions.  We stayed in the town this trip but when I return, I look forward to exploring the natural attractions. The town of Trinidad has it all from its colorful buildings to lively entertainment in the evenings around Playa Mayor.
Who doesn't want to win a brand-new iPhone 6?  It's simple – 5 places you'd return to with 5 photos and 5 nominees. The winner, picked at random, will get a new iPhone 6.
I nominate the following five blogs to take the challenge:  Travel Shop Girl, GlobeTotting, Vanilla Sky Dreaming, Crazy Sexy Fun Traveler and The Girl and Globe 
I would love to hear about your favorite destinations you'd love to re-visit!