In the world of the rich and the famous spending $30,000 a night is a dime a bucket. If you happen to be a billionaire, you are probably well aware of these luxury hotel suites from around the world.  But if you just won the lottery and joined some of the richest people in the world, these might be of interest to you. Here's a peek inside some of the world's most expensive hotel suites in the world.
Hotel President Wilson, Geneva
Costing $83,200 a night, the Royal Penthouse Suite at the Hotel President Wilson,  a Starwood Luxury Collection Hotel  in Geneva is famous for being the largest and most luxurious suite in the world.  Guest can choose from one of 12 luxury rooms with private terraces, each accompanied by its own marble bathrooms with amenities by Hermes. Spanning around 1,700 meters in total, while it also features an unforgettable panoramic view across the lake with a magnificent mountain backdrop. With every conceivable amenity, such as the Bang & Olufsen BeoVision 4-103 flat-screen TV with sound system, the Steinway grand piano, a billiards table and a private gym, the suite leaves nothing to be desired. This truly unique suite stands for pure luxury with maximum security, from bulletproof glass to a private lift to take guests directly to their majestic living quarters.
Mandarin Oriental in Pudong, Shanghai, China
At an average price of $26,450, a night the Presidential Suite at the Mandarin Oriental  offers guests their own private wine cellar, a fully equipped kitchen, a three-meter wine bar, a private meeting room and dining room. Taking up the majority of the hotel's 25th floor with 4.8-meter ceilings, this magnificent two-bedroom suite is one of the most striking of its kind in Shanghai.  The living room provides space in which to relax and entertain. The bathroom alone is larger than most Hong Kong apartments at 50 square meters and is stocked with luxury bathroom amenities by Ormonde Jayne. It is, however, the suite's outdoor space that's most striking. Complete with loungers, the two private roof gardens offer astounding views across the entire city from every side of the suite.
Hotel Plaza Athenee, Paris, France
For an average of $26,000 per night, the Royal Suite at the Hotel Plaza Athenee a Dorchester Collection Hotel  tops the list as the most spacious, luxurious and most expensive hotel suite in Paris.  The 4,843 square-foot suite comes with four bedrooms, four bathrooms, two lounges as well as an office and a kitchen space. The suite overlooks one of the main landmarks of the city, the Eiffel Tower. It also has views onto the famous Avenue Montaigne and its luxury shops.  The suite features a Parisian design blending classical and modern styles. The furniture dates from Louis XV and Louis XVI periods and includes golden and purple finishes for a contemporary look.
Grand Resort Lagonissi, Athens, Greece
If you have a hard time relaxing in this Mediterranean villa you're probably doing something wrong.   For an average of $35,000 per night, at The Royal Villa, Grand Resort Lagonissi you can enjoy two master bedrooms, each with a fireplace and an oversized marble bathroom.  There is a private butler, who stays in onsite staff quarters with a separate entrance to cater to your every whim. For sun worshippers, there is a private sunbathing deck at sea level, a fully equipped gym and a massage table. It's an odyssey you won't forget.
Grand Hyatt Cannes Hotel Martinez, Cannes, France
At the Penthouse Suite at the Grand Hyatt, Cannes Hotel Martinez you can spend your evenings soaking in your own Jacuzzi located on the private terrace overlooking the Bay of Cannes. For $37,500 a night guests can stay in this seventh floor penthouse equipped with two master bedrooms, a living room, a dining room, and two marble bathrooms adds to the feel of luxury.
 Four Seasons Hotel, New York City
Planning a trip to New York you can spend your vacation lounging in this $45,000 per night Ty Warner Penthouse at the Four Seasons Hotel. It took seven years and $50 million to complete this project. This suite is the highest hotel room in the city and offers 360 degree floor to ceiling views.  If you get tired of the view, you can select a book from your own library, which is stacked with over 100 books on art and culture.  Enjoy the services of a 24-hour personal butler, a Rolls-Royce chauffeur, an art concierge, a personal trainer, all-inclusive access to the Spa and dining venues, and unlimited international telephone calls.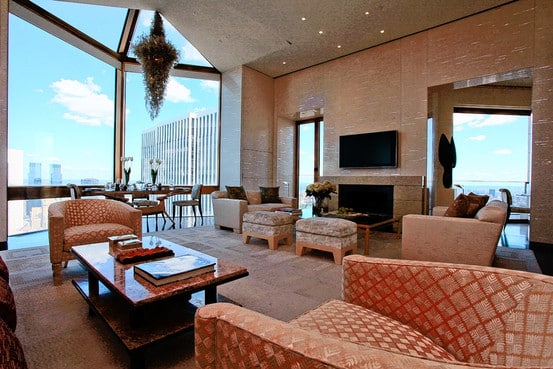 Atlantis, Paradise Island, Bahamas 
Just as  Atlantis, Paradise Island is the premier luxury resort destination in the Bahamas. Royal Towers Bridge Suite is premiere accommodation at $25,000 per night.  The Royal Towers Bridge Suite offers guests spectacular views and ten sumptuous rooms full of unique amenities—including a 1,250-square-foot living room with a grand piano and twin entertainment centers, a dining room capped with a 22-karat gold chandelier and truly spacious bedrooms.  The suite has 12-foot ceilings throughout with full length windows looking out from the bridge spanning Royal Towers' 23rd floor.  The Bridge Suite also offers vacationers a permanent staff of seven, who access the rooms via a private entrance. Throw in the eye-popping balcony views, and a butler, and this is no ordinary pad.
Palms Resort, Las Vegas
The Hugh Hefner Sky Villa at $35,487 per night, high in the Palms Resort Fantasy Tower, is fitted out with everything Playboy.  Rracy artwork selected by Hef himself, a huge, rotating circular bed and an indoor pool, branded with the Bunny logo, leading to a hair- — and libido- — raising cantilevered spa bath high above the Strip. This 836-square-meter, two-bedroom pad also includes an orgy-sized bathtub, bar and poker table and an indoor waterfall. The eye-watering price doesn't include breakfast — or Bunnies.
For now, I'll continue to play the lottery and hope that one day my dream of spending one night in one of these luxury hotel suites come true.