Thanksgiving is one of my favorite times of year to be in New York City.  It's a great time to take a horse drawn carriage ride throughout Central Park, to go ice skating in Rockefeller Center while admiring the Christmas Tree, and of course watch the Thanksgiving Macy's Day Parade live. And what better place to start your holiday shopping than on Fifth Avenue!
Last year we decided to go see mom and the extended family in Jersey and sneak in two nights in the Big Apple for a New York Getaway at the Four Seasons Hotel New York in Midtown Manhattan on 57th Street, one of NYC's most upscale shopping destinations.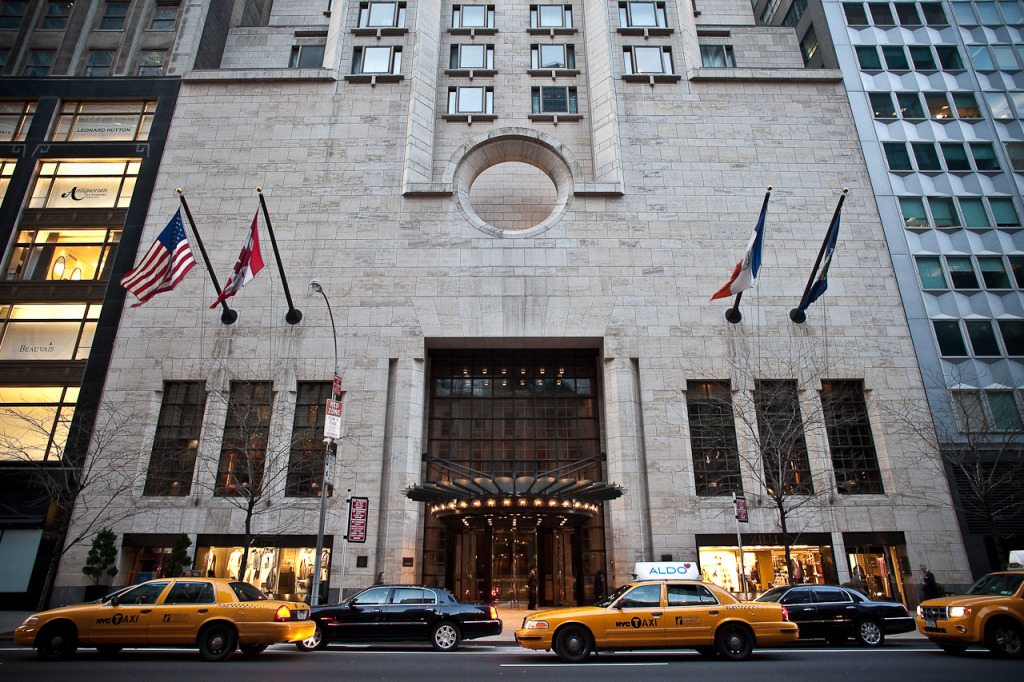 Our room was located on the 33rd floor overlooking the skyline of New York City. It was a perfect view from all the windows. The room was spacious with the bed on one side and a sitting area on the other.  The bathroom was exquisite.  I particularly enjoyed watching all the news coverage of the Thanksgiving Parade on the little TV while putting on my makeup.
Four Seasons New York strives to make sure all your needs are met.  The lobby area, including The Garden Restaurant, is stunning, a timeless contemporary design impressive in grandeur.
The Garden Restaurant experience is quite enjoyable surrounded by all the trees. They serve breakfast, lunch, and brunch on the weekends.  The service and food were terrific. Tables are generously spaced so private conversation is easy. It's perfect for meeting friends or relatives for breakfast or lunch.
From the hotel, it's a short walk to Fifth Avenue and Central Park. Some of the top luxury brands stores are within walking distance (Louis Vuitton, Prada, Chanel).  One of my favorite store is the Louis Vuitton store on Fifth Avenue.  It's my husband's worse nightmare when I tell him I want to go inside.  They have the best selections of purses and it's hard for me to resist buying maybe just one.
We really enjoyed walking around the city and seeing all the department store holiday decorations.  It certainly made me feel very festive and into the holiday spirit.
One of the highlights of our trip was going to a Broadway Show.  We went to see The Book of Mormon.   A must-see if you're in New York.
If you are in New York City during Thanksgiving Weekend, make sure you go to the front of the American Museum of National History to watch the famous giant helium parade balloons get inflated the day before Thanksgiving.  The action starts around 4pm on Thanksgiving Eve on 77th & 81st Streets between Central Park West and Columbus Avenue.  Public viewing is from 3 until 8 pm.  It's best to arrive at about 5 pm when the balloons start to take shape.   Also, you might want to consider getting VIP Tickets for the Macy's Thanksgiving Parade.  You can buy the tickets online.  Some hotels also offer packages that include the VIP tickets.
At the Macy's Thanksgiving Day Parade, you can expect dazzling musical performances, cool floats, and awe-inspiring helium balloons.   It can be very cold so make sure you bundle up.
Thanksgiving vacations can give you and your family more time to spend together and less time to worry about whether the turkey gets burned.  Whether you want a traditional holiday or decide to celebrate with a twist, make this Thanksgiving a day to remember with a fun family trip to New York City.
Happy Thanksgiving and hope you enjoy some gobble gobble!