Le Jules Verne, (Eiffel Tower) . The Restaurant on the Second Floor of the Eiffel Tower.
We have been to Paris many times before and have never able to get reservations.  I booked dinner a whole six months in advance knowing that we wanted a truly special dining experience while in Paris.  Le Jules Verne restaurant at the iconic Eiffel Tower is a culinary delight to experience.   We got a chance to see it for ourselves.
As a guest upon arriving at the foot of the Eiffel Tower, you will be whisked away via private elevator 125 meters skyward to a dream-like destination high in the heart of the Eiffel Tower. There, you'll enjoy the magical views of the most beautiful city in the world as a backdrop to the sophisticated haute cuisine from a kitchen created under the watchful eye of famed restaurateur Alain Ducasse.  There is absolutely no waiting at any point, and you escape the bustling crowds of the streets below into the most luxurious of restaurants.
We were seated on the side of the restaurant that had a fabulous view of the River Seine. When you are sitting in the restaurant, you are struck by the massive metal structure and the mechanical operations around you. The elevator is operated by a 30-foot steel wheel spinning right next to the restaurant.

The cuisine was Modern French and guests can opt for lunch or dinner as well as a choice of an a-la-carte menu. We opted for dinner reservations and decided to make a soiree of it.   The food was delicious and each plate was beautifully presented as a work of art. 

While the view was magnificent from our table, we were a little jealous of those tables located adjacent to the window. They had a direct view of the entire city. I've been told that those particular tables require a reservation made more than a year in advance.  Note:  How does anyone plan a dinner reservation from over a year in advance?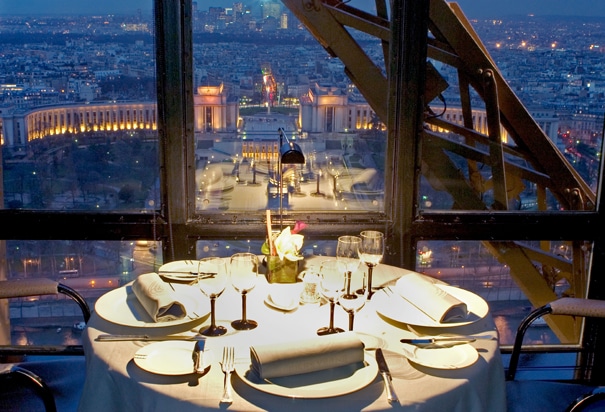 The food was great but what you are really paying for (and you certainly pay a lot for it) is the view and elegant dining.   The entire dinner experience took three hours.  We got to see the Eiffel Tower's light show twice.  We took our teenage kids with us.  It's a very romantic place, more for adults and those who can truly experience the ambience.
The staff was superb and made the entire experience excellent.  It's a once in a lifetime dining experience. Suffice it to say, it wasn't easy to bid au revoir to the Eiffel Tower and the unique view. This epicurean adventure will remain etched in our memory for many years to come.
Dress code is smart casual, however most men wore a jacket and tie.  Women wore dresses.  Sportswear (such as t-shirts, shorts, trainers etc…) are not accepted.
Have you ever dined at the Eiffel Tower Restaurant?