We arrive at the port of Kusadasi our second stop on our Splendour of the Seas cruise.   With only one day in Kusadasi, it was a no brainer that we we wanted to go see Ephesus and the Library of Celsus.
So as part of our visit to Kusadasi we booked an excursion to the ancient city of Ephesus, which is located on Turkey's western coast near Selcuk, a small town 30 minutes away from Kusadasi. Up in the hills around 4 miles away from Ephesus is the House of Virgin Mary, recognised by the Vatican as a place of pilgrimage. There's a small chapel, built on the foundations of a humble dwelling where Mary's believed to have spent her last days.  It is believed that St. John brought Virgin Mary to Ephesus after the crucifixion of Jesus Christ and that the small house was built for her on Bulbul Mountain.
You can collect water from the Holy Spring and leave a prayer in the form of a ribbon on the prayer grid. You don't have to be religious to appreciate this serene setting though. Tucked high in the hills above the coast, it's really something. From here we carried on to the world famous archaeological site of Ephesus for our walking tour. Ephesus is where you can walk amongst the ruins and get a feeling for what life must have been like in its heyday, when it was the fourth largest city in the eastern Roman Empire, famous for its Temple to Artemis, Ephesus was ruled by Greek, Persian, Roman, Byzantine and Ottoman empires, so there is a rich history to explore and apparently only 25% has so far been excavated.
Today tourists flock to see the Library of Celsus, which was originally built to serve as a monumental tomb for Celsus. a Greek philosopher. The library was built to store 12,000 scrolls. The builders used an optical illusion to make the building look larger than it was by making the columns at the side shorter than those at the center. Another quirkiness of the building is that the outside shows a two-story building, but the inside reading area was surrounded by three floors.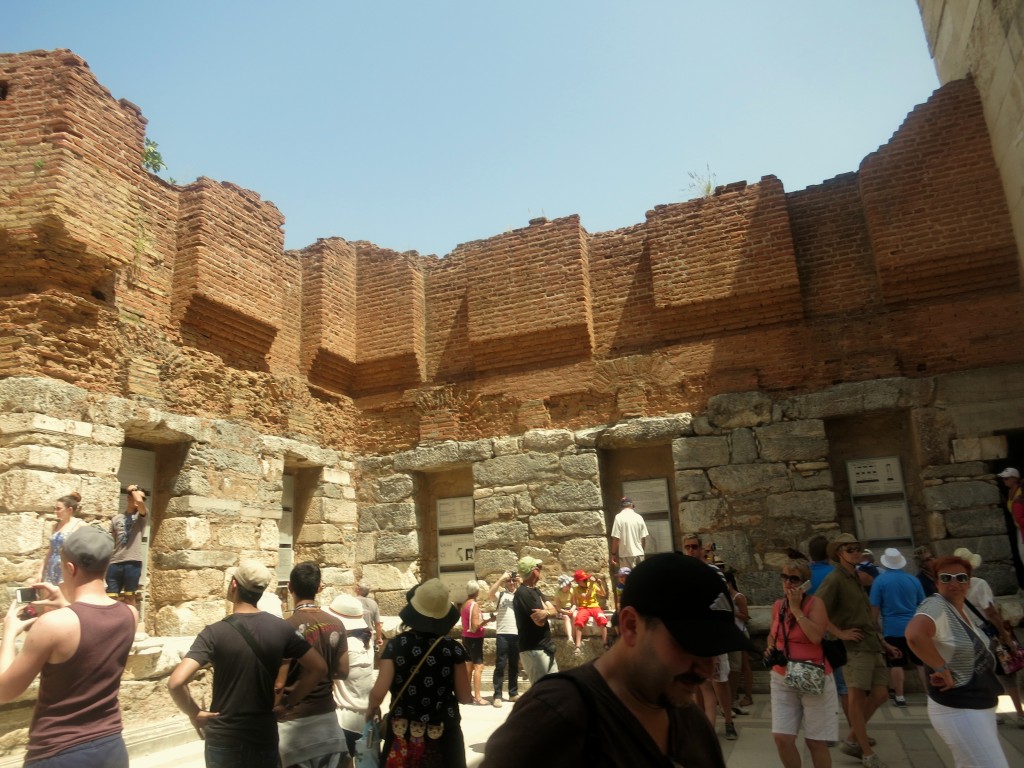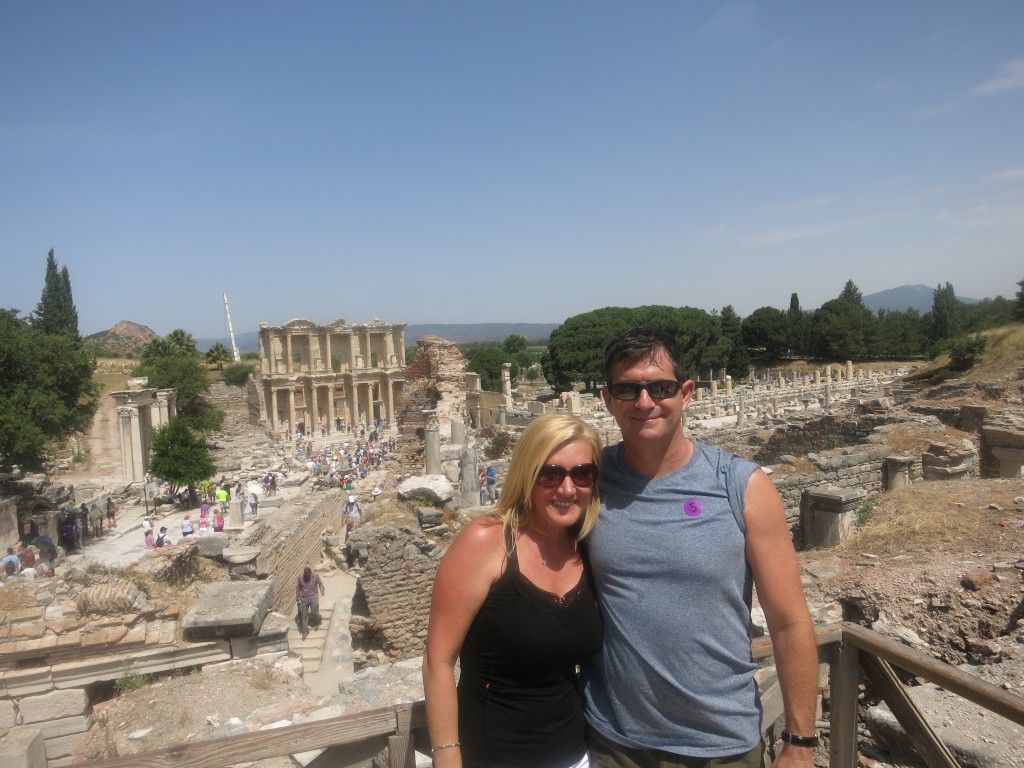 Temple of Hadrian was built before 138 A.D by P.Quintilius and was dedicated to the Emperor Hadrian, who came to visit the city from Athens in 128 A.D The facade of the temple has four Corinthian columns supporting a curved arch, in the middle of which contains a relief of Tyche, goddess of victory.
Theatre of Ephesus
The other incredible structure in Ephesus is the Theatre, which could seat up to 25,000 people.  It was built during the third century BC during the reign of Lysimachos and was enlarged during the Roman Period to the size you see today.  The Theatre was not just used for concerts and plays, but it also features religious, political and philosophical discussions, and gladiators and animals also fought in this arena.
One can hardly leave Turkey without tasting some turkish food and doing a little shopping. Our tour guide brought us to Ege-Hali Carpets after our tour.   They do a demonstration of how silk threads are extracted from their cocoons and used in the making of handmade silk carpets.   They have a woman making rugs, and they show you the silk threading process.
They showed us many of the rugs that they made.  Some of these are very nice, with mixed silks and wool fabrics including an "authentic certificate of authenticity". We ended buying these three rugs which were shipped to us directly via Federal Express.
After spending a fortune on our Turkish rugs we continued our shopping spree at the Kusadasi Bazaar where you can find souvenir shops, carpets, leather goods, clothes, fake handbags, shoes, jewelry and lamps.    The shops have people standing in the middle of the walking street and they will try to engage a conversation with you then bring you into their shop. 'Hayir' means no in Turkey – don't be afraid to use it.  
I bought this beautiful lamp for our bathroom.
Travel Tips
Try to avoid large tourist group in Ephesus by going either early morning or late afternoon.

I

t's very hot in the months of June-July, make sure to bring a hat, suntan lotion and water.
Don't forget to bargain at the Kasadasi Bazaar.  Happy Shopping!!!