There's no other hotel in the Miami county that exudes more luxury and history than the beautiful Biltmore Hotel and Resort. In fact, this magnificent property is a National Historic Landmark located in the exclusive Coral Gables area, which is nearby to Miami Beach and Downtown Miami.
Also, this iconic hotel is part of the Preferred Hotels & Resorts brand which offers an incredible loyalty program that I recommend to any traveler. With over 700 hotels in 85 countries, you have endless amounts of luxury properties to choose from. If you join their loyalty program, you will have access to member-only rates, early check in & late check out, room upgrades, free wifi, and points towards free nights!
I love the Mediterranean architecture here with classic Italian, Spanish, and Moorish influences spread over an impressive 150 acres of tropical land.
The Biltmore opened in 1926 and has hosted an array of favorite world leaders and celebrities, some of which include President Roosevelt, the Duke and Duchess of Windsor, Judy Garland, Bing Crosby, Al Capone and more. Being a resort, you can enjoy a restored Donald Ross 18-hole, 71-par championship golf course, as well as tennis courts, the largest hotel pool on the East Coast, and a European spa and fitness center. If that wasn't enough to entertain you, the Biltmore is also located within minutes of Downtown Coral Gables and the famous Miracle Mile, where a great variety of renowned restaurants, boutiques, and businesses can be found.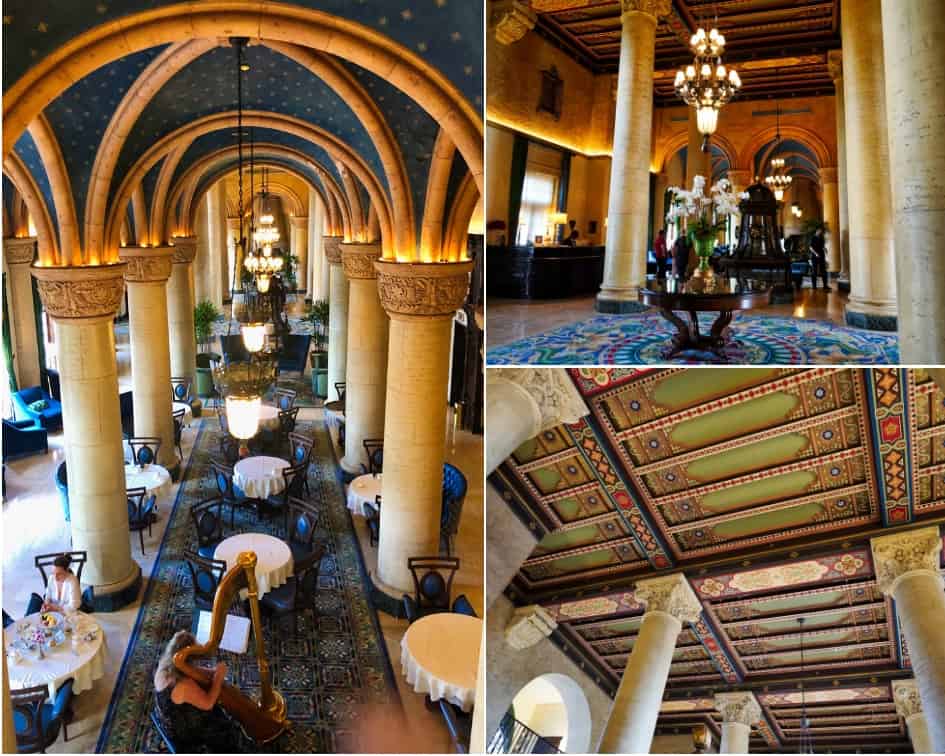 The Rooms at The Biltmore Hotel and Resort
As a Fort Lauderdale local, I recently had the pleasure of enjoying a staycation at The Biltmore Hotel and Resort which is only about an hour's drive. My home away from home was a beautiful Tower Suite, one of 174 suites on the property. Just like the rest of the resort, their rooms embrace an atmosphere of traditional elegance and luxury. My favorite style combination! The decor also has Mediterranean influences, creating a very richly appointed and welcoming scene.
My Tower Suite is situated in the iconic tower of the Biltmore and offers wonderful panoramic views. So if you enjoy waking up to impressive scenery, I highly recommend staying in a Tower Suite. Not only that, but the suites feature a spacious separate living room and dining room area, complete with sofa and chairs, a giant flat screen TV, and all the amenities you could possibly need like a Nespresso Machine! The beautiful plum color was very striking and a great choice for the comfortable living room chairs and rug.
That lovely color carried on into the master bedroom, along with a regal gold and light turquoise. The king-size bed was incredibly cozy and lush with its 340-thread-count Egyptian cotton duvet cover. I enjoyed having a second flat screen TV in the bedroom as well. Another nice touch was the full length mirror, which not enough hotel rooms include! The spacious bathroom was wonderfully appointed with Jerusalem stone-tiled floors and luxurious essential bath amenities.
Dining at The Biltmore Hotel & Resort
In terms of fine dining, The Biltmore Hotel and Resort offers one of Miami's most unique and sophisticated international dining experiences. You are in great hands with the Biltmore team who is led by Executive Chef David Hackett. With four restaurants, two bars, and a classic afternoon tea service with live music, there is no need to ever leave the resort during your stay!
Whether you're seeking the warmth of a traditional restaurant (formal or casual), or the bliss of dining al fresco, you have excellent choices here thanks to the stunning historic setting and a myriad of award-winning options. For a special occasion, I highly recommend their Five Diamond restaurant, Palme d'Or. With frescoes painted on the ceilings and Michelin starred Chef Gregory Pugin, you can certainly enjoy impeccable surroundings as well as delicious food. The chef introduces a farm to table approach and enjoys using local and sustainable ingredients, along with utilizing modern techniques to ensure that guests feel something both new and nostalgic while dining here.
Fontana Italian Restaurant is a great option for an elegant and romantic meal. Located in the Biltmore's lushly landscaped courtyard, you'll enjoy the center fountain and views of the Mediterranean architecture. The incredible food is Italian-inspired with local and seasonal ingredients, as well as an impressive wine list.
For more casual dining experiences, I'd recommend Cascade Poolside Cafe and Bar, and the 19th Hole Sports Bar & Grill. Both offer quality dishes and a relaxed, casual environment. We enjoyed a fresh and flavorful salad by the pool.
Things to Do at the Biltmore Hotel
The first place I went after checking in was their world famous pool! At the Biltmore, be sure to take a dip in one of the largest hotel swimming pools in the Continental U.S. It measures at 23,000 square feet and holds a mighty 600,000 gallons of water! I was in awe of the sparkling views and cascading waterfall. If you want to enjoy yourself poolside, but out of the sun, I would recommend opting for one of their private cabanas.
Lounge by the Pool
Play a Round of Golf at The Biltmore
If you usually prefer a bit more action, be sure to check out their championship golf course, spread across 6,800 yards of immaculate green land. If you're a beginner, you can take a lesson to improve at the Jim McLean Golf School located on the Biltmore's property.
For those that prefer breaking more of a sweat, take advantage of the resort's state-of-the-art fitness center. Here you can work out on Technogym equipment and choose from group exercise classes in yoga and spinning. There is also a weight room and a refreshing Succo Juice Bar for after your workout!
The Biltmore Spa 
We live in such a fast-paced, always-connected world, so when I'm staying at luxury resorts like the Biltmore, I always head to the spa! Located on the 7th floor with panoramic views, the elegant Biltmore Spa is a 12,000 square foot sanctuary. Perfect for personal space and tranquility, everyone can certainly enjoy physical and mental replenishment here.
I feel very fortunate to live close to such an iconic and historic hotel. From five-star service, lush surroundings, award-winning dining, and luxurious rooms, people from near and far can enjoy the wonderful oasis that The Biltmore Hotel and Resort provides!