Over the holidays, I had the pleasure of experiencing the amazing amenities and scenery at the five-star Kichaka Private Game Lodge on the Eastern Cape of South Africa. Kichaka Lodge is ideally situated just a little over an hour from Port Elizabeth airport.
My friend and I traveled to the lodge on an overnight excursion offered through our wonderful Crystal Cruise where we sailed from Mauritius to beautiful Cape Town.  Another great aspect of this location is that it is malaria-free, so that is one thing you do not need to worry about during your stay.
Kichaka Private Game Lodge is the perfect destination for getting the most out of the African Bush in the Eastern Cape. Beautiful views of the nearby waterhole and encounters with majestic animals await at this vast landscape located in one of the largest game reserves in Africa.
Once you arrive at the main house, they transport you to the lounge in one of their game reserve vehicles.
As soon as we checked in to the incredible Kichaka Luxury Lodge, I knew it was something special.  We were greeted with a nice refreshing cocktail.
Above the main lounge is a library which overlooks the waterhole.  The room is the perfect place to curl up with your favorite book and relax.  They offer a wide selection of books if you forgot to bring one.

The Room
They have 10 exclusive luxury chalets that are all connected to the main lodge through walkways that wind around the natural bush. The suites come with a private deck, plunge pool, complimentary mini bar, air-conditioning and free wi-fi. Kichaka offers the perks of a luxury stay amongst untouched, pristine wilderness. Each luxury chalet is named after an element of the African Bush and is built out of stone and thatch.
Our private lodge room came with our very own plunge pool that overlooked the hippopotamus' watering hole!
The rooms offer all of the complimentary amenities you have come to know and love from a five-star property with the added bonus of being able to slide open your glass doors to hear the sounds of nature and the wildlife around you.
The bathroom came with a double vanity, rain shower, spacious bathtub, and plenty of closet space on either side of the room. It even has under floor heating throughout the room.
Game Drive
I was very excited for the highlight of our stay here: the big game drive. It was so worth getting up at the crack of dawn to go on a 5:30am excursion. We got to see zebras, giraffes, and even a baby rhino with his mother!
The scariest part was when a 5-ton male elephant started charging towards us from 30 feet away. Luckily, we had experienced rangers to keep us calm and to maximize our chances for exceptional viewing opportunities. Kichaka offers a unique experience as they have the advantage of being one of the highest carrying capacities of game in the country, meaning that the chances of seeing certain animals are higher than anywhere else! Guests will have plenty of opportunities to see Big Five animals (lions, leopards, rhinoceroses, elephants, and buffalo).
You also have the opportunity to go on a night drive during your stay, where you can see the elusive aardvark, aardwolf and other nocturnal game. With little or no light pollution, a night game drive at Kichaka is an opportunity to 'hear the silence of Africa', star gaze at the Milky Way and identify Orion's Belt, The Southern Cross, and Scorpio with the guidance of rangers.
Dining 
Kichaka serves quality South African wine and cuisine with impeccable service in their main dining room, outdoor areas or thorough room service. The house wines and spirits are all included in the overnight rate and are carefully selected. For the passionate connoisseur, a further selection of rare and fine Premier Wines and imported French champagne is also available. A selection of Cuban cigars is on offer from the humidor as well.
Since the game drives leave very early, they offer coffee, juices and croissants. The full breakfast is served after you get back from your early morning game drive. They offer a nice selections of fresh fruit, yogurts, meats, and cheeses.  You can also order made to order items from the menu.  I ordered myself a nice omelette to start the day.

The afternoons are meant for resting at Kichaka.  They offer an afternoon tea around 4:00 p.m. right before you leave on the afternoon game drive.  During the game drives, we stop for a short break and they ask you what you want to drink before you leave for the game reserve.  After the game drive, we return to the dining hall, where they had a nice dinner waiting for us.

Pool Area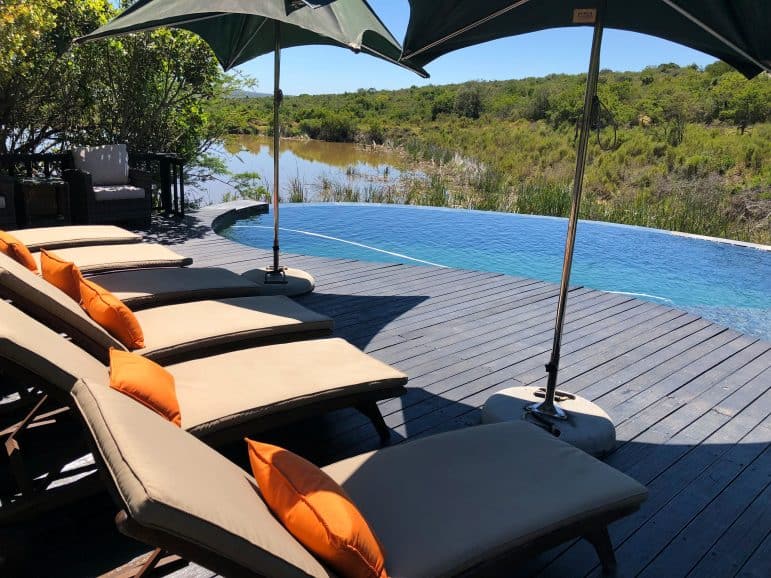 Spa Treatments
If desired, you can indulge in a massage or beauty treatment while overlooking the waterhole in the Wellness Suite or from the comfort of your own suite! They offer special skincare treatments, manicures, pedicures, aromatherapy and even an infrared sauna to ease sore muscles, joints or internal organs. The spa at Kichaka is the ideal way to unwind, rejuvenate, and detox through skin care packages, massage, and physiotherm, a treatment that heals the body by targeting muscles, joints, and other parts of the body. Since we were only there for an overnight stay we didn't have time to enjoy the spa.
A Crystal Cruise staff member escorted us back to Port Elizabeth airport, where we caught a flight back to Cape Town to meet our Crystal Symphony ship.  This excursion was perfect for my friend who was traveling with me and had never experienced a safari.
This lodge truly has so much to offer between the fabulous rooms, the game drives, the food and the relaxation treatments. Everything from the decor to the location was perfect and I'd highly recommend this spot if you're traveling in South Africa. I really was impressed with all of the extra features that this luxury game lodge had, and I hope you take my word for it and book a trip there to experience it all for yourself! Enjoy!
Pin This!