As much as I love traveling around the world, I also make a point to enjoy what's in my own backyard. In other words, I am a big fan of staycations! Living in Fort Lauderdale, I have so many gorgeous places around me to whisk away to for some rest and relaxation. Playa Largo Resort & Spa, Autograph Collection in Key Largo is the perfect place to do just that. This luxurious resort opened two years ago and it is the only five star hotel in Key Largo!
Some would say this is the Pearl of the Florida Keys, and so I was more than happy to stay for a couple of days. Check-in was a breeze thanks to the warm and welcoming expert concierge who know anything and everything about the Keys. Even before you step into your room, Playa Largo offers mesmerizing views of Florida Bay which gave me such a calming effect and put me in ultimate vacation mode.
Accommodations at Playa Largo Resort & Spa
Playa Largo has an impressive 177 luxurious rooms, suites, private bungalows and even a private beach house. I enjoyed my Partial Bay King Size Room. For 48 hours, it was my own little slice of paradise.  The room has a round table that we used as a desk that could easily roll out from under the cabinet for additional use.
The bathroom was very spacious with a rain shower and had light coming in from the glass openings that faced into the bedroom.  They were frosted so privacy isn't an issue.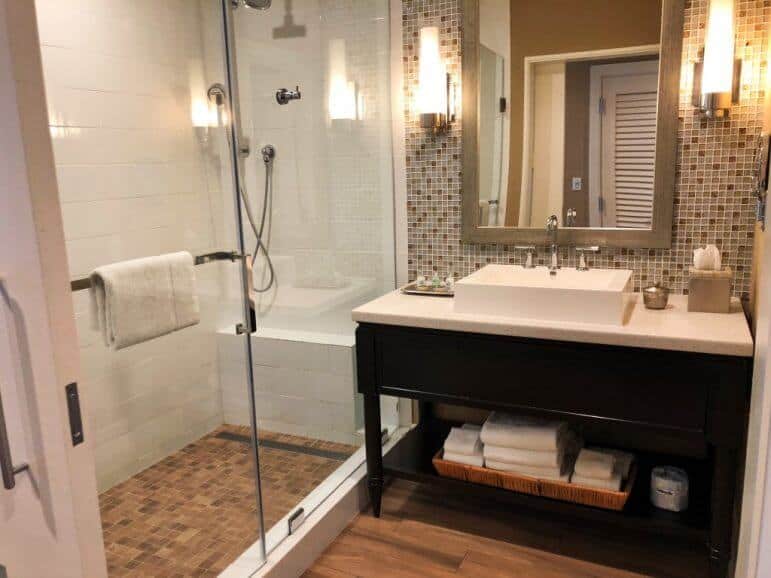 I loved the elegant yet comfortable decor, and most importantly, the views from my balcony.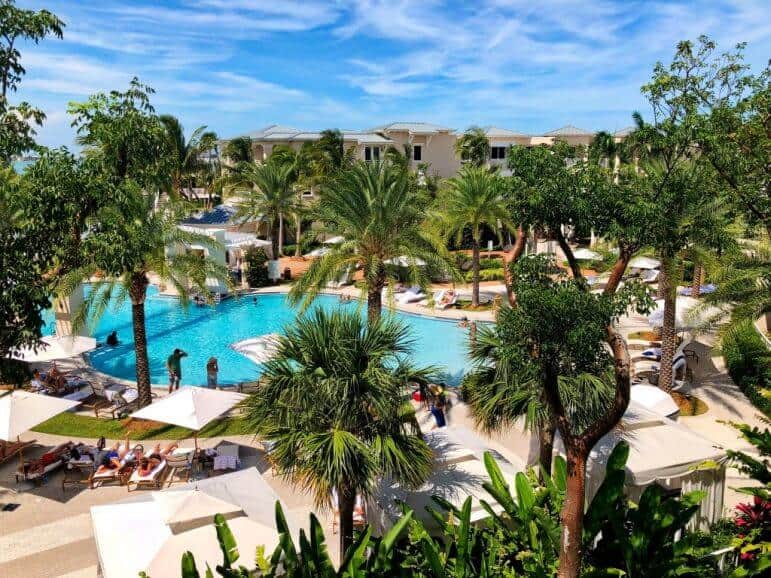 Pool and Beach Area at Playa Largo Resort & Spa
I was amazed at how expansive Playa Largo is, with over 14 beautiful, secluded, and beachfront acres in historic Key Largo. One major highlight is their beachfront playground which features a fresh water pool, private cabanas, fire pits, the Sandbar and several Watersport programs. They make sure every type of person can enjoy some fun in the sun. I always enjoy lounging by the pool, while hearing the ocean waves crashing onto the shore.
The beach is shallow, clear and no waves. It is accessible by a staircase. There are lounges, shade and beach service at the ready if you  just put your flag up.
Dining Options at Playa Largo Resort & Spa
I particularly liked how convenient the Sandbar was located to all of these fun outdoor amenities. However, that isn't the only dining establishment on property! You can also indulge in their 3 other restaurants: Sol by the Sea, Las Olas Ceviche Bar and La Marea.
I particularly enjoyed a fabulous lunch at Sol by the Sea one afternoon. I ordered fresh fish tacos and a tropical piña colada which I would highly recommend. This restaurant offers dockside dining atop white-washed tables, pastel fabrics, and driftwood benches all topped off with a dash of Bohemian culture.
If you're looking for a romantic date night and fine dining, I'd pick La Marea. This restaurant is the cornerstone of the Playa Largo Resort's culinary experience, offering tantalizing seasonal dishes with exquisite wine pairings.  I ordered a delicious snapper dish, and my husband went with a traditional steak.  They offer both indoor and outdoor seating as well.
Breakfast is also served in the morning buffet style at La Marea, but you can also order off the menu.
Spa & Fitness Center at Playa Largo Resort & Spa
After an afternoon of fun in the sun, I enjoyed visiting the Ocean Spa. This is a very tranquil and calming island spa experience, which is exactly what I was hoping for! You begin your relaxation in their spa lounge where you are offered refreshing hibiscus ice tea or a tropical beverage. To make it even better, they also offer a bite of spice dark chocolate while browsing the menu of treatments. Everything is centered around looking and feeling your best while revitalizing body, mood, and complexion.
I left Playa Largo Resort & Spa feeling fully relaxed and appreciative of the beautiful state I live in! After all, that is what a staycation is all about and this luxury resort ticked all of those boxes for me.
Pin This!