Parents will do almost anything to improve the lives of their children, but many times don't know what to do. The Huston's have a strong opinion about something that benefits all children and adults: Connecting with nature at the highest level possible. The Hustons own the Chilko Experience, located in the wilderness of southern British Columbia.  It's a very special place. In the late 70's, Phil discovered BC and never forgot it. In 2000, they bought an old guest ranch as a summer place for their family. In 2002, a five-year build project began that resulted in a seven home $10M estate for the use of friends and family.  With their family grown, the Hustons recently opened their estate to the public.   The Chilko Experience Wilderness Resort offers rustic comfort in British Columbia's vast Chilcotin region, near the crystal waters of Chilko Lake.
Chilko Lake Accommodation
Their location is on a five million acre pristine wilderness tract so vast it defies most people's sense of size. Most think a 10,000 acre ranch is pretty large. Now combine 5,000 of them and you've got the right size. Phil Huston says he is often asked their exact location and he has come up with a standard answer that most can understand.
"We are 200 miles from the nearest grocery store and cell tower, 50 miles from a post office and 40 miles to the power grid, but at night you can touch the stars. The vastness and purity of the area will overwhelm your senses upon arrival."
 

Stay in a Luxurious Log Cabin Home
The Chilko Experience Wilderness Resort offers rustic accommodations with your choice of three log  and three timber frame homes to stay in.   Your stays are all-inclusive, lodging in a log or timber frame home, chef prepared meals, an open bar and include all guided activities.
Main House
The main house is a 4,000 SF structure which is the hub of operations.  It's the dining and social center and contains three guest rooms.  The 800 square foot master suite is located on the top floor and features a canopy bed constructed from 600-year-old juniper logs. The lower floor has two bedrooms each with a bath and a king-sized bed.  It's perfect for large family gatherings.

Carl's House
Carl's House is two bedroom/two baths timber frame.  It offers two king-size beds, and one single and can sleep up to five guest.
Tower House
The Tower House is 2500 square feet of space with a one bedroom loft and 1 1/2 baths.  It is the owners, Phil and Anne's custom home, and available for seven night bookings at an upcharge.
Bryan's House
The Bryan's House log home offers two bedrooms and one bath.  It has a queen bed in the downstairs bedroom, and bunk beds upstairs in the second room.  It can sleep up to four guest.
Annie's Tea House
Annie's Tea house log home is perfect for a couple.  It comes with one bedroom and one and a half bath.
Bunk House
The Bunk House is a timber frame home ideal for families traveling with young  kids.  It comes with three double beds and one king.  It can easily sleep five.  Often families with "older" kids will house them in the bunkhouse while mom and dad enjoy their alone time is a seperate home.  Teenagers also prefer the arrangement.   The Chilko Experience has flexibility to house all families comfortably regardless of size or age.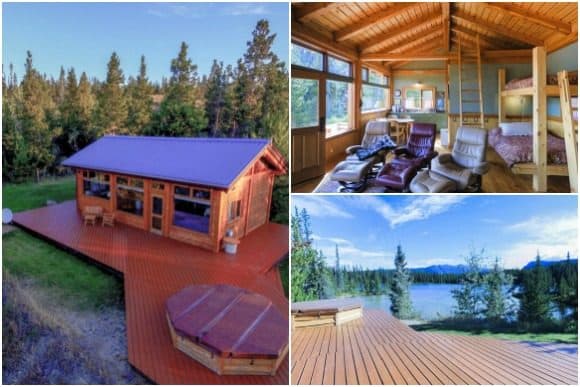 Huston observes, "I have had a unique opportunity to observe what few others have. As a father and someone who has spent 17 summers in the BC wilderness and hosted 1,000 plus guests, this is what I know. Exposure to nature at its highest level makes better kids and families. Disneyland is fun, but that is all it is. A bit like cotton candy- fluffy, but hollow. Take the same 10 year old and teach him how to catch his first fish, ride a horse, hike a mountain trail, watch salmon spawn and eagles soar and that experience has substance"
Chilko is a special place like no other. It has snowcapped mountains with 10,000 year old glaciers forming rushing streams that feed blue rivers so pure, all locals drink from them. Chilko Lake is the largest alpine lake in North America. It's 50 miles long and so beautiful, making Tahoe look like a mud puddle. The outflowing Chilko River has world-class fly fishing and was named Outside Magazine's '2014 Top White Water River in the World'. In the fall, a million Sockeye journey up the Chilko River to spawn and dozens of grizzly bears come to its banks to dine before winter. Photographers from around the world come for this event. Surround this with millions of Aspens turning bright fall colors and you have something wonderful. In short, Chilko is the Augusta National of nature.
Meals Prepared by Chefs
Make sure to bring your appetite because they offer three chef prepared meals daily in the main house. Lunches are sometimes packed depending on the day's activities. Breakfast would make a lumberjack smile with a full buffet breakfast awaiting you each morning. Dinner is usually fresh and local. Wild BC salmon, halibut, or prawns from nearby Bella Coola are favorites. Local ranches provide beef and fowl. Pastas, curries, and other ethnic dishes appear. Special dietary requests are easily handled.
Activities On The Property
Guest can explore the length of Chilko Lake on a warm sunny day by cabin cruiser, with stops at points of interest, test the fishing and enjoy a picnic lunch.
Experiencing nature at its highest level changes people. It inspires and humbles at the same time. We realize man is not as significant as he thinks he is. The 'How' of this experience is important. We experience nature by doing cool things in the middle of it," says Huston.
Guests enjoy both four-legged and four-wheel touring. Horseback trail riding to a hidden mountain top fossil bed takes a full day, but is well worth the effort. Chilko also has 500 miles of backwoods to explore by ATVs- probably the favorite guest activity. Some teens forget they have legs, but find them for a hike up Tulin mountain.
There is lots to do on the water. Kayaking, canoeing, paddleboards, and swimming are all options. Everyone loves Chilcotin darts. It's a competition course where guests learn how to throw Viking axes at wooden targets. A few minutes of instruction is all that is required. There is something fun for everyone to do every day, regardless of age or experience. When the activities are done it's time to go back and 'rough it' at the "Four Seasons," as one guest called the Chilko Experience.
Huston believes sleeping in a tent is over rated and hasn't done so in decades. "I enjoy my wilderness adventures in four to eight hour increments," says Huston.
"Then, I like returning to a hot shower, a soft bed, a good drink, a chef prepared meal and interesting company. Most guests do, also. Generally this is difficult at most facilities, due to transit time to and from activities, but not here."
The staff and owners accommodate every taste and accompany you on many adventures. You certainly won't be bored at Chilko.
Huston says, "The Chilko Experience does three things exceptionally well that makes me proud. Our architecture is world class: no tents here. Our location is a pristine 5M acre wilderness tract in southern BC. Travel is shorter and the season longer, drier and sunnier than Alaska. There are no lines, tour buses or cruise ships for hundreds of miles. Lastly, guided activities are absolutely essential to defining the experience. Hands on, laugh your tail off real fun is what we do. Boots on the ground, paddles in the water, fish on the line, sights seen by few- are what we have. Doing fun things in the middle of beautiful scenery is the ultimate way to encounter nature. Add family and friends and it just does not get any better. As a result, we make better kids and families."
The hospitality of Phil and Anne, the excellent cuisine, the refinement of the rooms, and the pleasant evenings under the stars, make the lodge unique and the experience unforgettable.
So book your log cabin early because they book up fast for the season (June – September)!
To Inquire about availability and rates at The Chilko Experience, British Columbia's Exclusive Wilderness Resort, by email at Phil@chilkoexperience.com or phone 1-888-865-7136 or completing the form on their website:  http://chilkoexperience.com/
Travel Options to The Chilko Experience:
Option 1: Fly commercial into Vancouver, British Columbia, Canada and take a sixty minute charter flight directly to Chilko. Land transportation to Chilko Experience provided.
Option 2: Fly commercial into Vancouver, British Columbia, Canada. Then fly commercial into Williams Lake, British Columbia, Canada.  Land transportation from Williams Lake to the Chilko Experience is three hours by vehicle.  National is the only rental agency at the Williams Lake airport.
Option 3: Drive to The Chilko Experience Wilderness Resort. We are a 3 hour drive from Williams Lake, 10 hour drive from Vancouver, or a 5 hour drive from Bella Coola, BC, Canada. The final stretch of road is gravel so a 4WD vehicle is recommended, but not necessary.
Pin This!