One of my favorite times of the year to go to New York City is right before the holiday season.  Everyone is gearing up for the big seasonal rush.  Some say there's no place like home for the holidays, but clearly they haven't experienced the joy of New York City in December.  With an abundance of tinsel-decked stores, lights and Christmas shoppers, this city is central to many of the celebrations that take place in Midtown Manhattan and Expedia.com asked me to share what I know about the festivities.
While visiting New York City, you have the option to escape the hustle and bustle with a walk through nature.  In the heart of Manhattan, Central Park spans 843 acres offering a vast number of activities to enjoy throughout the year.  The park offers everything from trails, bike paths, side shores, fields, and carriage rides. In all my travels, I've never seen a place where nature flourishes so plentifully while still having the skyscrapers peek out from behind the high line of autumn-turned trees. On one such walk, we were surprised to come across the Wollman Ice Skating Rink, one of the activities in Central Park that the family can enjoy specifically during the holiday season.
Rockefeller Center is home to the largest Christmas tree in America!  A tradition which began officially in 1933, the lighting of the tree has continued to be a ritual that takes place in early December featuring 30,000 lights, 5 miles of wiring, and a 550lb star.  The Norway Spruce ranges from 69 to 100 feet tall, with a maximum allowable height of 110 feet. In addition to this festive paragon, a breath-taking sight to see is the Top of the Rock Observation Deck on the Rockefellar Building. At 70 stories high, you and your family can experience 360 degrees of beautiful New York skylines mixed with the shimmering lights of the holiday festivities.
In line with the holiday spirit, a trip to Max Brenner's Chocolate Bar is a delicious way to celebrate the festivities for those of you with a sweet tooth. Located in Union Square, this famous house of chocolate offers a variety of desserts and main courses including different milk shakes, fondues, chocolate pasta, and even chocolate pizza. Not only will this restaurant cure cravings for all things rich and creamy, but they have a store where you can buy sweets to take home or give away as gifts!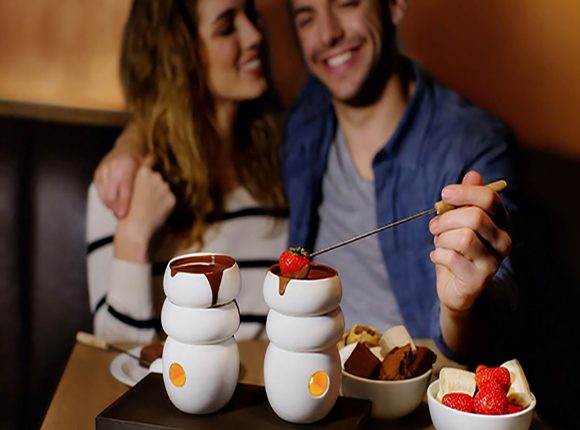 If your tastebuds are longing for salty instead of sweet this season, another renown restaurant is Le Relais de Venise. The main attraction of this French spot is the steak frites dish, covered in a delicious secret sauce. While you do have the option of looking at the menu, the unique part of this dining experience is that the meal has already been planned out (unless you specifically request a vegetarian option). The starter consists of a crisp green salad and bread which are followed by two servings of the succulent steaks frites and any way or dessert of your choosing. The wooden tables and warm atmosphere make it a great place to bring fellow friends and family that have never experienced L'Entrecote!
Of all the times to plan your trip to the Big Apple, December is truly my favorite time of year to explore New York City. This amazing city has so much to offer between culinary triumphs and shopping wonderlands. When all its already exciting venues are mixed in with the thrill of that holiday buzz, it feels like the perfect place to be to celebrate this heightened time of year. And if you're still struggling to find that special someone the perfect gift, check out some great gift ideas for travelers here!
Save