The luxurious Fairmont Mayakoba resort is set in the Mayakoba gated community, along the Riviera Maya.  It is situated within 240 acres of tropical forest intersected by crystal clear canal waterways and is surrounded by a pristine Caribbean shoreline, 40 miles south of Cancun, near the town of Playa del Carmen.
The development of Mayakoba, which means "city on the water" in Mayan, was designed to create a sustainable eco-conscious environment. I stayed at this magical resort for the ILTM Americas conference in September, and was joined later in the week by my husband for a romantic weekend getaway in paradise.
Our Arrival
Upon arrival, guests are greeted with refreshing towelettes and a glass of delicious ice cold juice to enjoy while completing the formalities of checking in. The reception area is open air, to better enjoy the stunning views from outside and the cross breeze. From the moment you register at the resort, you are assigned a butler who caters to your every need.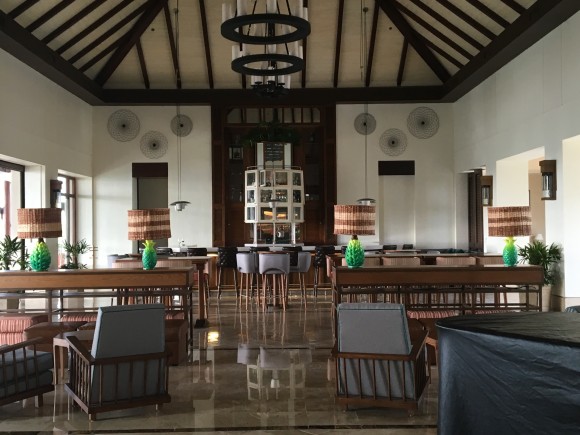 The grounds are quite large, so the hotel offers a convenient golf cart shuttle service for guests to utilize if they don't want to walk.  If you're adventurous and want to get some exercise you can hop on one of the resort's BMW bikes, available for both adults and children, and wander around the area yourself.
The hotel's palapa roofs are tucked among meandering canals, and bracketed by a lush plant life and a stunning beach view. The walkways of the hotel are designed to preserve the indigenous mangrove forests and protect the hundreds of species of local birds and animals that inhabit them.
Beach Area Casita
Fairmont Mayakoba has 401 rooms. Of these, the casita rooms are clusters of just two or four rooms in pretty 2-story buildings that have a distinctively Asian design, located in the Beach and Lagoon areas. My butler escorted me to my casita in a golf cart and provided helpful information to familiarize me with my room as well as the resort and all it has to offer.
The casitas have either one king or two queen beds, and feature comfortable chairs and a writing desk. They include the same amenities as the Fairmont Rooms: plasma TV, CD players and mini fridges. There is plenty of space, and a room with two queen beds could comfortably accommodate a family of four.
My Beach Area Casita was very comfortable and well situated in a private area of the resort, with a balcony overlooking one of the many waterways. When the chorus of birds began to sing cheerful tunes in the trees outside, it was truly a tropical paradise!
Individual bathrooms are equipped with slippers and bathrobes. The main bathroom has marble everywhere you turn, a wide tub for soaking, and a private glass shower stall. The long glass windows allow the room to glow golden with natural light.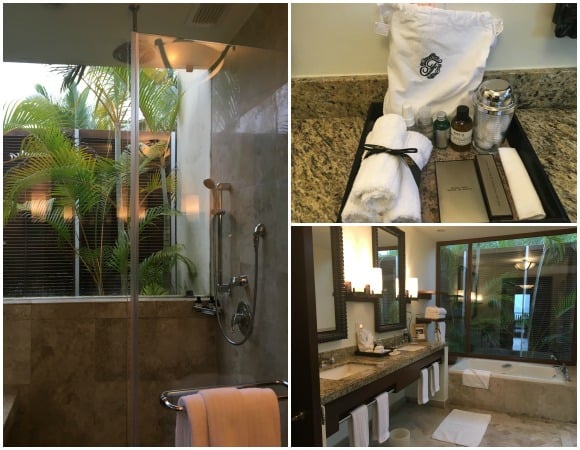 Oceanfront Casita Suite 
A private stairway led us up to our luxurious Oceanfront Casita Suite which open into spacious rooms including a master bedroom and bath. These decadent suites offer the epitome of personalized service with exclusive butler service.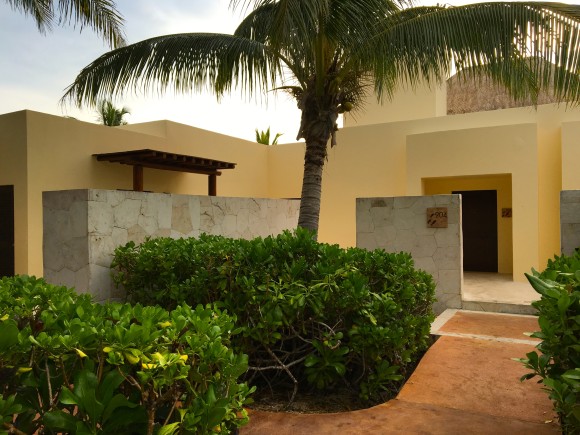 Fairmont Mayakoba's Oceanfront Casita Suites also feature an infinity pool on a private terrace, offering stunning ocean views.
Restaurants/Bars
There are three dining options that provide a wide array of delicious choices and different cuisine styles. You're sure to find something to love no matter if you're willing to try anything, or have a particular palate.
La Laguna,  in the La Isla area, offers a breakfast buffet and an a-la-carte lunch and dinner, which can be served inside or on the terrace overlooking the mangroves and water canals.
Brisas Restaurant is my favorite of the restaurants because of its location right on the beach that provided magnificent panoramic views.  It's open for breakfast, lunch and dinner. I loved the snapper salad with fried plantain bananas – delicious! I had it several times during my stay.  The Terrace is a great place to enjoy drinks such as cocktails, wine, and margaritas at any time of the day.
El Puerto which is offering a new Latin-Asian menu – is located on the lower level of the main building and offers a large indoor dining space plus two private dining rooms. The new extended terrace is a terrific place to eat, drink, and relax with splendid views over the lagoon.
Beach Activities 
Fairmont Mayakoba has five pools throughout the property. The Beach Front Pool which, true to its name, overlooks the ocean, is located near Las Brisas Restaurant and was the closest one to me.   Although, they were all very inviting, I'm a beach girl at heart. I couldn't have had a better time soaking up the sun on the lounge chairs and watching the sapphire blue waters.
There is an array of beach activities to try and all types of water sports available for guests. Prepare for all the fun water activities before your trip, and use Globo Surf to make sure you have all the right gear! At the resort, there is a jet-ski and a catamaran boat to take out at your leisure. And did I mention that there was free stand-up paddle boards, sea kayaking and even snorkeling? Even my husband tried the paddle boards.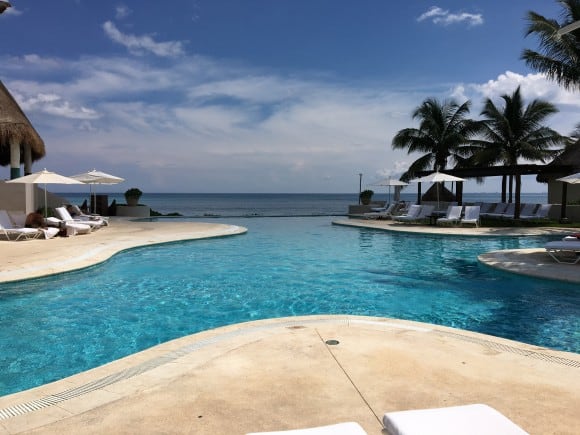 The hotel also offers a complimentary nature tour through the mangrove waterways. If you are a bird watcher, don't forget your binoculars! You will definitely encounter an incredible variety of birds that you have never seen before. I highly recommend this tour. Since it is very popular, be sure to make your reservations early.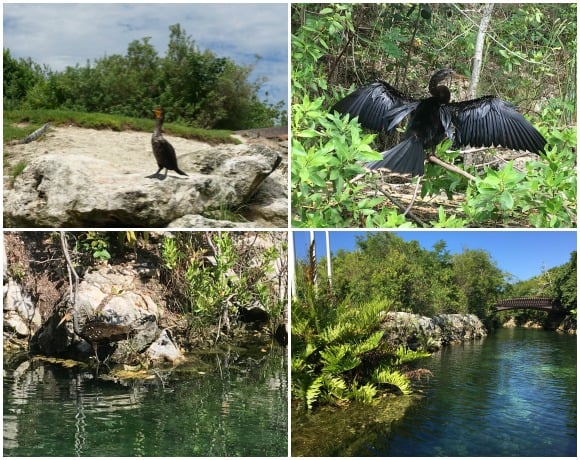 One of the best golf courses in the world, El Caméléon (host of the annual OHL classic) is on the property. It was designed by golf great Greg Norman, and certified by Audubon International. With over 7,000 yards (6,400 meters) El Camaleón golf course is one of the main draws of the resort.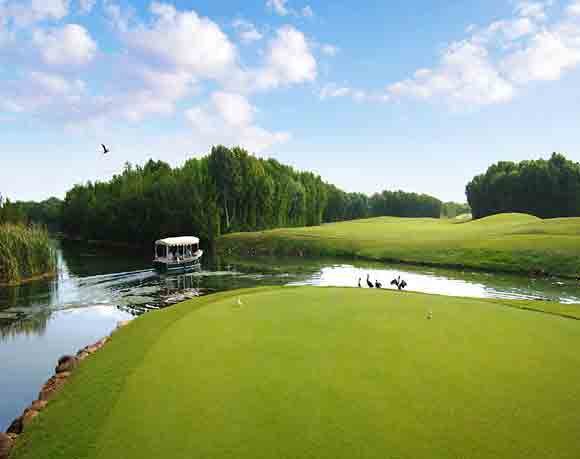 Spa/Fitness 
The Willow Stream Spa was amazing! Before our 60 minute massage treatment we made sure to take our time making use of the stream rooms and mineral pools. When you book a treatment you have access to the spa all day – so take advantage of this perk!
The workout facility is great and very easily accessible. Be sure to join the free President's Club before you book so you get access to the gym for free.
Our butler Ricardo was outstanding. He went above and beyond to make our stay extremely relaxing. The room was comfortable, the location was ideal and the resort was gorgeous!  The Fairmont Mayakoba is truly a jewel. The setting, cuisine, amenities and service are absolutely world class. I'm sure we will return!
Fairmont Mayakoba,  Carretera Federal Cancún-Playa del Carmen Km. 298, 77710 Playa del Carmen, Q.R., Mexico   Phone:+52 984 206 3000
Pin This!