Pier House Resort and Spa was the perfect setting for a romantic, weekend getaway in Key West! This luxurious resort has been a Florida Keys' icon for over fifty years. At Pier House, you can certainly expect a wonderful combination of scenic beauty, rich history and five-star accomodation.
There are some unique features at Pier House Resort that certainly makes this a memorable and comfortable island experience. I noticed their Tesla Charging station which my husband was very happy to use. Like most resorts, the Pier House has a daily resort fee of $35. However, unlike most resorts, I truly felt like I got my money's worth. This included services such as complimentary parking, shuttle services to Duval Street, wifi across the whole resort, welcome drinks, and so much more. If you can't bear to be separate from your furry friends, Pier House Resort is also pet friendly!
I also enjoyed contemporary features such as OpenKey. This is an app that anyone can download from the Apple or Google Play Store. It allows all hotel guests to enjoy free, mobile, and keyless hotel room access. I must admit, I lose or forget my hotel key way more often than my phone so this can be very convenient.
On the way to my room, I passed by a beautiful turtle pond which is a very impressive feature for a hotel!
My Accommodations at Pier House Resort & Spa  
My room was located in the Spa Building and was a Spa Junior Suite, tucked away just steps from a secluded whirlpool and one of the best spas in the Florida Keys.
These rooms are perfect for a romantic escape. They feature an incredibly comfortable king-sized bed, a spacious bathroom with a rain shower and plenty of closet space, an aspect I always appreciate! The sitting area looks out over a garden where you can admire some native foliage. The room is very quiet and serene with its warm, coastal decor. I felt very far away from any hustle and bustle which is ideal for a romantic stay!
 Full service luxury Pier House Spa & Fitness Center
Since I was located so close to the hotel's spa, I naturally had to pay a visit in the afternoon. This serene haven is actually Key West's only full-service spa – lucky for me! My stress started to evaporate just a few minutes after entering, thanks to beautiful waiting area with fresh flowers and flavored water, as well as a veranda surrounded by lush greenery. You can choose from a vast spa menu featuring massages, facials, body treatments, and hair, nail and make-up services. I enjoyed a classic 50-minute Swedish Massage which melted away any tension my body had. I walked away feeling so relaxed and rejuvenated, exactly how any person should feel while on vacation!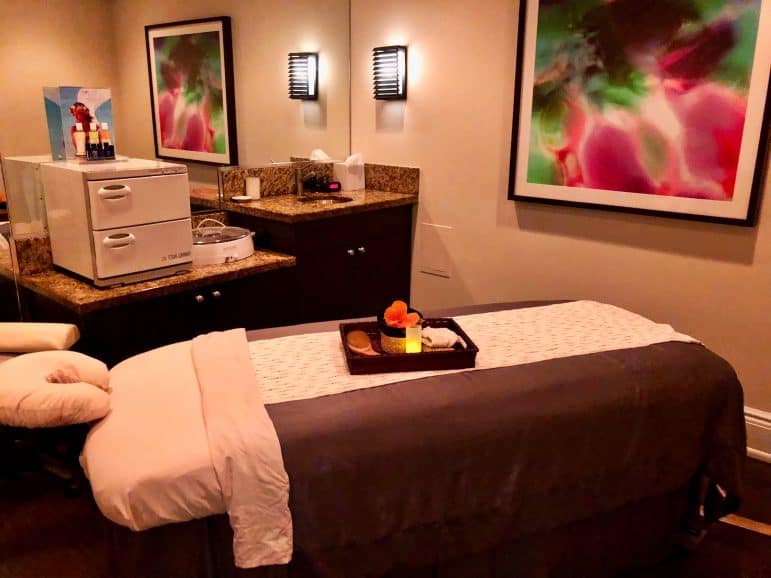 The fitness center is located right next to the Spa for those who want to burn a few calories and work up a sweat. The space is light and bright with several updated fitness machines and weights to choose from.
Restaurants On Site at Pier House Resort
There is truly no reason to leave the Pier House Resort during your stay thanks to their three award-winning restaurants and bars. On our first evening, we treated ourselves to a romantic dinner at the resort's signature restaurant: One Duval. This elegant restaurant offers oceanfront dining as well as contemporary, stylish and intimate interiors.
One Duval 
I was particularly excited to taste Chef Maria's fresh, organic, farm-to-table cuisine that she is known for. For my entree, I ordered the Key West Yellow Tail that includes pan seared yellow tail snapper, a scallion potato cake, and sautéed garlic spinach with a citrus reduction.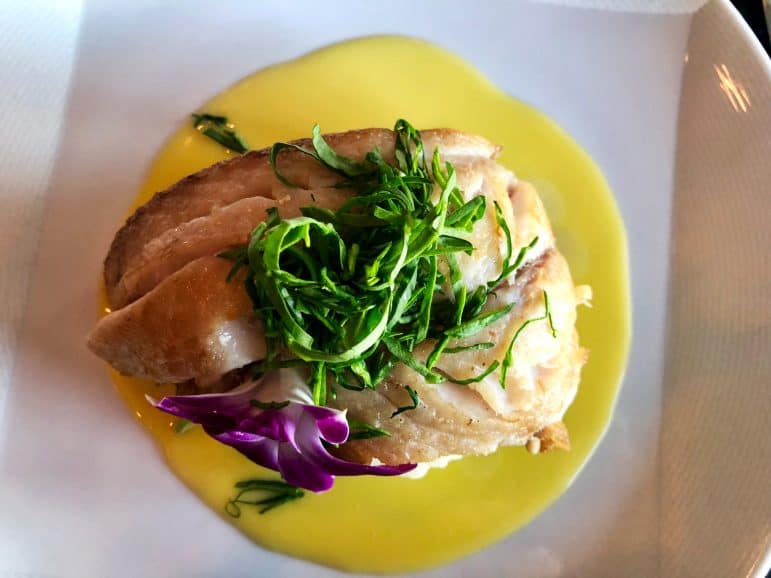 My husband went with the Seared Ahi Tuna which comes with chilled sesame udon noodles, braised baby boy chop, toasted nori and a soy vinaigrette. Both of our dishes were extremely flavorful and so beautifully presented!
We loved everything so much that we returned the following morning to eat breakfast outside on the deck that overlooks the sparkling blue water. I enjoyed a deliciously healthy omelette.
Beach Bar
Another great dining option that offers a more casual, laid-back environment is the Beach Bar. Here the motto is "No shirt, no shoes, no problem". After some swimming and sun tanning, I worked up quite an appetite for lunch. I enjoyed the flavorful beef sliders while my husband had the locally caught Grilled Mahi. Do yourself a favor and order a tropical drink when you're at the Beach Bar! I absolutely loved my Piña Colada. They have live music there as well which is such a nice touch.
Chart Room Bar
It would be an absolute shame to stay at the Pier House and not enjoy a visit to the historic Chart Room Bar. Since 1968, this iconic watering hole has offered a relaxed, laid-back atmosphere for thirsty locals and travelers. It is lovingly known as "a weird little bar trapped inside a luxury resort." The Chart Room Bar was a favorite of Mel Fisher, a famous American treasure hunter, who would often end his days of treasure hunting here. He was best known for discovering the 1662 wreck of Nuestra Seńora de Atocha, a Spanish galleon that sank in a hurricane off of the Florida Keys. Mel loved the Chart Room so much that he even donated a round wooden table that was found on this 17th century shipwreck. With the low-key atmosphere, cold beers, classic American snacks, and fascinating history, it's no surprise that Key West locals are so in love with this place.
Possibly one of my favorite aspects about the Pier House Resort is their private, white-sand beach. What more could you possibly want while enjoying some holiday fun in the sun? Amenities such as beach towels, chairs, and umbrellas are provided for all guests. I especially loved how they offered a fruit infused water station. They offer everything you need to enjoy quality beach time!
If the beach isn't for you, you can relax by the pool in one of their comfortable lounge chairs. Thankfully, this pool is heated and can be enjoyed any time of the day. There is also a Poolside Bar incase you get hungry or thirsty.
Hands down, one of the best features of Key West are the epic sunsets. They are absolutely breathtaking and although a picture can speak a thousand words, it's better to experience these sunsets in person to truly understand how beautiful they are! Fortunately at the Pier House, you have a front row seat to the sunsets every evening. From their private beach or oceanside dining, I enjoyed watching sail boats go past while the sun dipped into the ocean. It was the perfect way to end the day at Pier House Resort!
Whether you're a Floridian enjoying a staycation (like me!) in the Keys or a tourist, the Pier House Resort & Spa provides the perfect setting for a romantic island getaway.
Disclaimer:  I was a guest of the Pier House Resort & Spa, and absolutely loved my stay there.  All the opinions here are all my own.
Pin This!