Villa Melzi Bellagio, Lake Como (Villa Melzi Gardens) – Villa Melzi is located just outside the town of Bellagio in Lake Como, and just a short five minute walk along the lake shore front to the big entry gates.
The line of trees by the shores is magnificently pruned and during the hot summer months they offer shadow to the visitors without interfering with the views from the higher paths of the garden.
It was built in 1808 for the Duke Francesco Melzi d'Eril, assistant to General Napoleion.  The Villa itself is private and not open to the public.  The gardens however are open to the public for a small fee.  One doesn't mind paying the fee that obviously goes towards the gardeners to maintain and keep this garden so pristine and beautiful.
There is a small exhibition in the orangery, which contains some items from the Napoleonic period, including the keys of the city of Milan, prints of Milan from the period, archaeological artefacts and two renaissance frescoes.
Villa Melzi's gardens are considered more proper "English" gardens rather than Italian-styled gardens. There are a lot of different species and influences in the garden, however, like this Oriental-style garden spot. We enjoyed this romantic pond surrounded by a myriad of maple trees. The gardens are extremely well kept and offers beautiful species of trees coming from all over the world.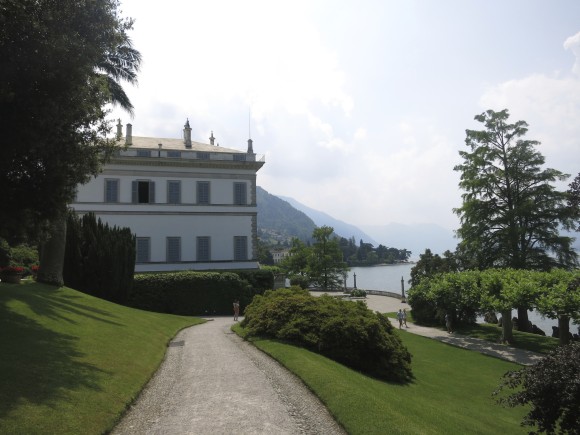 You can also walk inside the small family chapel on the ground.   Villa Melzi offers great photo opportunities as the colorful grounds overlook the gorgeous views of Lake Como.
It's a great location to take a picnic lunch with you and soak up the picturesque surroundings and views of Lake Como.
We spent a few hours strolling around Melzi Gardens, taking pictures. This is a photographer's heaven nevertheless. And though the villa is not open to the public, the perfectly manicured gardens are enough for anyone to spend a full morning or afternoon here.  The best time to visit is of course in the spring when flowers and shrubs are blooming!
The gardens are visitable March-October everyday from 9:30a.m. to 6:30 p.m..
Pin This!