Royal Caribbean's Oasis of the Seas  is one of the worlds largest cruise ships. It's sister ship the"Allure" measures a whopping three feet longer. The ship is massive compared to other cruise ships docked near it in Fort Lauderdale. The Oasis of the Seas holds around 6500 passengers and 2394 cruise members.
We were really excited to be one of the first passengers to go on the Oasis shortly after it debuted in Dec. 2009.  People travel from all parts of the world to take this cruise.  We are lucky that it's a 15 minute car ride from home.   We left my daughters passport sitting in the copy machine at home and didn't realize it until we got to Port Everglades.  We had to return home to get it; talk about cutting it close! We made it back to port with plenty of time to spare. Our cruise was during Chinese New Year and there were a number of passengers who had travelled across the world to be on the cruise.
The ship is so full of bells and whistles — that it seems less of an oasis and more of a floating amusement park.  Our first time on the Oasis was during the holidays and we went on the Eastern Caribbean 7 Night Cruise.   The second time we took the Western Caibbean 7 Night Cruise.   
The Oasis offers both 5 & 7-Night Cruise Itineraries from Fort Lauderdale:
Western Caribbean:
Fort Lauderdale, Florida; Labadee, Haiti; Falmouth, Jamaica; Cozumel, Mexico; Fort Lauderdale, Florida
Eastern Caribbean:
Fort Lauderdale, Florida; Nassau, Bahamas; Charlotte Amalie, St. Thomas; Philipsburg, St. Maarten; Fort Lauderdale, Florida)
My personal choice is the Eastern Caribbean Itinerary, much better ports and shopping.
Before our cruise started I made sure to book online reservations for your Shore Excursions, Shows, My Time Dining, Specialty Dinning Package and Wine Package.
Accommodations
There is nothing like looking out into the ocean from your stateroom. If you can afford it stay in the Royal Loft Suite, Accessible Balcony Stateroom, Grand Suite or Family Ocean View Balcony Stateroom. The Oasis offers balcony staterooms facing inside the ship which look out over Central Park or the Boardwalk. These aren't very private since you look into each others room for the other side of the ship. It can get a little loud if you're looking out onto the Boardwalk. The Boardwalk is near the AquaTheater and they have water show performances almost very night.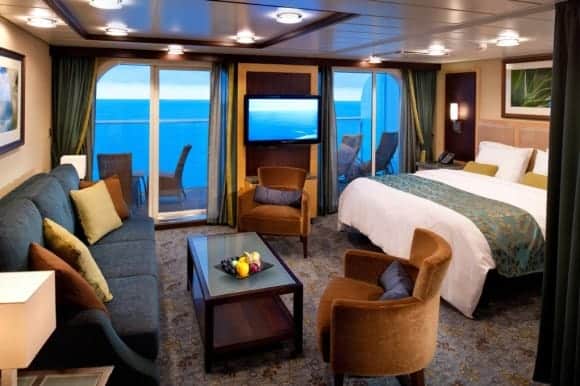 Oasis Neighborhoods
For families, there's the Boardwalk, in the back of the ship is an open-air space designed to resemble an old-time entertainment boardwalk like Atlantic City or Coney Island, with a traditional carousel featuring hand-carved wooden horses.   Boardwalk also offers three restaurants: a Seafood Shack designed to look like an old boardwalk restaurant, a Johnny Rockets burger joint, and the Boardwalk Bar, serving snacks, sandwiches, and salads as well as drinks.
For adults traveling without kids, the Central Park neighborhood is the place to be. Sitting midship and six decks down in the ship's central canyon, this open-air tropical garden is a wide, tiled pathway that runs from end to end, passing amid some 12,000 trees, plants, vines, and flowers, not to mention a whole range of calm, sophisticated adult pleasures.
For dining, there's:
150 Central Park, the most upscale restaurant on board, serving six- to eight-course menus with wine pairings;
Chops Grill, a Chicago-style steakhouse that has tables both inside and out, on its alfresco patio;
Giovanni's Table, a family-style Italian restaurant that serves pizza, pasta, and other rustic dishes; and
The Park Cafe, a casual spot that serves panini sandwiches, soups, made-to-order salads, and other light fare.
Dining
We dined at the main dining room most of the time with My Time Dining. You have a choice of sharing a table with others or requesting a table for just your group which is what we did. Most nights you sit in the same table and have the same waiter and servers. Our waiter Romeo was very entertaining and had a very upbeat personality. The kids looked forward to the dinner just to interact with him. Overall, I was impressed with the service, efficiency and quality of our dinning experience on the ship.
When you go on a cruise there will be formal nights when guests are REQUESTED to wear formal attire and that can be anything (for men) from a blazer to a tuxedo. Many people have the mistaken belief that the captain's dinner will be special and personal for them. In reality on formal night about 10 people get invited to sit with the captain at his(her) table and the rest of the people do not even know if or that the captain is in the dining room unless their table is near the captain's table. So unless you have a personal invitation to actually sit at the captain's table go as you please. If you do get that invite, go formal for sure, and as formal as you can.
In addition to eating at the main dining room, the Oasis has several speciality restaurants located in Central Park.  Where you can enjoy the outdoor cafes, a sculpture garden and thousands of plants.  For a more casual dining experience you can dine at  the Solarium, or Windjammer (buffet).
The specialty dinning package is an extra $65 a person. You save some money and it includes dinner at Giovanni's, 150 Central Park and Chops Grill. The service and quality of food at all three of these restaurants are outstanding. If you enjoy wine with your dinners you might consider opting for the platinum wine package which enables you to choose from several bottles of sparking wine, chardonnay or red wine during dinner.
Activities
The activities on the Oasis of the Seas ship are endless – Rock Climbing Walls, FlowRider Surf Machines (big hit with the kids), Zip Lining, Putting Green Course, Ping Pong, Basketball, Ice Skating Rink, Casino, Bingo, Hairspay Musical Play, Comedy Club, Jazz Club, Oasis of Dreams Outdoor Water Show, full service Spa, Fitness Center and Jogging Track. Not to mention what I've missed.
A zip line cable ride,  carries guests across the top of the ship, with views of nine decks below. Most of the family geared up and went across on the Zip line.  Our kids are very adventurous and are game for anything. 
The ship's entertainment is as good as it gets at sea, including the licensed from Broadway production of the musical "Hairspray".  The outdoor Aqua Theater is home to dive extravaganzas that we rank among the coolest things on the ocean. Most of Oasis is family-friendly, but there are extensive activities for children and teens.
During the day, passengers can swim or take scuba lessons at the AquaTheater, lounge in the tiered deck chairs around it, or challenge themselves at the twin, six-deck-high rock-climbing walls that flank the space—the biggest climbing walls at sea, by far. On evenings when no shows are scheduled, the water takes over at the AquaTheater, with jets spraying up to 65 feet high, all choreographed to music and a light show.
Since the ship is so large and there is no cell phone service most of the time. They offer iPhone or Walkly Talkies for rent…great idea. Just make sure you don't lose them because they charge you a $1000 penalty for the iPhone if lost. They offer WiFi onboard but it's extremely expensive. If you're planning on using your iPhone you might want to consider having the family download APPS like LINE or WhatsApp which are free to make calls or send text messages.
***Remember to sign all the waivers for the activities before you board the ship***
The Oasis is a ship like no other.   We loved the Oasis of the Seas Cruise so much that we've been on it twice.  HAVE FUN and take it all in……the week will fly by so fast you won't believe it. The Oasis of the Seas is an incredible vacation option.
If you're thinking of taking the family on a Mediterranean Cruise this summer, read about our trip on  Splendour of the Seas.
SaveSave