The city of Madrid has some delightful surprises that you can discover when walking the streets. Federica & Co. is one of these hidden places in the vastness of the Spanish capital where you can find a peace of nature with a bohemian touch. It's a little village with a collection of charming interesting stores.
Calle de Hermosilla seems very ordinary, but when you arrive at gate number 26, instead of finding a  typical colonial house, you find an antique iron bicycle decorated with wild plants and numerous signs that captures the attention of those walking by.  From the busy street, outside the door, you would never imagine the great atmosphere you find inside. While walking towards the inside patio, all of a sudden you feel transported to the beautiful countryside village.
Inside there is a courtyard garden with vintage stores that occupy this unique space with crafts, clothing, accessories, antiques and plants. This project comes from the creativity and entrepreneurial vision of Federica Barbaranelli. She enlisted the help of a group of entrepreneurs who makes up the family of Federica & Co. This "concept store", as they define it, opened for the first time in 2002 and I am sure that very soon it will be a place well known by tourists visiting Madrid.
In Mimoki you can buy the ideal hat for that party that you were invited too, and combined it with one of the many earrings, pendants, rings and bracelets in the store.  The clerks are happy to help all the customers with recommendations.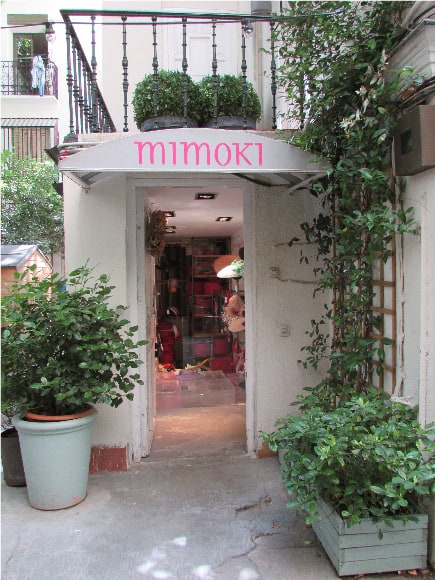 If you're shopping for a clothes, hats or accessories, then check out:  Mimoki or Coccole Vintage with its collection of colorful vintage outfits.  Living International offers handcrafted accessories and clothes with a Bohemian, and Mexican fashion style.
In Federica & Co you can purchase furniture and antiques to perfectly match your decor, which includes tables, chairs, and shelves. The vintage bikes on display are a real treat.  You can even take one home with you, because they are for sell.  Federica & Co sells all kinds of gardening and household items, including medicinal plants, seeds, and other household items such as lamps, glassware and kitchen utensils.
One of my favorite things was the shop and workshop of The Garden of Federica & Co where you find fragrances of Ana Corsini personalized perfumes. Get your own fragrance, and learn how to make it. The bottles and decoration of her shop are so unique.  They also carry Enfance soaps for children with delicate skin.
If you're want to learn about cooking and gardening, you can sign up for cooking classes at Federica's Kitchen and the Savia Bruta floral workshop.  Planning on getting married in Madrid? The owners also do wedding-planning to offer a personalized and romantic wedding. The Frederica team also organizes cooking-parties.
Why you should visit it
The cozyness of this little market is beaming, and you'll feel like you stepped from the street into another world. The individually themed shops offers clothing, accessories, kitchenware, art, and antique furnitures. Besides that you can sign up for workshops with flowers and cooking classes.
Federica & Co has discounts of 30% during the months of July and August on nearly all products.  If you want to take a souvenir home, there are many items that cost less than 25 euros.
Metro Station   Serrano on line 4
Hours  Open every day of the week from 11 a.m. to 8:30 p.m.
Address
Federica & Co.
Calle de Hermosilla, 26, 28001 Madrid, Spain
+34 914 31 94 77