There's nothing more convenient during a long travel journey than an on-site airport hotel. On my way to Bali last month, I had the pleasure of staying overnight at the brand new TWA Hotel at John F Kennedy Airport in New York. This is JFK Airport's only on-airport hotel! For those who don't remember, Trans World Airlines was a major American airline founded by Howard Hughes, lasting from 1930 until 2001 when American Airlines took over.
This fabulously themed hotel celebrates TWA's history and takes you back in time to an elegant, bygone era of aviation. With just over 500 guest rooms, exhilarating runway views, multiple restaurants, and 50,000 square feet of event space, the TWA Hotel is a very exciting addition for travelers at JFK Airport.
I arrived at the hotel from Terminal 5 via Saarinen's iconic flight tubes which were featured in the 2002 film Catch Me If You Can.
Check-in was easy and I was very happy to discover my stylish and surprisingly quiet room. Even if your room overlooks the runways and TWA Flight Center, you don't have to worry about the noise of the airport. Their windows are over 4 inches thick, making them the second thickest in the world! I also appreciated the electric darkening shades that block out all light and make sure you sleep nice and cozy, despite whatever time of day you arrive.
The fantastic interiors reminded me of the TV show Mad Men. Each guest room features a glamorous martini bar, custom built from walnut, glass, mirrors, along with brushed brass and crystallized glass. Combined with the warm wood accents throughout the room and bathroom, and authentic Knoll furnishings, this is absolutely the chicest airport hotel room I've ever stayed in. The plush bed is very comfortable and also lined in brass with a custom quilted leather-look headboard which features a crystallized glass ledge that easily holds overnight accessories.
As far as amenities, I loved the full lineup of grooming essentials. TWA Hotel has created replicas of an authentic TWA toiletries kit which is such a nice touch. I also really enjoyed the vintage rotary phone, sitting next to an authentic Saarinen Womb Chair, upholstered in red Knoll fabric. This retro 1950s phone is a blast from the past, but it's still useful because you can make unlimited free international and local calls from it!
As far as places to eat, you have half a dozen choices at the TWA Hotel! A couple notable eateries are the Departures Hall Dining and a cocktail lounge in the Connie Airplane.
The Departures Hall Dining is perfect for a quick bite or grab-and-go option. You'll discover locally-made meals at the historic Departures Hall where TWA travelers once checked in for flights. The Halal Guys, Empanada Republic, Antico Noè, Fresh & Co, and Playa Bowls are currently serving up a variety of delicious dishes here. Additional food partners will be joining in the coming months.
If you want something even more unique and special, I highly recommend visiting the Connie Airplane. That's right, you can dine on board a renovated TWA plane from the 1950s! Their cocktail lounge serves vintage-inspired cocktails, snacks, and wonderful hospitality.
You can also pop into the cockpit and navigate the original controls, including a hidden radar.
After drinks, I recommend enjoying a nice, sit-down dinner at their Jean-Georges Restaurant (aka the Paris Cafe) for a memorable meal crafted by Michelin-star Chef Vongerichten.
For those looking to burn off some energy, you can enjoy two incredible options at the TWA Hotel. There is a rooftop infinity pool to take advantage of, which also has an observation deck with runaway views. If that's not enough for you, head to the extraordinary hotel gym. This is actually the world's largest hotel gym, with a 10,000-square-foot fitness center!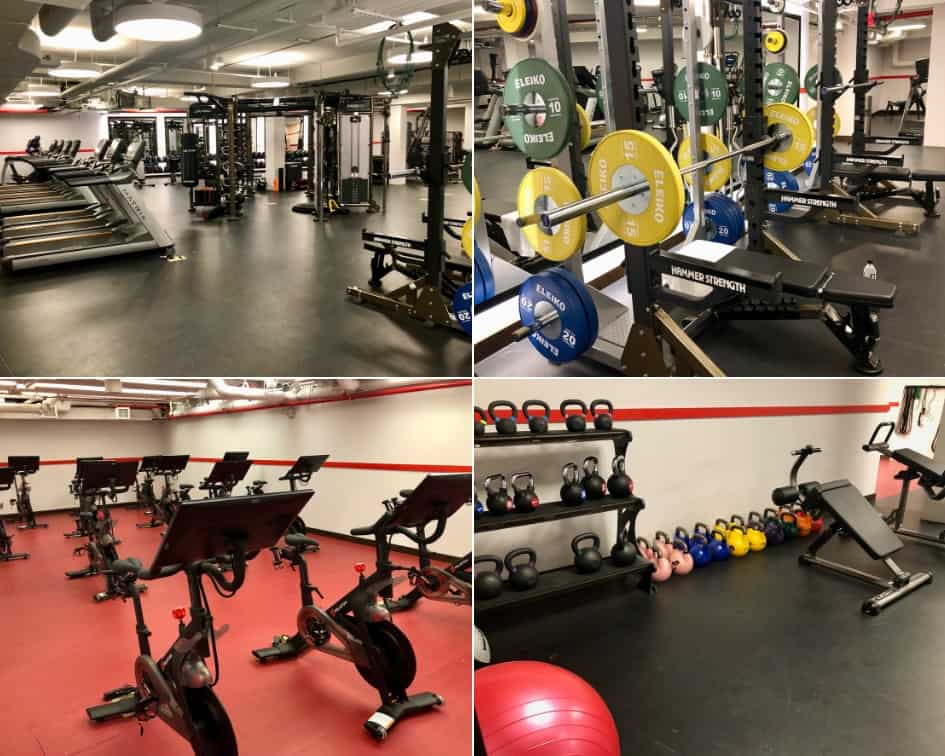 Last but certainly not least are the museum exhibitions that I highly recommend visiting at the TWA Hotel, whether you're a hotel guest or not. Thanks to the New York Historical Society, you can enjoy curated exhibitions here that celebrate TWA's history, as well as examine the Jet age and midcentury modern design movement. I particularly enjoyed taking a photo inside a replica of Howard Hugh's office.
There are many authentic artifacts to admire, along with interactive displays and personal narratives. In fact, more than 2,000 artifacts were given to the exhibition, most of them donated by former TWA explorers and their families. I loved seeing the vintage TWA uniforms, travel posters, luggage tags, and even cars!
What are you waiting for?! Whether you're just passing through JFK Airport or have a long layover, consider the TWA Hotel as your home-away-from-home.