It's no secret that a luxury yacht charter in the Mediterranean provides unparalleled access to some of the world's best restaurants. Accessible with a yacht, Mediterranean restaurants near berths and popular anchorage spots offer a chance to taste everything from the best seafood in a casual setting by the sea, to a one-of-a-kind culinary experience simply not accessible by land.
From dropping in via helicopter straight from a beautiful anchorage spot in St Tropez to zipping over the waves by tender to an idyllic island setting in an exclusive Cannes restaurant, here we look at some of the best restaurants accessible with a Monaco yacht charter along the glittering coastline of the French Riviera.
Mediterranean restaurants near berths: Cannes
Bâoli Cannes is undoubtedly one of the most exclusive restaurants in the French Riviera and regularly welcoming the who's-who of the A-list world. Situated by the water in the heart of the French Riviera yacht hotspots, Bâoli Cannes is a restaurant accessible by yacht tender and affords visitors a truly unique gastronomic experience with a Mediterranean and Japanese inspired menu. Open from 8pm throughout the Mediterranean cruising season and weekends the rest of the year, from midnight the world-renowned restaurant transforms into a hedonistic paradise for yacht charter guests and luxury holiday-makers to party the night away.
La Guérite is situated on the rocky island of Ile Sainte-Marguerite, and is another Cannes eatery favoured by yacht guests in the Mediterranean. One of the best restaurants accessible with a yacht, the exclusive venue also offers water shuttle services from Cannes. For those looking to celebrate special events, La Guérite offers event packages for up to 300 people, with an incredible 250-square-metre private shaded area as well as 100 square metres of open-air space. Booking is essential.
Fine dining in St Tropez
The Nikki Beach brand is synonymous with the yacht life, with locations in pretty much all of the major yachting hotspots around the world – from Miami Beach to Monaco, the Caribbean to the Costa Smeralda. Nikki Beach St Tropez is known as the go-to hotspot for international jetsetters looking for a world-class, modern beach club experience. Combining fine dining, high fashion and great music all in one exclusive destination, Nikki Beach is a fantastic example of the wide range of Mediterranean restaurants near berths.
Often described as the perfect classic beach club, Club 55 located on Pampelonne Beach in St Tropez is another great example of variety on offer in the Med. Club 55 is a more laid back family-friendly vibe, and a must for the ideal summer lunch when cruising in the Mediterranean. Restaurant Bruno is another one of the French Riviera's best restaurants accessible with a yacht from the St Tropez area – especially if the yacht in question comes with its own helicopter and is able to land on the restaurant's own helipad!
Stunning Surroundings in Cap d'Ail
To access the Eden Plage Mala restaurant in Cap d'Ail by foot is not easy, with a steep descent – and gruelling returning ascent – from the centre. With guests able to book a tender service straight to the restaurant, Eden Plage Mala is easily one of the best Mediterranean restaurants near berths and anchorage spots. Right next door to the restaurant is the Reserve Plage de la Mala. Both venues have spacious beach clubs and fantastic menus from the yacht-friendly restaurants. Set on a rocky, beautiful beach in a stunning setting, surrounded by turquoise water and amazing views, these restaurant spots are the perfect place to enjoy ice-cold rosé and deliciously fresh food.
Riviera Chic in Saint-Jean-Cap-Ferrat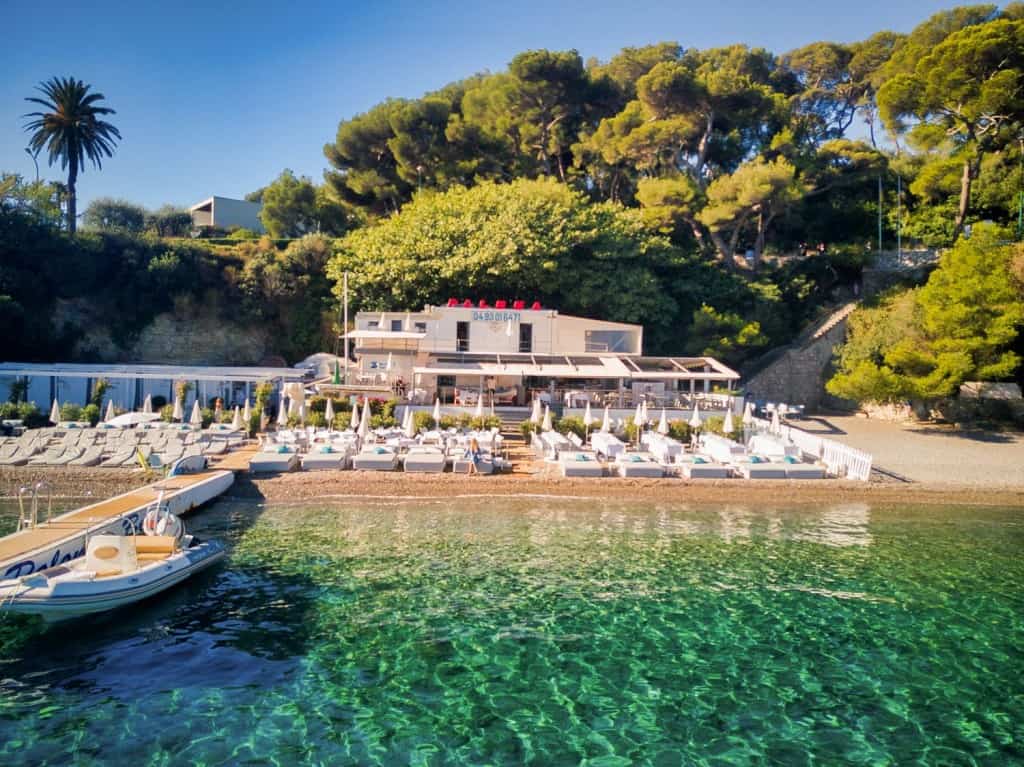 Paloma Beach has been a staple destination amongst the wealthy and the famous since 1948 and has stayed true to its original ambience of traditional Riviera-chic. The restaurant is open from Easter until September, and is renowned for its delicious grilled fish, which is caught fresh every day. Found along the exclusive peninsula of Saint-Jean-Cap-Ferrat, Paloma Beach is accessible by tender and is a must-visit for yacht charter guests looking for a taste of timeless Riviera style at a spectacular sheltered beach restaurant.
Pin This!