In the continuing saga of looking for brands that use quality materials, sustainable practices, and of course, stylish designs, I was lucky enough to come across Sherpani. Using organic materials that can withstand many different conditions, Sherpani's main focus is on lifestyle bags. These are specially designed with a beautifully simple philosophy in mind: modern, natural, and minimal. After a test run with a Sherpani bag during my recent travels, I'm happy to report that I am sold on Sherpani!
The American Ethos Collection is inspired by Alpine culture and the needlework practices developed by artisans centuries ago. As of this Spring, some of the proceeds from selling these bags went to local workshops in Boulder, Colorado in support of those who continue to sew by hand along with other crafts. The return to hand-stitched craft is apparent in Sherpani bags: stylish accents and fun details are part of what makes each item elegant yet whimsical.
After a lot of deliberation (it was a tough decision), I decided to try out the Tempest in the darker shade of blackstone. I was particularly excited since it can be converted from a shoulder bag to a backpack! Hands-down, it is one of my favorite styles from the American Ethos Collection catalog, though I was also tempted by the Amelia and Dash styles. Not only is the Tempest a fashionable choice, but it was one of the few that could actually fit my laptop as the proportions are 15 x 17 x 4. I was worried that it might still be a tight squeeze, however, when I received the bag in the mail, I found that it fit with room to spare!
The Tempest is more than just innovative style: there are a surprising number of practical nooks and crannies to this bag. While there are two obvious zip-up pockets in the front, there is also an unexpected zipper on the side that is easily large enough for a phone, wallet, or even a small camera. All of the pocket spaces in this bag are satisfyingly large enough to put important everyday objects in. At the top, there are two sets of leather drawstrings that can be used to tighten the bag, though I suspect they are more for aesthetic than anything else. Within the bag, there are two small pockets that are easily accessed by just reaching into the bag and one pocket that can be closed with a zipper. The wider pocket looks like it might be the best place to keep a phone or a small notebook; the smaller pocket is an ideal place to store sunglasses. In total, there are six pockets for storing loose objects, four of which can be zipped, as well as the top of the bag which can be also closed with a zipper.
As can be seen in the photographs, the Tempest has a unique set of straps that can effortlessly convert it from a backpack to a shoulder bag. While it is easy to detach and reattach the straps, it isn't necessary to make the conversion: simply pull the straps at the top of the bag to use it as a shoulder bag, or tug at the straps on the side to use it as a backpack. It did take me a moment to understand how to use the straps to my advantage, but I quickly figured it out.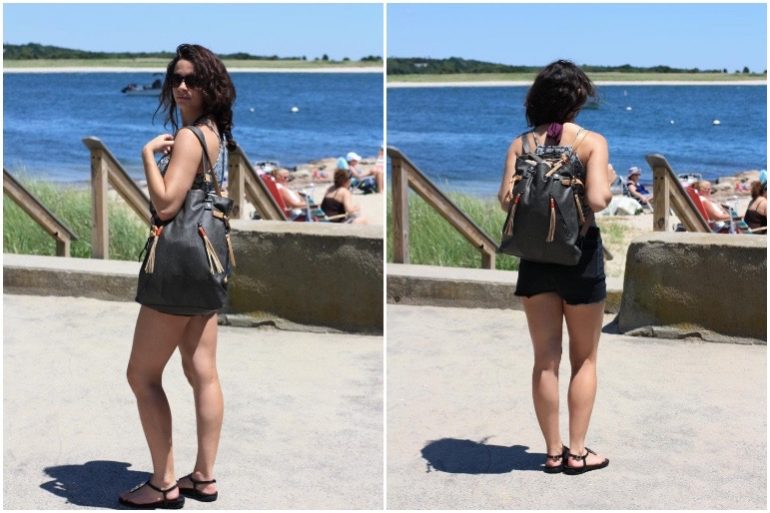 I took this bag on a family vacation to Cape Cod, and I loved using it for travel. Everything is so easily accessible: getting my laptop out through security cost me no time at all, and the bag is roomy enough that I managed to comfortably pack a towel for a day at the beach. The quality of the material is undeniable: 100% pure cotton with a leather trim, all of which was, of course, hand-painted. I now use this bag to carry all of my necessities, and I am pleased to say that I could not be happier with Sherpani. The effortless style of each of these bags is truly worth the price, and if anyone else is looking for a new everyday bag, I highly recommend the American Ethos Collection!
Disclosure: I was sent the Sherpani Tempest Bag for the purposes of this review, but as you can see, I absolutely loved it. 
Save
Pin This!