While I usually write about luxury travel and fine dining, I invited my cousin who lived in Placetas, a small town in Cuba, to talk about the restaurants in her town.
Food is a topic of great concern to most Cubans living in Cuba. It is difficult to find products in the markets and when you do, they have very high prices. That's why my mother and I filled two suitcases in our luggage with food as well as toiletries that are scarce or very expensive in Cuba.
Every Sunday there is a fair where the farmers sell part of their crops that are allowed by the State. The fair is truly an event and the whole town bikes over to obtain food they can afford.
As I said, public restaurants have little to offer, so the private restaurants now that they are allowed  are thriving. But restaurants are expensive: Cuban workers can't afford to go to a "paladar"  (restaurant of the private sector) because they earn little money and these restaurants are very expensive for them. The average price per person is 90 Cuban pesos, about $ 4, but for a Cuban this is a big amount.
Even having the money isn't as easy as it sounds. As resources are limited, often so is the menu. One evening we decided to go to dinner to one of the restaurants in the village. We started by "La Meson Restaurant" on the recommendation of a friend. When we approached, one of the cooks intersected us in the middle of the street and said they only had lobster and shrimp on the menu, which we don't like. The next stop was a bit far and we decided to go by horse-drawn carriage which is a very common mode of transportation in Cuba. To our dismay, "El Ranchón Vista Hermosa Restaurant" was closed.
Without many other options, we placed our hope in the "1900's Restaurant". At first glance, it appeared to be closed, but it wasn't luckily. There were more dishes to choose from than I expected and the food had the characteristic taste of Cuban cuisine. The cost of the dinner exceeded the total amount of money earned in one month by a Cuban teacher.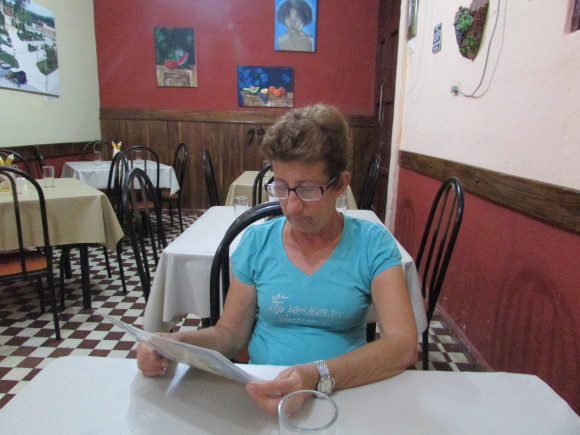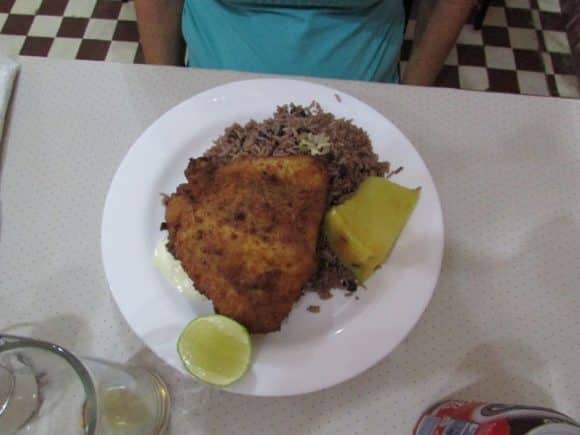 A few days later, I returned to "La Meson" and discovered the best spaghetti in the town, a mountain of pasta with vegetables, tomato sauce, bacon, ham and Cuban white cheese. I struggled to eat all that food, only a few were able to finish. It was a kind of challenge in which we all competed!
I also ended up testing dishes in "El Ranchón". It only opens on weekends, and on Sundays, there is a group that plays good music in the restaurant. Delicious croquettes with tomato sauce are ideal as a starter. The best dishes are the breaded snapper fillet, pork chops, masas fritas (fried pork pieces) and fried chicken. They all come with garrison Cuban "moro" rice and mixed salad. Many people prefer lobster or shrimp cocktails and say they are very good, but that's something I don't like so I cannot comment! My favorite desserts were flan, rice pudding and custard with cinnamon.
The cafes have become a novelty in Placetas. They call them cafes but coffee is never the strong point. There are various types of sandwiches, pizzas and ice cream on the menu, but often many of those items are simply not available.
Things are changing in Cuba.  About five years ago, the laws changed so that private restaurants could hire employees and the private restaurants started to emerge.  These restaurants are too expensive for Cubans who live off the traditional monthly salary of $20 but the increasing number of small businesses are putting more earnings into the hands of Cubans so they are beginning to taste restaurant food for the first time in a generation. And they taste pretty good.