In Cuba, high school students don't get to choose their university. To enter university, students must pass an entry examination to show they possess the basic knowledge required.  They take entrance exams and select up to three majors that they would like to study. The government then decides for each student their university and course of study.
My cousin Elizabeth went through the ordeal in Cuba recently of taking her college entrance exam and applying to college in Cuba.  The process and the waiting period caused a great deal of anxiety for both her and her parents.
She was extremely excited when she found out that they picked her first choice of study which was tourism.
In most cases, it's the first time the kids in Cuba leave home, similar to our kids in the states.  Most Cuban families however often live in houses where large numbers of people share bedrooms and one bathroom.  Our kids are often spoiled by each having their own room and in some cases, their own bathroom.
Having a daughter who is a senior this year, part of the US college process is selecting where you want to go to school.   We spent a good two weeks this year traveling and visiting universities.  My daughter wants to attend in California so our trips were long and logistically complicated.  Part of the campus tours is visiting the dormitory (dorm) rooms.   Most of the freshman dorm rooms in the schools we visited in California had anywhere from single rooms to triples.   Each of the beds come with a desk and plenty of storage space for students to feel like its home.
I had the opportunity in Cuba recently to drop off my cousin Elizabeth at her Cuban university "La Universidad Central "Marta Abreu" De Las Villas", which is where she will be studying tourism for five years.
When we arrived and parked to accompany her to her dorm room, I was first struck by the building exterior facade which looked like it hadn't been painted in 30 years.   She was all dressed up with clothes that I had brought for her, including her bags.  She carried a cooler bag with water bottles and a duffle bag pack with clothes.   She told me that her dorm room did not have a refrigerator.   As we started to walk the three flights of stairs I noticed buckets of left over food left on the sides.   Food that is used to feed pigs on the campus.
In the States, most college dorms that we had seen only accommodate from one to three beds in a dorm room. When we entered Elizabeth's dorm, I saw seven bunk beds all in a large room, surrounded by lockers and a little table in the center!  It felt more like a summer camp cabin than a university dorm room.  Next to this large room was a smaller room with two sets of bunk beds and lockers on either side.  Between the two bunk beds was a single table for all the four girls to share.  Elizabeth set her things down and showed me her lower bunk bed. The mattress was hard as a rock.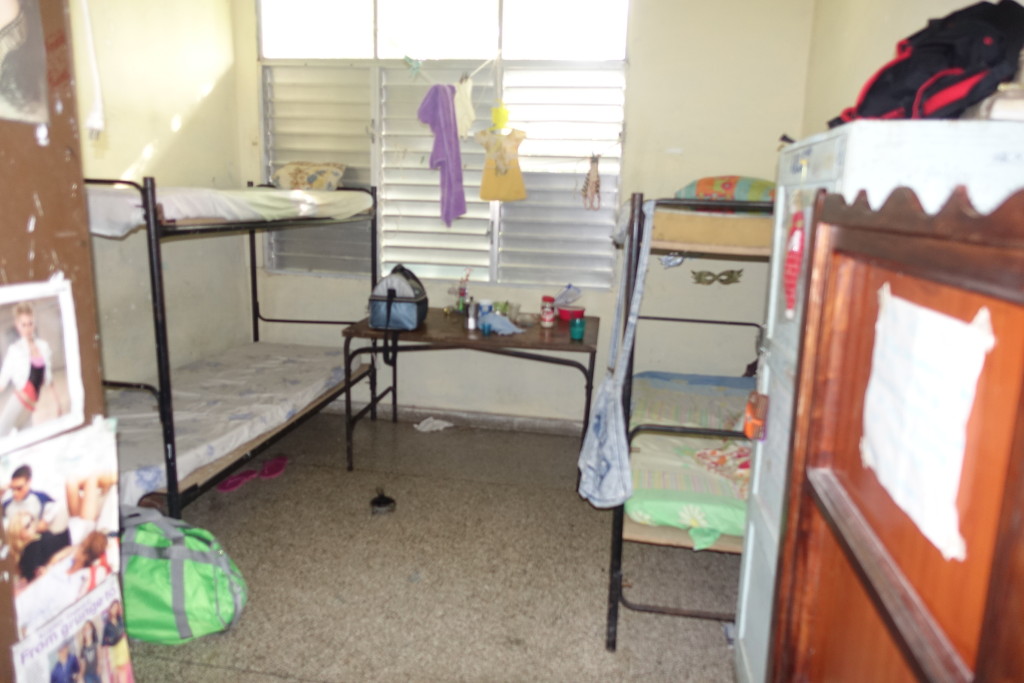 After seeing her tiny room, crammed with 2 lofted beds, I was shocked, and completely horrified at the conditions. It was like walking into a dreary, stuffed closet.
In front of her bunk beds was the door to the bathroom.   The bathroom had one shower stall, one toilet and one small sink with no mirror.  I could not imagine one toilet for 14 people?  That's ridiculous… The floor was filled with buckets of water.  When I asked what the water was for they said it was because they sometimes have no water and they use it to flush the toilet and to bathe.
Right next to the bathroom door was a hole in the wall with electrical wires all exposed that looked like spaghetti going in all directions.  It a miracle that the place doesn't burn down because it was definitely a fire hazard , an accident waiting to happen.
As I mother I can see why it's so hard for Elizabeth's mom to drop her off at the university under these conditions.  She was used to the comforts of living at home and getting a good home cooked meal daily. University food isn't very good according to Elizabeth.  Most students who can afford it go off site if possible to buy snacks and meals. For those that can't, like Elizabeth, she counts the days to the weekend looking forward to taking a bus home and eating a proper meal.
Considering it more broadly, Cuba educational system is known to be one of the best national educational systems. The facts of a relatively poor economy and a long-term continuous blockade on trade makes the Cubans' achievements more impressive. For the past forty years, education has been a top priority for the Cuban government.
The college life for Elizabeth has been a good maturing educational experience for her.  I guess one of the great things about college is that since people attend when they are young and the heart of the experience is the excitement of living on your own and learning at a new level, the relatively harsh living conditions don't have the same impact that they would on me who is much later in life.