Sante Fe, known as "The City Different", is a wonderful place for the senses. It is both rich in culture, history, and architecture, all set at the foothills of the beautiful Sangre de Cristo Mountains. With over 320 days of sunshine a year, it is the perfect destination to visit during any season!
Santa Fe is also the oldest city in New Mexico, and has certainly earned its place as one of the most cultural cities in the U.S. There are numerous museums, galleries, and historic sites to explore, almost all of which offer a fascinating insight into Native American heritage and art.
I recently enjoy a weekend getaway here and have compiled my top recommendations to make the most of your time! Enjoy reading all of the best places to eat, sleep, and explore in Santa Fe!
Where to stay: 
Hotel Santa Fe: The Hacienda & Spa is a sanctuary for the cultural and luxury traveler. Santa Fe is renowned for celebrating the history and spirit of the Pueblo people, and this hotel does just that. I was very happy to discover that this is the city's only Native American owned hotel! Therefore, you will be able to enjoy a tradition-centric retreat with beautiful handcrafted natural pine furnishings and Native American Art throughout the property.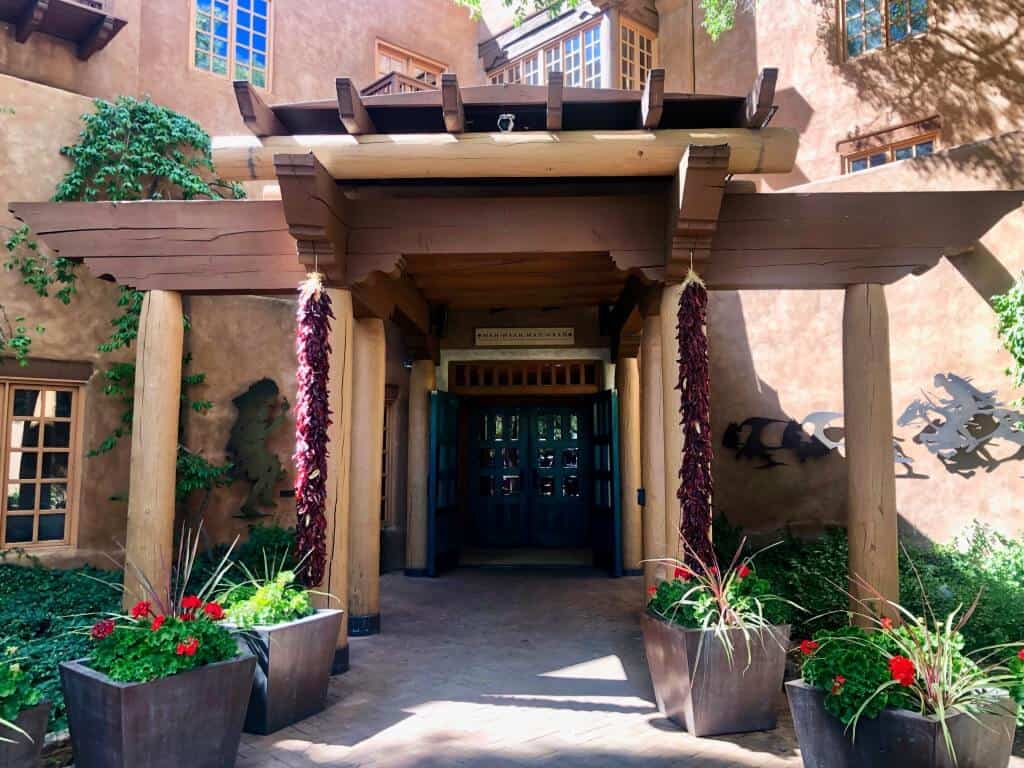 We stayed in a Traditional Room with an incredibly comfortable king-size bed. I really loved the Southwestern-style decor throughout the room, and the modern amenities like a fully stocked minibar, fast wifi, and more.    
There is a fabulous spa for those looking to unwind and restore your body and soul. Their highly skilled massage therapists use rich aromas such as white sage, organic lavender and wild piñon sap – all of which are local.
For those looking for the ultimate dining experience, Hotel Santa Fe's Amaya Restaurant offers a unique private dinner option in a traditional teepee. These are available seasonally, from Memorial Day – Labor Day, and are perfect for 2-4 guests. This is family-style dining at its best, in a fun and adventurous way. You can get comfortable with traditional hides and blankets inside while enjoying native cuisine. This is something I've never seen before in a hotel!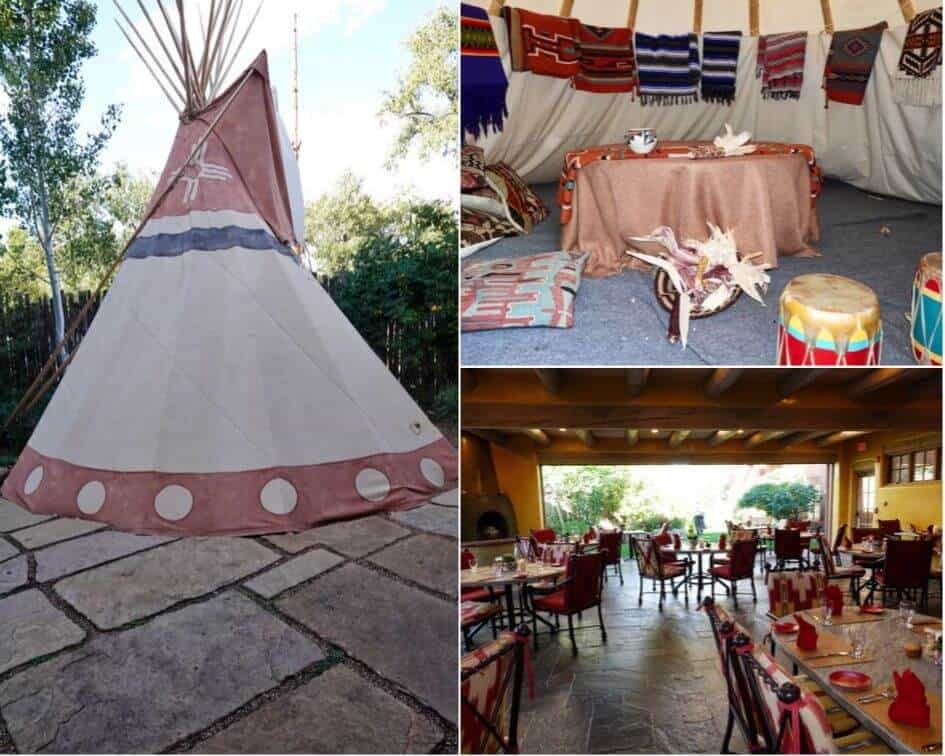 Hotel Santa Fe truly brings the city's Native American culture to life through its beautiful decor, art, special dining experiences, and warm hospitality.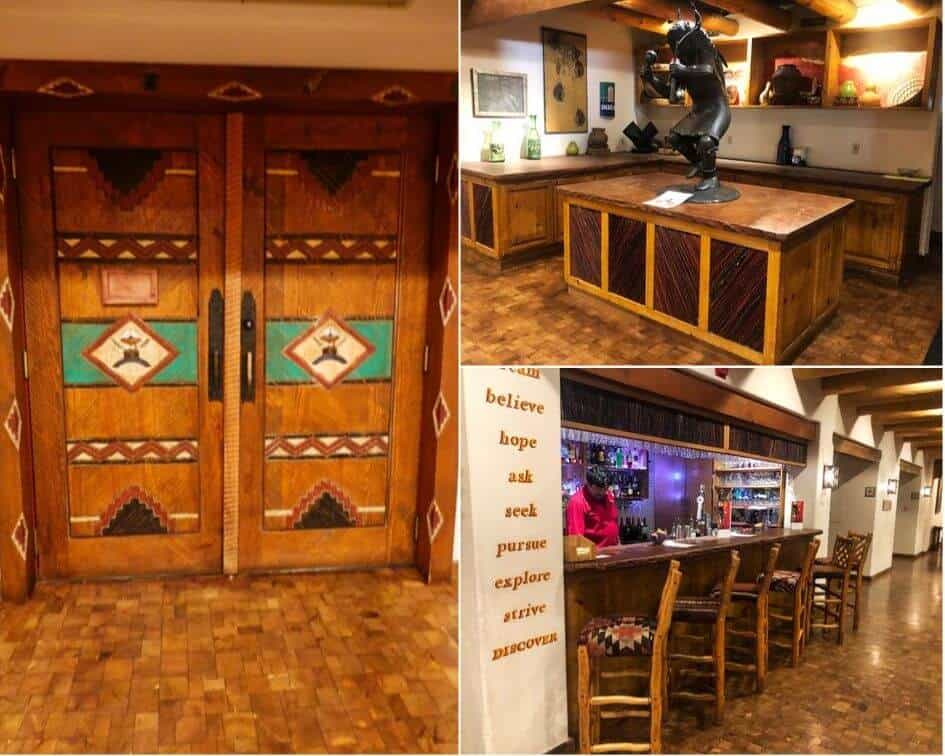 Where to eat: 
We enjoyed breakfast both mornings at the lounge on the 5th floor of Hotel Santa Fe, but were happy to discover so many amazing options in the city for lunch and dinner.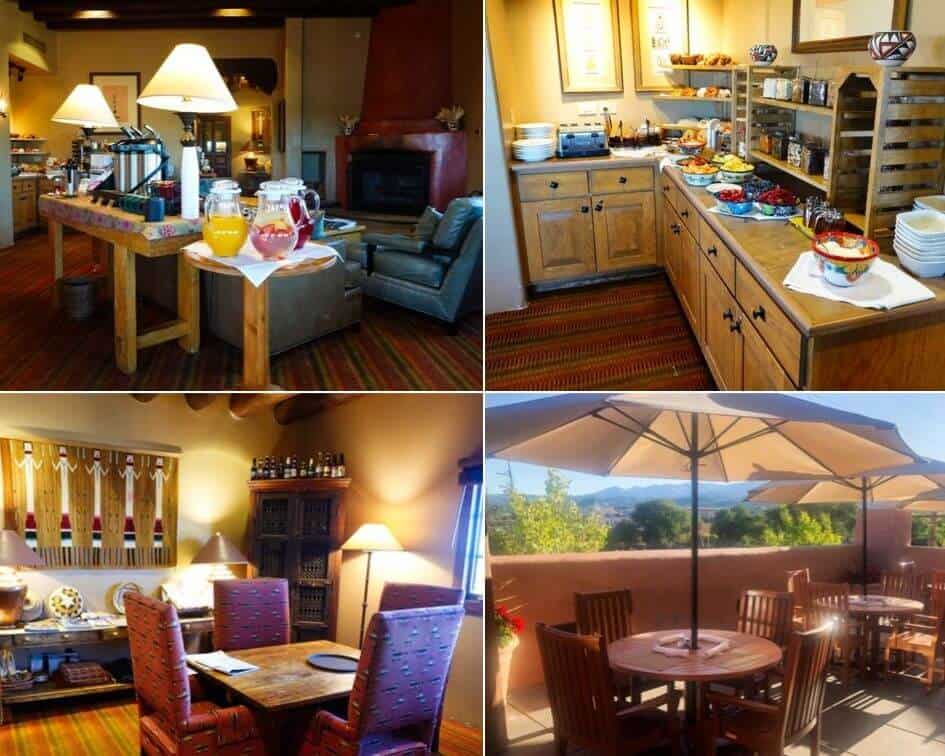 A great lunch option is La Boca where they serve Spanish inspired small plates, paired with quality Mediterranean and South African wines. This restaurant was opened in 2006 by 8-time James Beard Award Nominee, Chef James Campbell Caruso. He prides himself on using fresh, local ingredients and La Boca has been called "the most influential restaurant in Santa Fe".
For either lunch or dinner, I'd recommend The Compound which has award-winning dishes that are considered New American with a Southwestern influence. Chef and owner Mark Kiffin is a James Beard Award Winner so you are certainly in great hands. The Compound is located in the eclectic Arts District on Canyon Road. There is a rich history to discover here as the restaurant was once an adobe home.
My top suggestion for a fabulous dinner spot would be the Coyote Cafe. This is an elegant eatery which features local, Southwestern cuisine. I'd recommend starting off at their rooftop bar with delicious cocktails. Coyote Cafe is easily one of Santa Fe's most renowned restaurants because of their creative menu by celebrity chef Mark Miller. Start with their Seared Diver Scallops and then try either their Telicherry Peppered Elk Tenderloin or the mouthwatering Pan-Seared Sea Bass as your main course. You cannot leave without ordering their Banana Cream Pie or Caramel Creme Brûlée.
If you're visiting Sante Fe on a Tuesday, Wednesday, or Saturday, I would also suggest visiting the Santa Fe Farmer's Market. This is one of the oldest and largest farmers' markets in the United States and it operates year-round in the Railyard District! Under one roof (and outside as well), you'll discover excellent produce, beekeepers, baked goods, live music, presentations, and so much more.
Where to explore: 
There is so much to see and do in Santa Fe's Plaza and Downtown area. I would start off at the centuries old Palace of the Governors which is the most historic part of the city. It was here that I really enjoyed shopping for handcrafted souvenirs from Native artisans. You will also discover many quaint streets with charming boutiques, restaurants, bookstores, and galleries.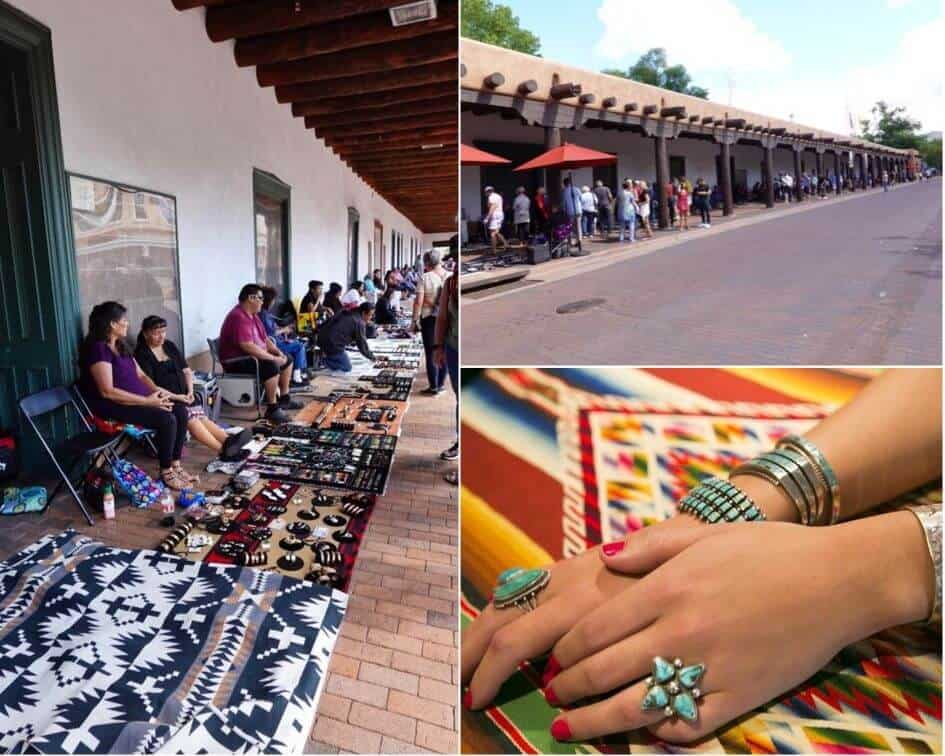 The Cathedral Basilica of St. Francis of Assisi is definitely worth a visit as well. This is the mother church of the Archdiocese of Santa Fe. For history buffs out there, this cathedral was built on the same sight of two churches that date back to the early 1600s. The current one was built between 1869-1886. This gorgeous structure is considered Romanesque Revival architecture which typically features simplified arches and windows.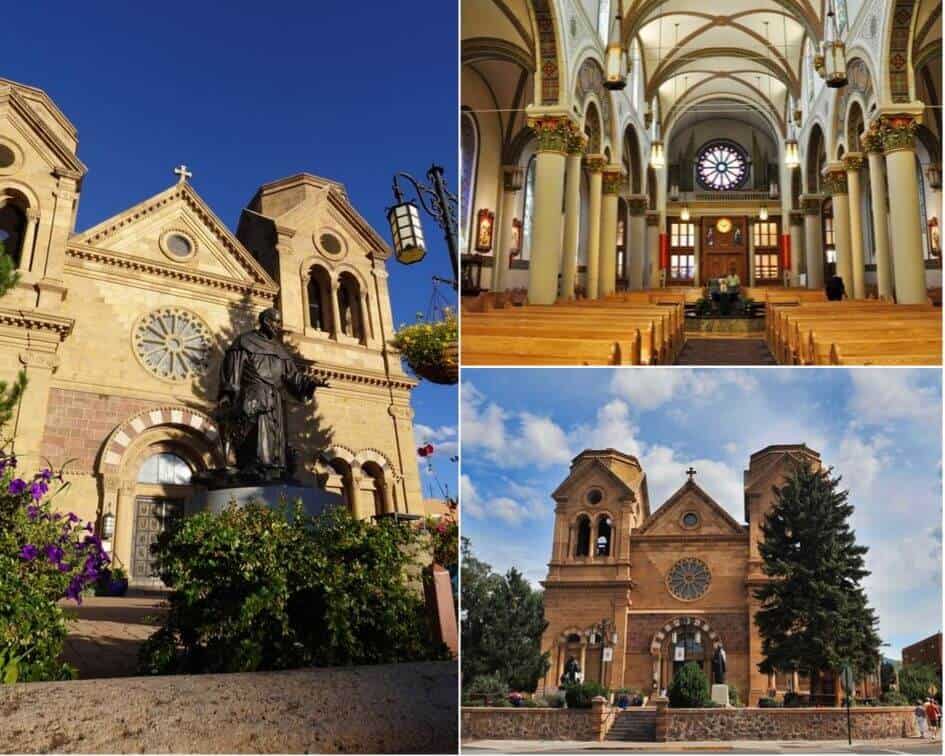 Canyon Road is also a must to visit.  The street is lined with art galleries filled with one-of-a-kind pieces and sculptures.  It is actually home to over 80 galleries!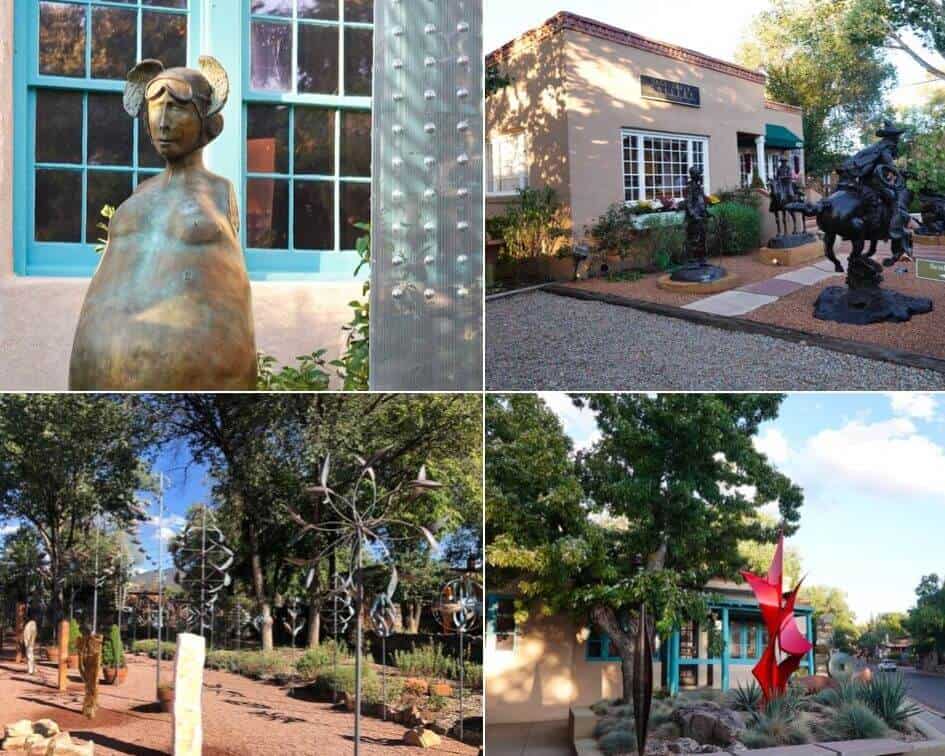 The Georgia O'Keeffe Museum is dedicated to the art, life, and legacy of Georgia O'Keeffe. It was opened in 1997, 11 years after the artist's death. If you're a big fan of her work, I would give yourself at least an hour to appreciate everything. This is the largest permanent collection of O'Keeffe's work in the world, with over 3,000 pieces.
For something more modern and unique, I highly recommend visiting Meow Wolf's House of Eternal Return. Visiting this immersive art installation was one of the highlights of my trip!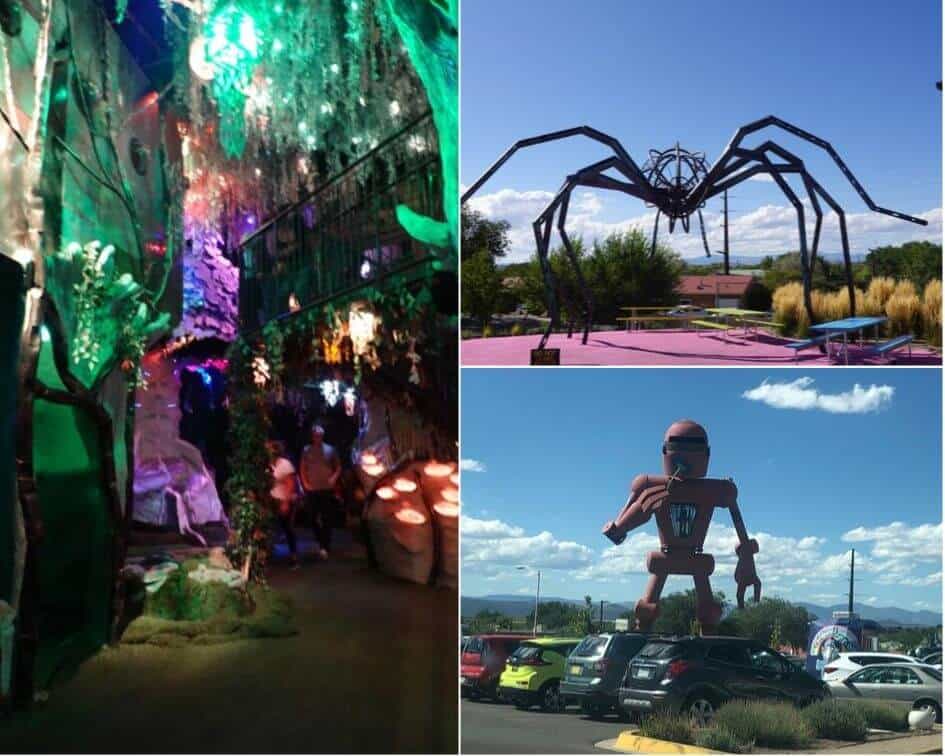 Meow Wolf is unlike any art museum I have ever visited. It offers a creative new form of non-linear storytelling that unfolds as you explore. And trust me, there is so much to explore and interact with! This wildly creative space is a collaboration involving over 100 local artists. The house inside of an unassuming building, located in an industrial district, is straight out of a science fiction novel. It is also over 20,000 square feet so give yourself plenty of time!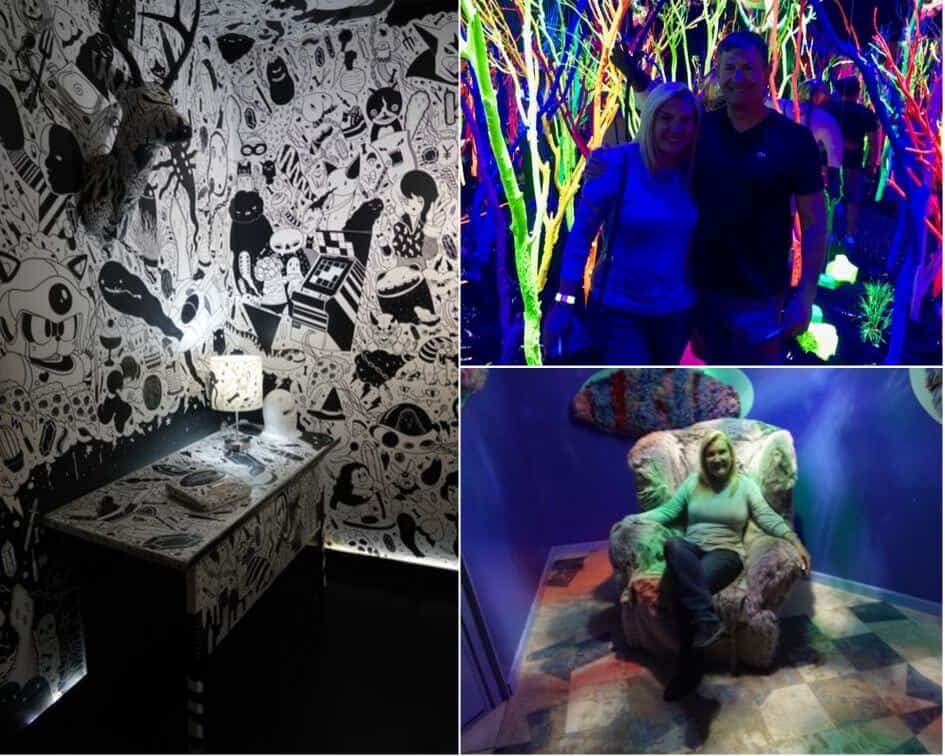 There are dozens of rooms, secret passages, and interactive objects that you can play with. The premise is that something mysterious has happened inside of a Victorian house which has caused it to dissolve the nature of space and time. A highlight for me was entering through one of the passages that looks like a vintage refrigerator! Thankfully, photos and video are allowed and it is open to the public every day except for Tuesdays.