Last fall we went on our first ever river cruise onboard the Viking Vilhjalm.  We had been contemplating going on a a river cruise through Europe for quite some time.  The idea of a river cruise, especially through Europe, seemed like an effortless way to travel. We knew that we wanted to cruise along the Danube, which is one of the most popular rivers to cruise along.  Ultimately, we decided to go on Viking River Cruise's "Danube Waltz" from Germany to Hungary onboard the Viking Vilhjalm.
Several questions went through my mind before departing.  Is river cruising as good an idea as we think? Will we be bored watching the world go by, especially if we end up with several rainy days? Is there enough space on most ships to move around so we don't get cabin fever? Are the days on shore very rushed, going from museum to castle and back again? Is 8 days a good amount of time for these cruises?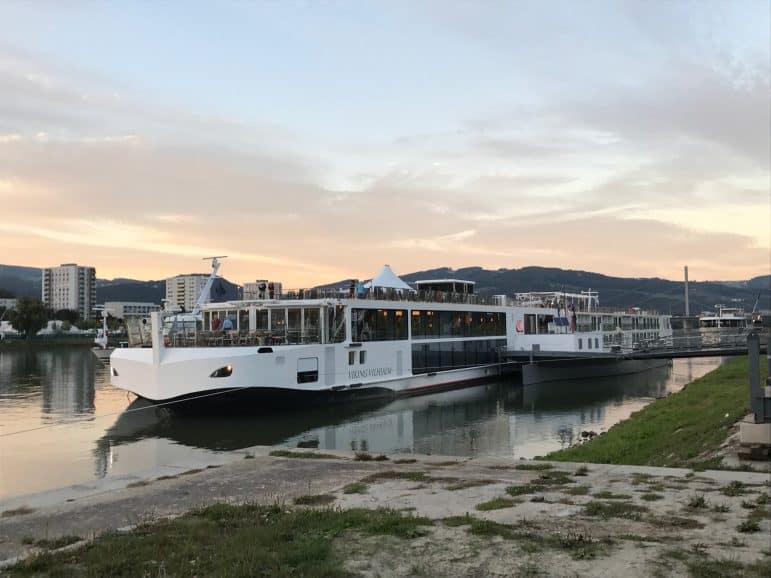 Nevertheless, we booked our flights to Munich and off we went!  Prague was high on our bucket list, and only a 3 1/2 hour drive from the Munich airport, so we decided to take a 3 day pre-extension there before our cruise started. When were arrived at the airport, I used a service called DayTrip that uses local guides as drivers.  On these journeys, you makes a few side-trips to castles and little towns along the way that we wouldn't have been able to see otherwise while on our way to Prague.  We used the same service for the return trip to Passau, Germany where our Viking Vilhjalm ship was docked.  It was also the first stop of our Viking River Cruise.  If you enjoy visiting off the beaten path places, then I'd definitely recommend trying out DayTrip.  It was a wonderful experience!
Embarkation
Embarkation was super easy.  Our driver from DayTrip dropped us off right next to the ship which was very convenient.  The crew immediately greeted us and took our suitcases onboard.  We walked right to reception where we were handed our keys and led to our Veranda Suite, which was a flight of stairs above the reception area and just a few feet down the hallway from the ships Library and Media Area.

Accommodations
Our ship was one of six new ships that launched in 2016!  The 190-passenger Vilhjalm has 95 cabins located on three passenger decks. We opted for a Veranda Suite, which measured 275 square feet and included a bedroom, living room, walkout balcony and French balcony.  Many river cruisers opt for a "French balcony" instead of an "outside balcony." A French balcony is a glass door, or wall-to-wall window, that opens to give you fresh air and the feel of a veranda, minus the outside floor, tables, and chairs.
The Veranda Suite had plenty of storage space in the closets and drawers to properly hold all of our stuff for an 8-day cruise.  Our luggage bags even fit nicely under the bed!
The private bathroom was right off of our bedroom and had a spacious shower, blow-dryer, and premium bath products.
We had a nice complimentary bottle of wine waiting for us upon arrival, along with a bottle of water which was replenished every day.  They also left fresh fruit in our room daily which I enjoyed.
Although we did not spend much time there, our cabin was very comfortable.  It was spacious and gave us the opportunity to relax and enjoy the scenery outside our sliding glass door and balcony.
Similar to ocean liner cruise ships, one of the first things they ask you to do is attend the mandatory safety drill with our life jackets.  The whole drill latest only a few minutes.
Meals
The main restaurant is located on the middle deck. Breakfast and lunch feature a buffet with cooked-to-order items from the menu, and dinner is a served three-course meal with the option to add extra appetizer courses and a cheese plate. We sat at tables with other passengers, some of whom we had just met. During the week we sat with some people regularly and became great friends towards the end!  As for the food, it was consistently top-rate and definitely a highlight.
On the sun deck, you'll find their organic herb garden which the chef uses to add fresh herbs to our meals every day.
Each day, there are regional dishes reflecting the destinations on the cruise itinerary, as well as familiar favorites, vegetarian dishes and an "always available" menu of simpler meals such as salmon, steak and Caesar salad.  One evening, we had a German themed night in the restaurant where there was an array of Bavarian cheese, sauerkraut, soft pretzels & mustards, German meats, beer, and local musicians. Plus – all the staff wore lederhosen!  Theme nights are always fun, and if you need some dressy yet comfortable shoes, I'd recommend any of these.

For lighter breakfast and lunch alternatives, you can go to the Aquavit Terrace which is the indoor/outdoor seating area at the front of the ship on the upper deck.  The Aquavit Terrace also serves cocktails, and appetizers every afternoon. It was one of our favorite places to sit with a glass of wine while viewing the beautiful Danube with its quaint villages and extensive vineyards.  The ultimate European happy hour!
The food really is out of this world, and one night, they offer a complimentary tour of the kitchen after dinner so you may see how everything works behind the scenes.
Caffeine addicts, don't expect to find an in-room coffee machine in your cabins. The good news is, you don't need one!  You'll find a fancy coffee machine mid-ship (either off the lobby or in the observation lounge) that whips up espressos, cappuccinos, macchiatos, as well as hot chocolate, and an assortment of teas.  Luckily, they pair a few snacks such as cookies, muffins, and fruit throughout the day as well.  The complimentary tea and coffee station is available 24/7.
Entertainment 
In the evenings, we enjoyed entertainment in the lounge.  There was a husband/wife duo who played live music (piano / guitar / singing etc) – typically playing popular songs.  Other evenings, they brought in small local groups which we really enjoyed. One of the evenings, my husband was selected to join in on the fun and participate in a dancing demonstration!

On-Board Activities
While there is no spa or gym onboard the Viking Vilhjalm, we were still able to exercise.  For instance, we used the walking track normally after a meal to stroll around the ship, take in the scenery, and socialize with some of the other passengers.   My husband enjoyed the mini-golf on the top deck as well.
Other days we could veg out on one of the outside lounge chairs and watch the small towns and castles go by.
Another highlight for us was going through the different locks, which seemed to be the highlight for many passengers as well.  We would gather on the top deck while waiting as the waters rose, and dropped in the locks which was all really fascinating to witness.
Excursions
One of the nice features of our Viking River Cruise was that shore excursions were included.  We had a choice to pick one shore excursion in each port of call.  Some of the activities are walking tours, while others were a combination of walking and riding in a bus. We also appreciated the ability to spend good amounts of time in specific ports, and the freedom to return to the ship whenever we liked.  There is often usually free time to roam the port towns as well.
From start to finish, the itinerary was spectacular with a great mix of large cities and small medieval towns. The day trips to Cesky Krumlov, Melk Abbey, Vienna, and sailing into a lit-up Budapest in the evening were definitely the highlights.
We loved our river cruise experience and walked away with so many memories!  It was a completely different experience from ocean cruising and we found it suited our style much more.
Save
Save
Save
Save
Save
Pin This!