Our recent trip to Italy marked my husband's first visit to this spectacular country. Having visited various Italian cities many years ago, I was elated to finally take this trip and share my families' heritage with him.
Traditionally when we travel abroad we read up on our destination and then plot and plan our own way. We are not ones for tours, as we prefer being in control of what we see, when we see it and how long we stay. However, this time we were treated to a private tour of Rome, and now we are converted. Immediately after our guide dropped us off, we both agreed that we would partake of knowledgeable guides and tours for every trip moving forward. It transformed our thinking.
The tour for us was like a tasting menu. Our guide provided us with overall history and knowledge of Rome while showing us many of the major sites spread out over the city. This would have taken us days to complete and been difficult to read up while trying to absorb the beauty and awe that is the ancient architecture of Rome. When I think that we would have tried to experience Rome WITHOUT a tour, it seems silly to me now. The city is 15 miles spread out with stunning views, impressive architecture and ruins throughout with a history that marvels the mind. Manilo, our guide who spoke perfect English, picked us up in a comfortable van and was a wealth of information as we drove, and stopped through the busy Roman streets. I am so grateful that we had this opportunity. It afforded us the time to then explore so many other parts of the city while ensuring that we visited the major sites.
We toured many parts but here are some highlights:
Piazza Navona, is long and narrow having been built atop of a wrestling stadium and contains two main sculptural and architectural features. One of the architects of The Church of Sant'Agnese was Francesco Borromini while the fountain; Fontana dei Quattro Fiumi was designed by Gian Lorenzo Bernini. Their styles were different. Borromini liked white and the use of shapes in comparison to Bernini's more baroque style thus creating a natural rivalry. Feeding into that is the popular legend, and one our tour guide noted, that Bernini created a cowering figure with intense facial expression and a hand pushing away, showing fear of the massive church structure it faced. Fact is, the fountain had been completed before Borromini had started work on the church. However, the positioning of that figure against the church does create an interesting and impressive image of a fear.
Long, narrow piazza with Borromini's large white church to the left and Bernini's fountain in the center.
Piazza Navona has been featured in several films.
Yesterday, Today and Tomorrow (Ieri, Oggi, Domani) the 1964 Italian comedy
Catch 22 by director Mike Nichols in 1970
Coins in the Fountain in 1990
And the most recent portrayal was for the film version of Dan' Brown's Angels & Demons directed by Ron Howard, starring Tom Hanks in 2008
The city of Rome was originally at a lower ground level. When the Tiber River flooded in the 1700's, the mud covered over the ruins and the higher level was used to build the city. 80% of the ruins are still underneath the city.
Monumento Nazionale a Vittorio Emanuele II
Located in Piazza Venezia, and sometimes referred to as the wedding cake due its shape and white marble color, is Monumento Nazionale a Vittorio Emanuele II. Its construction started in late 1800's and was completed in 1911. The momument was erected in honor of the first king of Italy with an equestrian statue in the center representing Vittorio Emanuele II. This statue is so large, that in 1904, 22 people held a party inside the hallow horse. Directly in front of the monument is the longest street (1.5 miles) leading to the Trevi Fountain and People's Square.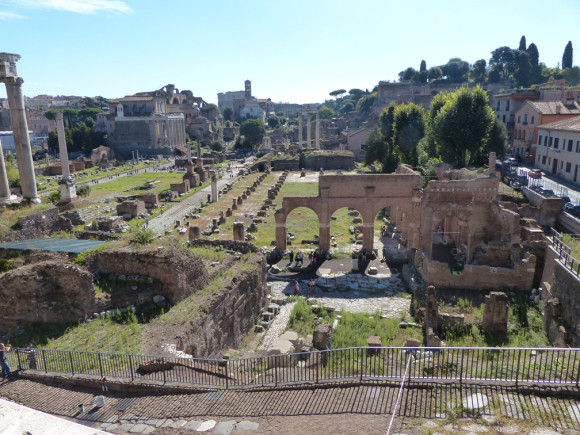 Piazza dei Cavallieri di Malta (on Aventine Hill)
Manilo drove us up a hill and as we approach we spied a line of people standing in the street in front of a large wooden door. I thought, 'Oh, there is a line to enter', but our guide informed us that we are forbidden to enter this military area. The line forms in order to get a peek through the keyhole to see a landscaping and architectural wonder.
To be quite honest, I didn't really know what I would possibly see through this keyhole. I was pleasantly amazed as I, too, leaned in and saw what seemed to me like a telescope view. Through that tiny keyhole was a path perfectly lined with trees leading your eye to final prize, the dome of St. Peter's Cathedral in the far distance.
Designed in 1765 by Giovanni Battista Piranesi, it continues to be meticulously maintained to provide this charming and whimsical view of the famed cathedral.
View through keyhole perfectly aligned to see the dome of St. Peter's Catherdal
The gardens of the Villa del Priorato di Malta, one of the Rome properties of the famous Knights of Malta (I Cavalieri di Malta)
Coliseum Rending, Rome Italy
Taking 8 years to build (72-80AD), the Coliseum's main purpose was so the emperor could be together with the people. It is a massive structure that once held between 50-60K people. The top of the Collisuem had a huge linen canopy that was pulled out to guard the spectators from the sun and require 200 sailors to tend to the sail. This canopy was the basis for the modern day canopies and retractable roof stadiums.
Our Classic tour of Rome with Manilo from Limousine Service in Rome was one that I will never forget.  I highly recommend it if you plan to visit Rome for the first time, or on a cruise ship stop, and want to see some of the best sites in a short period of time.
To book your tour check out their website:  Limousine Service in Rome  or send an email to Manilo at info@limousineserviceinrome.com 
Pin This!