I visited the mythical Bavaro de Punta Cana for the first time this month and was blown away! If you and a special someone are looking for a fun getaway, look no further than the Iberostar Grand Hotel Bávaro in Punta Cana. At this adult-only and all-inclusive resort, you can expect beautiful and peaceful surroundings, delicious food, endless activities, and five-star service. I quickly discovered that Punta Cana is a vacationer's paradise thanks to its white sand beaches, clear blue water, and abundant greenery. Lucky for me, Iberostar Grand Hotel Bávaro pays close attention to detail and focuses on luxury in order to create a dream vacation.  This stunning property is part of the Iberostar Brand's Grand Collection and is the most luxurious out fo the four Iberostar options in Punta Cana.
Reception Area/Lobby
It is hard not to be impressed with the Grand Hotel Bávaro from the moment you set foot inside their opulent, marble lobby. They welcome you with open arms at the reception area with a nice refreshing glass of champagne.  After meeting my butler, her personally escorted me around the property on the way to my luxury accommodations.
The warm breeze and sunshine was calling my name so I was happy to see what the outside area had to offer. The green palm trees were plentiful and the beautiful blue colors of the pools and ocean were a welcome site.
I discovered a giant Spanish Galleon Ship in the middle of a lagoon where you can swim around. I learned later that the ship is a karaoke bar and dance club in the evenings.   I had the courage to sign up for karaoke one night was such a fun and unique experience.
Accommodations
After my quick look around, I excitedly checked in to my spacious Garden Junior Suite accommodations. The hotel offers 272 suites; 12 seaside grand suites, 19 swim-out suites with direct access to the pool from terraces, and 241 suites with views overlooking the sea or garden.   Right outside my suite's hallway was a giant table with chairs, which was an art piece in itself. With my private balcony facing the resort's lush garden, I felt transported into the middle of a jungle. It was an impressive contrast from where I just was down by the pools.
My room was wonderfully decorated with warm tone colors, lovely paintings adorning the walls, fine European linens and personally selected picks from a pillow menu each day. Along with the plush bed, I loved the bench at the end of my bed and the chaise lounge by the desk.
The green surroundings and natural light that flooded my hotel room made me feel so relaxed. I discovered a sweet welcome waiting for me on the desk which featured a beautiful dessert plate, bottle of local beer, and a kind note from the hotel. My butler helped with anything I needed from organizing activities to snack requests.  He was there to help make sure my days ran smoothly. I did enjoy having the ability to call and receive an immediate response if I needed anything.
The double vanity sinks and whirlpool tub in my marble bathroom were also lovely, luxurious touches. This was the perfect home away from home to relax in!  As I mentioned before, Grand Hotel Bávaro is all about focusing on luxury and the finer things in life.
If you are lucky, you might be able to reserve one of their seaside grand suites, which have direct access views to the ocean and the pool area.  They only have 12 on the property.
Gastronomy Options
Besides soaking up the sun, a huge priority for me while staying at this all-inclusive resort was to sample as much delicious food as possible! All meals are served in their impressive five restaurants which include an international buffet, and four a la carte restaurants that serve everything from Japanese and Mexican, to American and Italian food. With snacks and all drinks available 24 hours a day, you can have everything you possibly want at any time of the day.
My welcome meal did not disappoint at Casa de la Playa, the resort's seafront Mediterranean fusion restaurant. The service and atmosphere here are just as breathtaking as the cuisine. We were served four flavorful and beautifully presented courses. Some of my favorites were the tuna in cereal crust over Spanish and basil cream, along with the pear rolls with blue cheese, lettuce shoots and a honey mustard vinaigrette. Delicious!
I was treated to an impressive breakfast buffet every morning at Bella Vista. You are spoiled for choice here thanks to endless meat and cheese platters, fresh pastries, bagel sandwiches, a crepe station, and more! It was the perfect way to start every day. Although I only had breakfast here, a buffet lunch is provided at Bella Vista as well, which I can only imagine is equally as fantastic!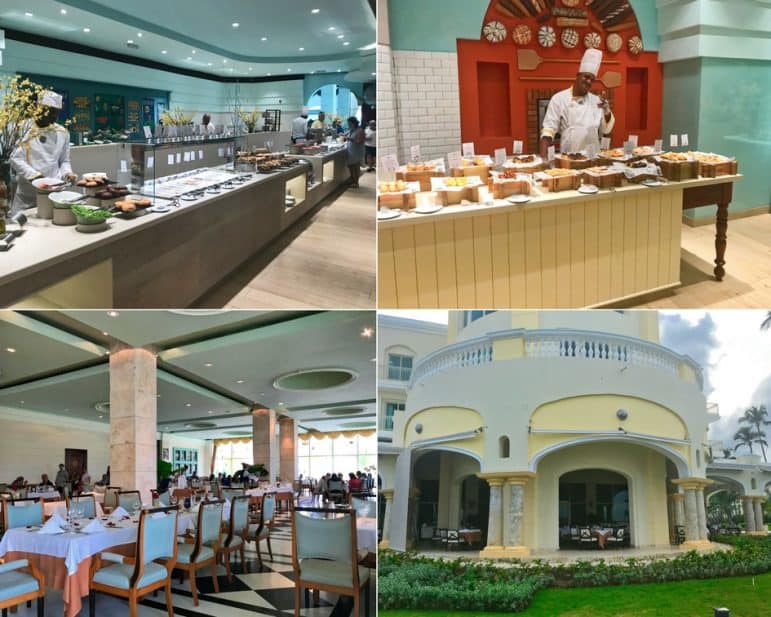 Another fantastic restaurant option is Hashira, where I enjoyed a delicious Japanese dinner. The decor itself transports you to the Far East, while the fabulous Asian dishes are prepared in their live kitchen directly in front of you – Hibachi style.
One memorable dining experience was an interactive demo and cooking class! This took place at the resort's sister property Japanese Restaurant: Kabuki. At night, dinners at this delicious Asian restaurant are prepared in a live kitchen, directly at the teppanyaki tables. However, we were here during the day to enjoy a fabulous meal from Chef Mario González. Thanks to his knowledge and guidance, he easily took us through how to make some inventive dishes.
My absolute favorite was the unique cheesecake for dessert which looked like a tomato!
That evening we went to the Cigar Bar and sat with Iberostar's Mixologist, Vittorio Ballone. He presented us with a fabulous Dominican rum cocktail mixology demonstration and interactive session.  We had the pleasure of tasting some of his best drinks.
Apart from a typical sit-down restaurant experience, I enjoyed fun foodie events as well! During my stay, Iberostar's Director of Cuisine, Chef Mario Gonzalez was there to play host for the Iberostar Chef on Tour dinner. The evening started with carefully crafted welcome cocktails and tasty appetizers.

Afterwards, we were treated to a Dominican tasting menu where Chef Mario Gonzalez talked us through the different ingredients in these exciting dishes. We started with a Mango Banilejo Ravioli, Grandmothers Cream Soup – Grandma turkey cream, egg flower with black truffle and its crispy skin.  These wonderful started were followed by a red snapper dish wich was cooked to perfection. The Apple-fennel mustard dish was incredible as well, but my all time favorite was the dessert.  The chocolate ganache with olive, and Bonao cocoa ice cream.  It was amazing to have a talented chef there whose passion for food made for an even more enjoyable meal and evening. Iberostar's chefs created a multi-course dinner using only local ingredients, putting an elevated twist on traditional Dominican dishes.  All the dishes were paired with a unique wine selection.
However, the night was far from over. Afterwards, I headed to a Moët & Chandon party where I enjoyed a couple glasses of special bubbly while socializing with other guest from around the world.
Entertainment
Iberostar's typically high standards for music and live shows are exceeded at the Grand Bavaro. Every night they offer shows and live performances to entertain guests in the La Scala Theater starting at 10pm.  The performances were great!  We watched a magic show and an 80's night performance during our stay.
The piano bar was a favorite among many of the guests. In the evenings right before dinner, we would come down for a cocktail and enjoy the live music entertainment.
Pool/Beach 
When I wasn't busy sampling the incredible food, I was lounging on the beach where they provide parasols and bar service, or by the spacious pool.
The pool area had lounge chairs on the watery edges and was surrounded by a wonderful array of shaded beds for ultimate relaxation. There is a second pool used for activities such as water polo, volleyball and other fun games.
The lounge chairs in the pool kept us nice and cool when the sun started to get very hot.  It was also very convenient because we were able to get up from our chairs and take a dip in the pool. It's also located near the lunch buffet area. These chairs and the cabana ones are very popular among guests.  You need to make sure and reserve them early in the morning. No need to bring your towels or even sunscreen, as they provide all of that for you!
Hotel guests can enjoy numerous water activities like snorkeling, catamaran trips, parasailing, water skiing, wind surfing, and sailing lessons or boat lessons. They also offer ping pong, volleyball on the beach, and indoor pool tables. It is safe say, boredom doesn't exist here at Iberostar Grand Bávaro!
Spa/Fitness Center
Another fabulous relaxation spot is their two-story, beachfront luxury spa. After all, disconnecting from everyday routines is the ultimate goal of vacationing, and the truest form of luxury! You cannot leave Grand Hotel Bávaro without indulging in a massages or at one of SPA Sensations wet areas. From beach-side treatments to time in the Jacuzzi or sauna, there is something for everyone here to enjoy!  I had a combination reflexology massage and it was absolutely wonderful.
Golf
The resort includes golf at its own 18-hole P.B. Dye Golf Course.  Although, I'm not a golfer, it looked liked a lovely course.
I enjoyed my time immensely at Iberostar's all-adult and all-inclusive Grand Hotel Bávaro Resort.  I would recommend visiting Punta Cana all year round, especially if you are looking for somewhere to escape the winter blues!  It is truly paradise.
Disclosure:  I was a guest of the Iberostar Grand Hotel Bavaro,  all opinions here are all my own.
Pin This!