Why travel to Paris on Air France
Regardless of which class you're sitting in, traveling to Paris on Air France is a relaxing experience. We flew in Business Class from New York to Paris. Before we even got on the plane, we experienced the Air France Lounge that had all sorts of delicious snacks and drinks. Upon boarding the plane, we were greeted by the flight attendants who are fluent in English and French (and usually Spanish as well). The seats had plenty of room, and they allowed the passenger to lie down completely. Each passenger was given a small bag filled with travel-sized amenities such as a toothbrush, toothpaste, lotion, and sleep-mask. The table could be drawn out of an arm rest, and the TV had plenty of movie options in a multitude of languages. In addition, each seat came with a complimentary water bottle.
Air France has several tasty meal options (vegetarian, light, etc) all of which were filling and broke the mold of stereotypical plane food. There were snacks before dinner, the main course, and then breakfast was served a couple hours before the descent. Dinner options included a chicken or beef stew, rice pilaf, and a fruit tart for dessert. The breakfast was yogurt, jam, juice, and a bread roll.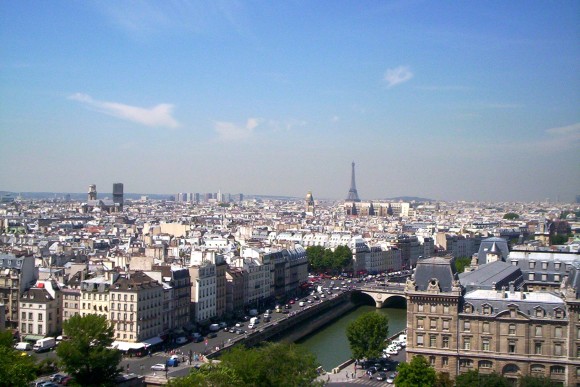 Why I like being in Paris
Being in Paris is a discovery in itself whether it's the first time you're visiting or returning for the tenth time. The ancient cathedrals and romantic bridges invite you to explore, but you're never sure of what you'll stumble across. For instance, you may be shopping in Grand Boulevards and then find yourself face to face with L'Opera. You might be walking down a street you thought you knew well and then take a turn into a small alleyway filled with antiques and hidden treasures. It was while walking down the famous Champs D'Elysee that I turned down George V and found Miss Ko, now one of my favorite restaurants in Paris. Not too far from there is L'Entrecote, a restaurant that serves only steak frites with a delicious green sauce yet always has a line waiting outside its doors.
As you can see, Paris has a lot of wonderful places to visit and some are off the beaten track that most tourist haven't even heard of. I've teamed up with Air France to make a guide of some of my favorite places in Paris that I think are important to see when you visit the city.
Pin This!