Santorini offers some of the finest beaches in the Aegean Sea. Most of Santorini beaches have the famous black volcanic sand and deep blue waters that any visitor to the island remembers. Some beaches have red or white sand with pebbles. Everywhere you visit, you will see spectacular rock formations. The best way to explore these beaches is by car! For Greece car rentals, I recommend Discover Car Hire.
Here's a list of the Top 10 best Beaches Santorini which represent unique environmental jewels.
Santorini

Red Sand Beach (Red Beach)



Red Santorini Beach is 12 km south west of Fira in the Akrotiri area, and one of the most beautiful and famous beaches of Santorini.  It is well known for the unique color of the sand and the hill behind it. Soaring red lava cliffs which drop right to the sandy shore and into the clear blue sea, make for a majestic setting and one to enjoy. The beach can be reached either by boat (there are several connecting Red Beach with Perissa and Akrotiri) or by foot (10 minutes walk from Akrotiri).  You can drive and park next to the Agios Nikolaos church in Akrotiri.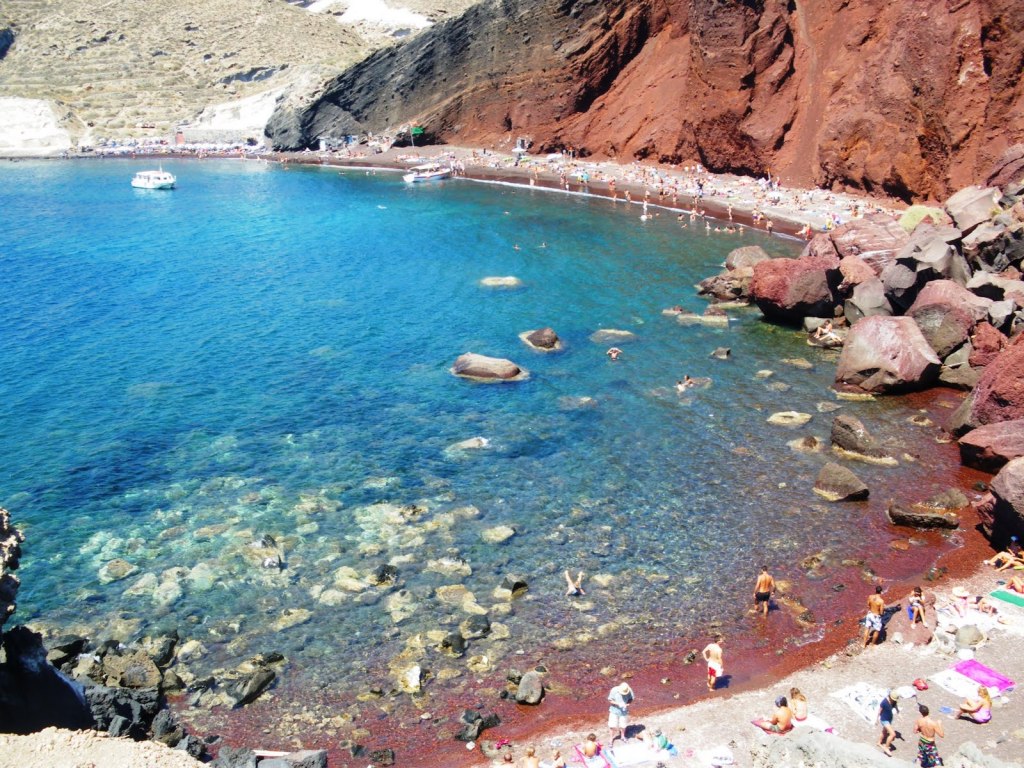 Kamari Beach
The beach resort of Kamari is situated on the southern part of Santorini, right next to Perissa, with the enormous rock called Mesa Vouno between them.  This beach is in a prime location for watching the sunset and the sunrise. It is also a very nice beach with lots of restaurants along the beachwalk. FYI, it has black sand that is more like black rocks. It is difficult to walk barefoot, so beach shoes are a must!
Perissa – Black Sand Santorini Beach
Perissa is a tourist resort that gets very crowded in summer. Perissa has black sand on its shore. The remains of Ancient Thera are close by.
Agios Georgios
Agios Georgios is another black beach just 3 km from Perissa, on the southern part of Santorini. Agios Georgios is one of the most tourism-friendly beaches on Santorini.  Numerous facilities are available such as umbrellas and seats for rent, hotels and bars that fit every budget. Visitors can choose among a variety of activities in the water or out at the beach. A large number of restaurants and taverns are gathered along the waterfront, covering all tastes. The beach is a haven for water sport enthusiasts, offering them a wide range of water activities to choose from, including Jet- skiing, scuba-diving, windsurfing, paddle boats and banana boats.
Cape Columbo – Wild and Most Isolated Santorini Beach
Cape Columbo beach is one of the most isolate and quiet beaches on Santorini.  It's located 12 km north east of Fira. Surrounded by a wild landscape, Cape Columbo often gets windy. In fact, it is the wind and the waves that have formated the wild rocks of Columbo. Just beware of the falling rocks from the cliff.  Don't sit or lay directly under it them. But since it's a quieter beach, this might be a fun place to bring some bigger water toys – check out these unique options featuring the best inflatable docks.
Monolithos Beach
Monolithos Beach, situated close to the airport on the East of Santorini, next to Kamari Beach, is a peaceful fine black sandy beach, popular with locals and perfect for families with children as it's organized with many facilities, such as children play areas, sun beds, umbrellas for rent, water sports and many restaurants.
Perivolos Beach
Located 10 km south of Fira, Perivolos is the longest black sand of Santorini. This wonderful beach is surrounded by these strange rock and sand formations, making it look like a space landscape.
Vlychada Beach
Vlychada beach is on the south coast of the Santorini, around 13 km from Fira the capital. Vlychada is a charming fishing village, where visitors can relax at seaside taverns and cafes. Imposing rocks  stand right above the beach, creating a lunar landscape for a relaxing day on the beach. There is also a beach bar perched on the rocks for delicious food and drink. This is one of the beaches in Santorini you should definitely visit. It has a small port where fishing boats and yachts moor in summer.
Vourvoulos Beach
Location: 4 km north east of Fira Description: Vourvoulos is a beautiful beach but the strong wind that blows frequently makes it uncomfortable for swimming. Sometimes, waves can be huge.
Santorini White Beach
The cove right next to the Red beach is known as the White beach. It is very similar to the Red beach, with black pebbles on the shore. They contrast with the surrounding cliffs which are white.  White beach can only be reach by boat.
Which one is your favorite?
Pin This!