About an hour outside of Los Angeles in Simi Valley, CA you find the The Ronald Reagan Presidential Library and Museum.  No matter what your political persuasion the library is filled with memorabilia that will accommodate your interests. This is a national treasure not to be missed, and the panorama is fabulous as well.
The Museum's location is fantastic atop a hill with magnificent views in all directions.  The approach creates a sense of the grandeur of history as you pass a series of banners of all the Presidents. Upon entering the Library, you are welcomed by a statue of Ronald and Nancy Reagan.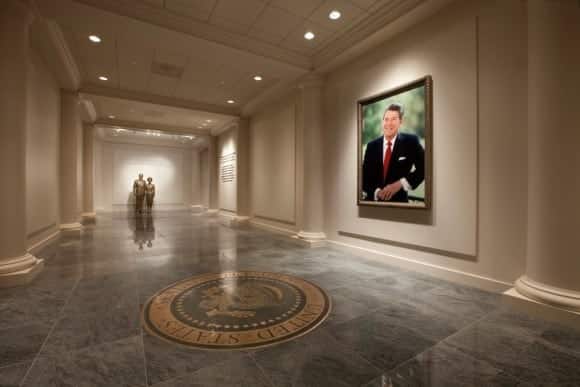 On the opposite side of the admissions area is the President's final resting place which peacefully overlooks stunning mountains and the Pacific Ocean in the distance.
The museum takes visitors through the Reagan life story in some detail. It features his role in changing the US political agenda, his recovery from the assassination attempt, his role in international relations, and his relationship with Nancy.  In contrast, the museum is somewhat quiet about his cabinet (they are not even captioned in the photos), his children who are pictured only in the context of mourning Reagan after his death, and his other close political collaborators.
The Ronald Reagan Presidential Library and Museum has everything from the Air Force One/Marine One Exhibit and campaign memorabilia, to an identical replica of Reagan's oval office, personal family exhibits, and historical displays. I was especially moved by the touching display of letters and telegrams to Mrs. Reagan over their many years together.  They also have a piece of the North Tower from the World Trade Center damaged by 9/11, as well as a piece of the Berlin Wall displayed.  We enjoyed the murals and wall-sized pictures throughout the museum which recreated both Reagan's life and the history of the 1980s.
The museum open daily from 10 a.m – 5 p.m. seven days a week, except New Year's Day, Thanksgiving Day and Christmas Day.   Admission Fees are Adults $16, Seniors $13, Kids 11-17  $9, Children 5-10 $6.  Children 4 and under are free.
If you're in the area and have a few hours, it's definitely worth the visit.  You are allowed to take pictures but no flash photography is permitted.   No pictures are allowed inside of Air Force One.