Planning your trip to Madrid? Let the glorious Hotel Villa Magna be your home-base for your journey to this iconic city. Nestled comfortably on the historic Paseo de la Castellana, the Villa Magna is expertly placed in the center of an exclusive shopping district, adjacent to the financial district. Whether your stay is for pleasure, business, or both, you cannot go wrong.
The Hotel Villa Magna has a colorful past: at one point it underwent demolition in the 60s and only reopened in 1972. Then in 2007, it was renovated with rooms of contemporary design and technology to fit the modern world.
There is a total of 150 guestrooms and suites with complimentary shoe shine, limousine transfers, and babysitting services. The luxurious suite options include the Junior Suite, Executive Suite, and Villa Magna Suite.
You can also enjoy the spacious Insignia Suites; the Real Suite has two bedrooms, a 1292 square foot air terrace, a living room and dining room, walk-in wardrobes, a relaxation room, and a private pantry. Similarly, the Royal Suite and the Castellana Suite have dazzling views you can admire from air terraces.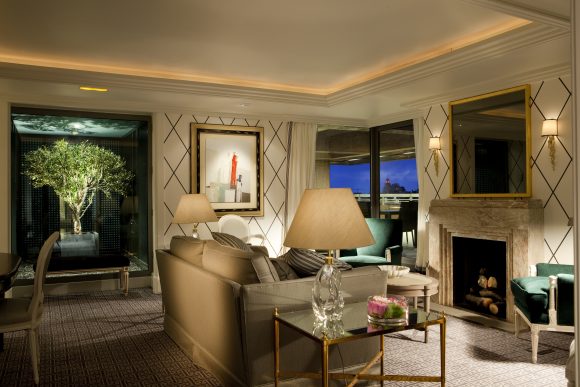 The facilities offered at the Hotel Villa Magna are guaranteed to cater to any and all of your event needs. With nine meeting rooms, outdoor gardens, and terraces, the bases have been covered. Your business meeting, luncheon, cocktail party, or wedding is sure to be a success with a fully equipped business centre (with on-site technicians no less) and an event team of experienced professionals at your disposal. When five of these rooms are combined, the maximum capacity of any given event can be over 700 people!
The Restaurante Villa Magna was designed to give guests an elegant dining experience: natural light and a relaxed ambiance complement the deliciously fresh food served over five courses.
Those interested in oriental cuisine are invited to try the Tse-Yang Restaurant, known for its fine Cantonese cuisine. Guests can also enjoy breakfast, light lunches, cocktails, and tapas in the airy Lounge. For more drinks, there is the Magnum Bar or the Patio Magnum (during the summer). Considered to be Madrid's "most chic bar", the Magnum Bar is tended by talented bartenders known for their exciting concoctions.
Of course, no luxury stay is complete without exploring the delightful relaxation and health options available. El Club Wellness is equipped with workout machines that encompass the modern experience, allowing you to view videos on built-in screens during your session. There are locker rooms, steam rooms, and saunas (oh my!). For those wishing to push themselves during their visit, there are personal trainers available. The Kiara Kare® Wellness Center provides expert therapists for those looking to de-stress after a long trip or stressful work day, and a hair salon for your pampering needs. Lastly, the Villa Magna Boutique is the perfect choice for satisfying your sweet tooth or picking out a gift. These exclusive items can only be bought at the Boutique, so you know you're getting the full experience when you purchase any of the linens or fragrances on display.
As many a visitor has exclaimed, the Villa Magna is more than a place to park your luggage while you explore the city; it is known for being "home in Madrid".
Hotel Villa Magna, Paseo de la Castellana 22, 28046 Madrid, Spain Tel: +34 91 587 12 34
Pin This!