It's been a while since I visited the Windy City of Chicago. Chicago is the major urban center of the Midwest. It's chic and has a buzz but maintains a certain Midwest friendliness and charm. In the summer, Chicago's bike paths along Lake Michigan and Lakeshore Drive are mobbed with people enjoying the outdoors. At night, walking down Navy Pier or along the Chicago River is as romantic as strolling along the river in Paris. Chicago's business is booming and foodies and music lovers rave about Chicago. The city has much to offer and more than can be absorbed in a few days.  But most of all, it's people that make the city and there is no more hospitable place than Chicago.  And friendliness definitely makes people like to visit.
My last visit to Chicago was for a family wedding. My cousin got married (finally) and we worked in an extra day to tour around downtown Chicago.  Being use to the suburbs, my neck got sore staring up at the skyscrapers.
Located in the heart of the Loop, right along the river and only steps from the Navy Pier, the Swissôtel Chicago hotel towers 43 stories above the city with awe-inspiring views. It offers comfortable, modern, and luxurious accommodations for any traveler.
If you've never heard of the Swissôtel, that's probably because there is only one in the U.S. There are others in Bangkok, Sidney, Berlin, Singapore, and Istanbul. The only American Swissotel hotel is situated right off the Chicago River, on East Upper Wacker Drive, allowing travelers to get close to the downtown bustle without the city noise.
Along with its convenient position amid the downtown cityscape, Swissôtel is just 4 blocks from the Magnificent Mile. The hotel puts you right in the middle of the Chicago Loop, and Michigan Ave, putting all the main attractions in easy walking distance for even lazy walkers like me.  The hotel provides guest with great views of Chicago, from any room in the hotel.
Accommodations 
Swissôtel offers 661 oversized guest rooms and suites (including kids suites) with magnificent views of the Chicago River.  It you stay on the south side you will be facing beautiful Grant Park, and Michigan Lake right out your window.  The rooms on the top floors looked out on many of the new condo buildings popping up downtown. But if you focused between the buildings, there are stunning views of Lake Michigan, the Field Museum, and Soldier Field.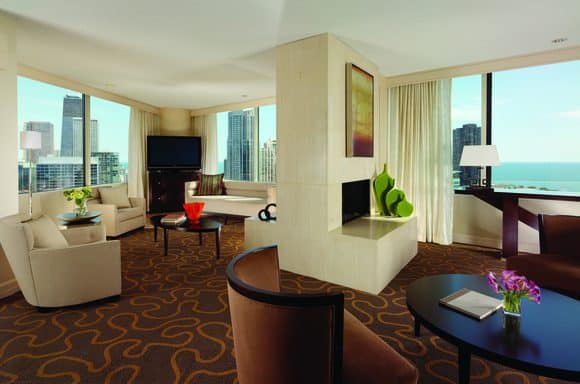 From the north side of the hotel, you are treated with unobstructed views of Navy Pier and North Michigan Ave.
Among its other amenities are a fitness center, an indoor pool, and the fabulous Spa 42 for a relaxing massage.
Restaurants
The hotel has three restaurants onsite. Geneva Restaurant opened only for breakfast serves a classic American breakfast with European flair.  The Palm Restaurant this Chicago outpost of the Manhattan original serves tender-aged prime beef, traditional Italian fare and outrageously sized lobsters.  Amuse offers a variety of dishes from fried avocado and crab salad to seasonal sliders to satisfy everyone's palate.
While definitely geared toward business clientele, the Swissôtel is also a comfortable stay for families, girlfriends getaways, and couples traveling to Chicago.
Swissôtel is a global hotel brand (with Swiss roots) with properties world-wide. A full list of locations can be found here: http://www.swissotel.com/destinations/
Follow Swissôtel Hotels & Resort on social media: Facebook, Twitter
Instagram
Swissôtel Chicago, 323 E Upper Wacker Dr, Chicago, IL 60601
Disclosure:  This is a sponsored post written by me on behalf of Swissotel. All opinions are 100% mine.