In all my travels, one of the biggest challenges I often face is packing my long dresses or my husband's suits. To avoid wrinkles, he usually wears it on the plane and folds it carefully in the overhead storage; if we are lucky enough to be flying on business class, the flight attendant hangs it up for him.  The lengths we've resorted to got old years ago, but we finally have our solution! No more frantic struggling to fold suits and dresses inside a suitcase (or just wearing them to the airport), because with the SkyRoll garment bag, it easily wraps around the suitcase.
A carry-on that also features a garment bag! Sounds pretty awesome, right? I recently received a SkyRoll Spinner suitcase to take on my next trip, and I was thrilled to try it out.
Skyroll was made specifically for the business traveler who need to pack professional clothing sans wrinkles. A garment bag is the only way to go when you need to bring suits, but most aren't carry-on friendly. When you have to go straight from the plane to a meeting, waiting for the baggage carousel to deliver your luggage is a hassle and a waste of your precious time. Why check luggage when you can use carry-on bags? On top of that, baggage fees can be ridiculously expensive these days. But packing clothes so that they stay looking fresh is a challenge.
If you're a frequent cruiser, you might have a stronger need for packing formal clothing than the rest of us leisure travelers, but we still need a garment bag for different types of vacations.
The SkyRoll Garment Bag
The garment bag is one of SkyRoll's most unique features, and it's used in each of the luggage options they offer. It clips to each of the different luggage options, so you start by packing this first by laying it on a flat surface (it zips open/closed).
The garment bag measures 19×55 inches which is great for long dresses, and men's suit jackets.  When you pack your clothing (e.g., suits, pants, shirts and/or dresses) into a garment bag, place your items flat into the garment bag. No hangers are needed.  The garment bag also has two other mesh pockets where you can store small items, like ties, belts, scarves, so you have everything you need right in one place.
When you're finished, just zip the garment bag closed and wrap it around the suitcase portion after you've completed the rest of your packing.   It attaches/detaches with clips. If you pack more in your garment bag, you can loosen the belts attached to the clips to help it fit. It also stays in place with Velcro on the top and bottom, so it doesn't slide down and end up under the wheels on on side.
The only thing it doesn't do is hang in the closet at your destination, but you can easily just pull out the contents and hang them as soon as you arrive. You'll have to remove the garment bag from the main bag in order to get at your other stuff anyway. I like that this makes it harder for people to try to steal things out of your suitcase, too.
SkyRoll Toiletry Kit and Top Compartment 
The suitcase also has an outer pocket and a top drawer space to store your toiletries or other small items.  Rather than having to squeeze your toiletries and other items to inside edges of your suitcase, SkyRoll roller bags include the toiletry kit — a sturdy, deep bag that also includes a mesh storage area at the top (10″x6″x3″).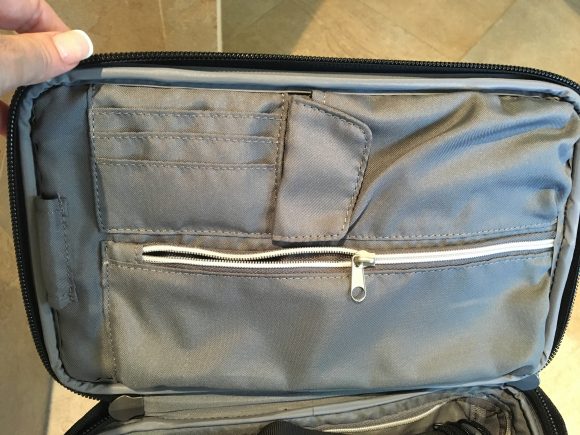 The toiletry bag comes with a hook that can be used to hang your toiletries in your hotel's bathroom.  With this hook, there's no need to worry about getting your toiletry bag wet on the bathroom counter, and it still keeps the bath area neat and clean.
The top compartment of the suitcase also comes with an internal padded sleeve that can hold a 15′ laptop or a tablet.  It stores your computer safely in your luggage without it getting damaged.
The main suitcase is where you pack other items, such as your shoes, t-shirts, undergarments, etc. The zipped opening appears to be small, but the luggage actually holds a surprising amount.  When finished, clip the garment bag to the suitcase and then roll the suitcase so that the garment bag wraps around it.
I love the two pockets on the "lid" of the Spinner. I used one for my undies, and socks and/or other undergarments could go in the second. Pretty snazzy, right?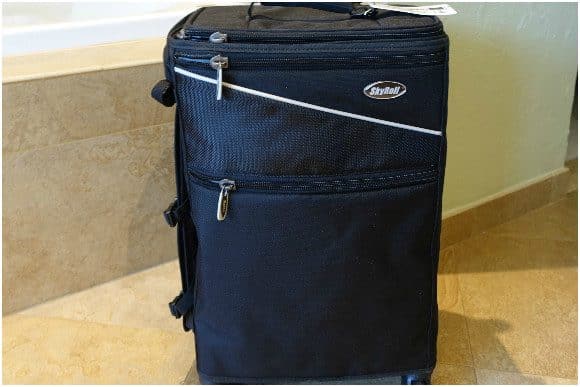 Skyroll Garment Bag Review – 

The Verdict
In my opinion, the SkyRoll Spinner is the ideal suitcase for those going on a quick trip like business travelers, cruisers, and weekend escapes.   It kept my clothes nicely organized in the garment bag and prevented any wrinkles.  I will definitely be taking my SkyRoll with me on my next trip.
More information:
-The SkyRoll Spinner suitcase cost  $299.99, SkyRoll on Wheels $249.99, SkyRoll Garment Bag $149.99
-The Spinner was designed mostly for women. It can be used for men's suits but the garment bag is narrow and not recommended for suit jackets larger than size 40.
-Spinner wheels spin 360 degree for easy rolling without tilting
-The SkyRoll suitcase can be used without the garment bag
-It's made of 1200 denier water-resistance ballistic fabric
Now you can get your very own SkyRoll bag at www.skyroll.com , and receive 15% off until the end of September on either of the SkyRoll versions with wheels by using the coupon code of LUX916 at checkout.
Disclosure: I was provided with a SkyRoll Spinner bag for the purpose of this review, but all opinions are 100% my own.
Pin This!