When I told the kids were we going on a cruise to Alaska this summer that looked at me like I was from another planet and asked "Why Alaska?" I told them that Alaska was a huge state and had a lot of things to do and see.   Plus, I really wanted to see the glaciers before they were all gone from global warming. When searching 7 night cruise sailing itineraries on Royal Caribbean, I found a few choices.  We could leave out of Vancouver, Seattle or Seward.  Since we had never been to Vancouver, we decided to go on the "Radiance of the Seas" leaving from Vancouver. They offered what I considered to be a great itinerary with stops along the inside passage.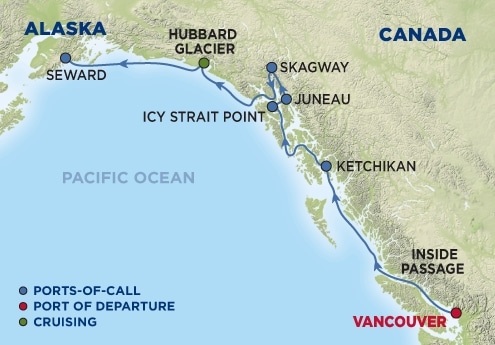 We arrived at the Vancouver cruise terminal in the early afternoon and were processed rapidly through check-in.  In just a few minutes, we had our pictures taken, were given our sea pass cards, and we were onto the ship.
The entrance onto the Radiance of the Seas is into a main lobby on Deck 4 called "The Centrum", which is open all the way up to Deck12.  The Centrum has several seating areas, the Lobby Bar, the Guest Relations and Explorations desk, and a small stage for musical acts. The open area in the middle of the Centrum provides a space to dance and for game shows. Located far above Deck 4 and spanning all decks is a wonderful sculpture, elegant and flowing. A unique feature about this sculpture is that at night, the lights located on the sides of the centrum play across the sculpture, changing in color, shape, and pattern.
ACCOMMODATIONS
I had reserved two "Deluxe Ocean View Balcony" staterooms next to each other.  The Deluxe Balcony staterooms have floor-to-ceiling sliding glass doors that lead to private verandas; two twin beds that convert to a queen-sized bed; considerable closet space; a private bathroom with shower; and a living area with desk, drawer space, vanity, and sofa. Each stateroom also has its own flat-screen television, thermostat controlled air-conditioning, internet access, direct-dial telephone, radio, mini bar, individual safe, and 24 hour room service.  Our stateroom had a queen size bed, and the kids next door had two twin beds with a dropdown bed over the sofa.  It was perfect because it allowed the kids to utilize their sofa to watch TV.
ACTIVITIES ON BOARD
The ship offers plenty of activities on board: Mini Golf Course, Basketball Court, Rock-Climbing Wall, Jogging Track, and a Fitness Center, with classes including Yoga and Tai Chi.  There's also the Casino Royale.  Most of the table games have a $5 minimum and $200 maximum.
RELAXATION
The Radiance of the Seas has three pools including the Solarium, an adults-only retreat, and three whirlpools. Another way to relax is in it's VitalitySM Spa with an extensive treatment menu including massages and acupuncture.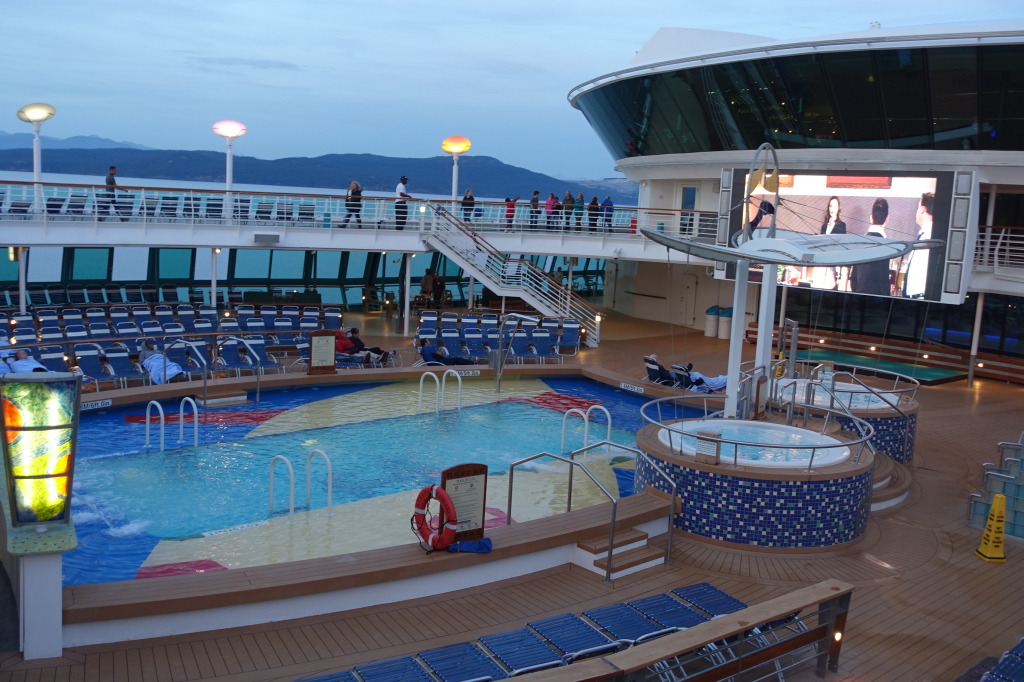 DINING OPTIONS
Deck 4  contains the lower level of the bi-level main dining restaurant called Cascades, which offers complimentary, multi-course dining for breakfast, lunch and dinner.  Cascades is a wonderful place to enjoy dinner after a long day in port.   We opted for the my-time dining option, which allowed us to select the time each day we wanted to have dinner.   You also have a choice of sharing a table with others in different groups or requesting your own private table for your group.   We requested our own table, since we were a group of five.   Windjammer Cafe is also open for breakfast, lunch and dinner. Some of the other specialty dining restaurants on board charge a cover charge (example $25 per person) and you can order anything you'd like off the menu, or sample from a la carte menus at select venues. My favorite restaurants were: Chops Grille steakhouse (the steak was delicious), Izumi Japanese Cruise (loved the sushi and california rolls), and Giovanni's Italian Restaurant (great pasta dishes).
Chops Grille signature steakhouse
Izumi Japanese cuisine, featuring a la carte sushi selections.
Giovanni's Table Italian restaurant
Samba Grill Brazilian Steakhouse
Rita's Cantina for Mexican-fare favorites
Chef's Table intimate dining experience
EXCURSIONS
We took our cruise in August and the weather was very predictable (wet and cold).   Some of these towns along the way are only accessible either by boat or my plane.   Some of the excursions are depended on the weather.   We were scheduled to go on a helicopter ride to the top of a glacier dog sledding.   The fog was so bad that her excursion was cancelled because no helicopters or planes could fly that day.   Just be prepared with a plan "B" in case…
Alaska is breathtakingly beautiful.   We disembarked at 7 a.m. and walked right off the ship with no line to meet our 8 a.m. bus to the Anchorage airport. Have you been to Alaska?