Each year, a world-class dining experience is held during the month of November in Puerto Vallarta and the Riviera Nayarit at participating hotels and restaurants.  On November 20th, the executive chefs of Mexico's Foodie Resorts, Velas Resorts in Puerto Vallarta, Riviera Maya and Riviera Nayarit, unite for a Behind the Scenes culinary event during the 21st Annual Puerto Vallarta International Gourmet Festival.
The 21st International Gourmet Festival will be a week-long event that will melt the hearts of foodies everywhere.  From the 16th to the 22nd of November, visitors can participate in numerous exciting events, including an avant-garde dinner. Also, there will be various workshops with elite chefs and a gourmet village where a variety of culinary giants will be displaying their talents and mingling with the crowds.  Also, there will be a Gourmet Dine Around that allows visitors to enjoy gourmet cuisine at 22 participating restaurants, where international master chefs will pamper tastebuds and surprise palates.
Over 30 world-renown chefs will offer a-la-carte gourmet dining, chef's tables, gourmet safaris, and wine tastings on a daily basis. The festival has attracted over 400,000 gourmet fans and over 500 international chefs to Puerto Vallarta since 1995.
Guest chefs from the international gourmet scene participate in the festival, enriching this great celebration of good food with their sensational art in contemporary cuisine.
The special attraction of the Gourmet Festival is the inspiration of working as a team, as the guest chefs, in conjunction with highly-awarded extraordinary culinary masters of local hotels and restaurants, making this event a unique experience surprising visitors with the latest trends, creations and secret recipes.
Held at the AAA Five Diamond Grand Velas Riviera Nayarit, the gastronomic magic begins after grabbing a handcrafted welcome cocktail for a seven-stop epicurean tasting tour through the resort's kitchen. Along the way, guests will have the opportunity to converse and sample signature bites from the four attending chefs – Master Chef of France, Michel Mustière (Grand Velas Riviera Maya), Claudio Hotter (Grand Velas Riviera Nayarit), and Eliseo Ibarra (Casa Velas).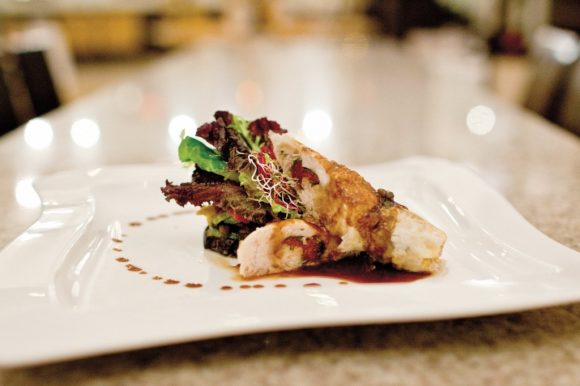 Grand Velas Riviera Nayarit is a Leading Hotel of the World. This all-inclusive resort features 267 ocean-view suites (some with private plunge pools). Of the resort's five restaurants, three of them serving French, Italian and Mexican gourmet cuisine, have received AAA Four Diamond awards for distinguished cuisine and presentation. An oasis of well-being, the resort's Leading Spa of the World offers 20 treatment suites, more than 30 spa treatments, many inspired by the native traditions of Mexico and a signature water journey. Other features include a fitness center, 24/7 insuite service, water sports, business center, tennis, baby concierge, Kids Club, and a teen lounge during holidays. Puerto Vallarta is just a 15 minute drive away.  The resort has won numerous awards from Conde Nast Traveler, Travel + Leisure, TripAdvisor, U.S. News and World Report, and Forbes, which named it one of the Top Ten Coolest All-Inclusives in 2012. Grand Velas Riviera Nayarit was built and is operated by Eduardo Vela Ruiz, majority owner, founder and president of Velas Resorts, with brother Juan Vela by his side, vice president of Velas Resorts.
Starting at $333 per person per night, based on double occupancy, Grand Velas Resorts' all-inclusive rates include luxury accommodations, a-la-carte gourmet meals at a variety of specialty restaurants, premium branded beverages, 24-hour in-suite service, taxes, gratuity, and more.
The Behind the Scenes culinary event costs $80 per person. For reservations or more information on the Behind the Scenes Tasting, e-mail reservations@velasresorts.com or call +52 322 226 8677. For more information on Velas Resorts, call 1-888-407-4869.