A new year always brings new hope and excitement! And while most travel still isn't possible right now, we are hoping the world will open up at some point in 2021. And when it does, we are ready to explore new places and stay in stunning new properties. Preferred Hotels and Resorts is the world's largest independent hotel brand and one of our absolute favorites. Their collection consists of over 750 hotels across 85 countries, and there are several new ones opening up in 2021!
We wrote all about our recent stays at two of their properties in the United States: Montage Laguna Beach and Eau Palm Beach Resort. Because of their diverse portfolio, I highly recommend joining their rewards program which is absolutely free to join, and they do NOT bombard you with unnecessary emails. I have personally been an I Prefer Rewards member for years now and I love all the perks such as welcome drinks, early check-in and late check-out, room upgrades, free internet, and so much more. Being able to earn points that are redeemable for free hotel stays is also a huge plus for someone who travels as much as I do.
But without further ado, check out our top 10 new Preferred Hotels and Resorts properties opening in 2021 that we are MOST excited about….
EUROPE:
#1 Casa di Langa in Piedmont, Italy – Launching Spring 2021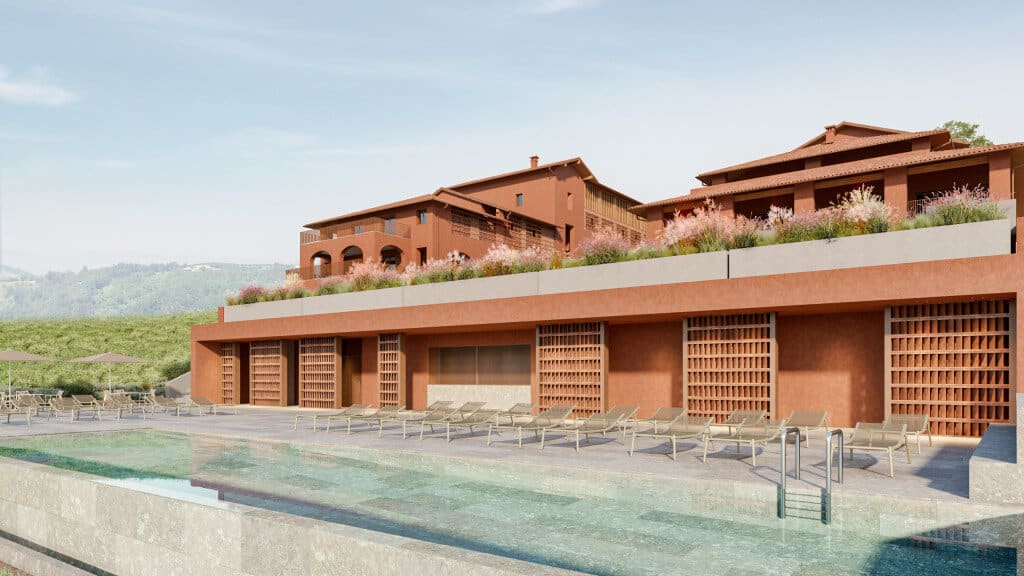 Beautifully located in northern Italy's Piedmont region, home to some of the world's finest wines and truffles, Casa di Langa is a sustainable luxury oasis that sits next to the vineyard landscapes of Le Langhe, a UNESCO World Heritage site! With only 39 rooms, you can expect an intimate boutique experience that combines traditional Piedmontese design, reflected in the soft, muted colors of the surrounding natural environment. Their sustainable practices are to be admired such as commitment to carbon neutrality and the use of 100% recycled water for irrigation. Along with stunningly luxurious surroundings, guests can also enjoy farm-to-table cuisine with a modern twist at Fàula Ristorante and take advantage of a wide range of immersive experiences. Connecting with nature through their 42 hectares is easy and enjoyable thanks to Casa di Langa's wine academy, cooking school, and all natural treatments at Lelòse Spa. 
#2 Villa Dagmar in Stockholm, Sweden – Launching Spring 2021
The new Villa Dagmar is named after Dagmar Bergsten, a trailblazing woman and ancestor of the owner's family, and located in the prestigious neighborhood of Östermalmstorg in Stockholm. This luxury hotel boasts 70 individually designed contemporary  rooms, as well as an organic food store, flower shop, spa, and signature restaurant serving Mediterranean-fusion cuisine. Villa Dagmar is a  gorgeous home away from home, housed in a vibrant late 19th-century Art Nouveau building, perfect for the modern traveler who seeks a space with authentic character. 
#3 The Londoner in London, England – Launching April 2021
Set in the bustling Leicester Square, The Londoner will soon be the world's first "super boutique hotel." It earns this titles thanks to its 16 stories, including six subterranean levels, 314 guest rooms, 35 suites, and a tower penthouse with cityscape views, all complete with fine curated artworks. Other hotel highlights include six restaurants and lounges, a rooftop bar with fire pits, an underground spa and swimming pool, as well as a two-screen cinema! The Londoner is also set to be one of the greenest hotels in the United Kingdom and will be employing pioneering methods of sustainable luxury. This five-star luxury oasis can be found right in the center of London, although you will feel miles away!
UNITED STATES: 
#4 Montage Big Sky in Montana – Launching Winter 2021
Montage Big Sky is only less than an hour's drive from Yellowstone National Park, and set within Big Sky's 3,530-acre Spanish Peaks enclave. This is certainly a winter wonderland, but this five-star hotel will be a year-round mountain paradise for outdoor enthusiasts! Montage Big Sky will feature 150 luxury rooms and suites, as well as 39 Montage Residences. All guests will enjoy unparalleled proximity to outdoor amenities such as ski-in, ski-out access to Big Sky's many acres. There will also be an onsite 18-hole Tom Weiskopf-designed golf course! 
Pendry properties are part of the sister brand to Montage Hotels & Resorts, so you can expect the same five-star attention to detail and service! Pendry Manhattan West is the brand's first NYC property and part of the 8-acre, 6-building mixed-use Hudson Yards development on Manhattan's West Side. This stylish hotel with feature 164 guest rooms, including 30 sites, a signature restaurant, lounge, and open-air terrace bar. The contemporary interiors equally mix Manhattan energy and California ease that's both vibrant and sophisticated, glamorous and laidback. The Pendry Manhattan West is designed for the modern luxury traveler with its convivial social space, emergent food concepts, inspired drinks and memorable art. 
#6 Pendry Chicago in Illinois – Launching Spring 2021
Another fabulous new Pendry property will be opening in Illinois! Pendry Chicago is set in the vibrant Loop area as a creative rebirth of the Burnham Brother's iconic Art Deco landmark famed for its Champagne bottle design. The hotel is beautiful both inside and out with over 300 guest rooms and suites, along with a signature restaurant and bar. You can relax in the middle of the Windy City thanks to Pendry Chicago's rooftop pool deck with incredible city views. Steeped in history dating back to 1929, there is a beautiful balance of the old and the new at Pendry Chicago, with contemporary and comfortable interiors that embody the spirit of the city!
Originally built as a 1920's artist village along Miami Beach's historic plaza, Esmé Miami Beach Hotel is wonderfully comprised of 8 buildings and features 5 restaurants and bars. This is a hidden gem in plain sight, with a link to the past, paving a way for future travelers to enjoy its splendors. There are 145 unique rooms that are artfully-detailed, each one a rich backdrop for whatever happenings you've got in mind. 
Pendry West Hollywood is another contemporary jewel opening soon on the iconic Sunset Strip in Los Angeles. The 149 guest rooms and 40 Pendry Residences offer bold, sophisticated and glamorous interiors. Guests will also have access to multiple food and beverage concepts by acclaimed Chef Wolfgang Puck, as well as a fun bowling ally, spa, and rooftop pool! The Pendry West Hollywood will be the place in LA for locals and tourists to enjoy pure luxury and entertainment. 
#9 Pendry Park City in Utah – Launching Winter 2021 
Pendry Park City is a spectacular ski-in, lift-out resort located in one of the most popular sky areas in the United States! Here you will find modern luxury on the mountain, famous for its pristine snow, summer wildflowers, and charming historic downtown. Park City, Utah is a town of alpine dreams, and also home to the famous Sundance Film Festival every winter. Pendry Park City is a modernist take on a traditional alpine lodge, with over 150 rooms and suites, along with fully serviced Pendry Residences ranging from studios to four-bedroom homes. And just on your doorstep, you have access to 7,300 acres of exceptional terrain, paired with all of luxury amenities including a sky valet, spa, fine dining, rooftop bar and pool! During the warmer months, guests can enjoy hiking, mountain biking, and outdoor concerts. You are also only a 35-minute drive from Salt Lake City International Airport, making the Pendry Park City easily accessible for travelers from either coast of the U.S.  
Last but not least, The Wall Street Hotel is a new kind of hotel, for a new kind of Wall Street in the Big Apple. This historic building is located along lower Manhattan's famed Wall Street and housed in the Tontine Building that originated as a coffee house in 1874! However, The Wall Street Hotel offers sleek interiors with 180 spacious rooms and suites. After a day of sightseeing and Broadway entertainment, guests can enjoy international cuisine in their JF Restaurant – led by Michelin-starred Chef John Fraser. Or they can choose to relax in the all-day lounge, Top Floor bar, and outdoor terrace with stunning views of the East River! The Wall Street Hotel will fuel guest exploration by offering complimentary use of Electric Scooters and Vélosophy Original Comfort Bikes, in addition to a great variety of in-room spa treatments from Zeel Spa for post-adventure relaxation.