On one of our first trips to Europe we decided to follow a friends recommendation to stay in a little-known town called Lucca Italy.   Arriving by train, we were astonished to see a Renaissance city complete with 60 foot walls surrounded by a 2.5 mile path a top the walls ideal for a loop on foot or on bike.
Our friends had suggested that we stay in  Lucca to explore the Tuscan region.  We didn't know anything about the town other that it was between Pisa and Florence.   The train station was right outside the southern walls so it was easy to reach by public transportation.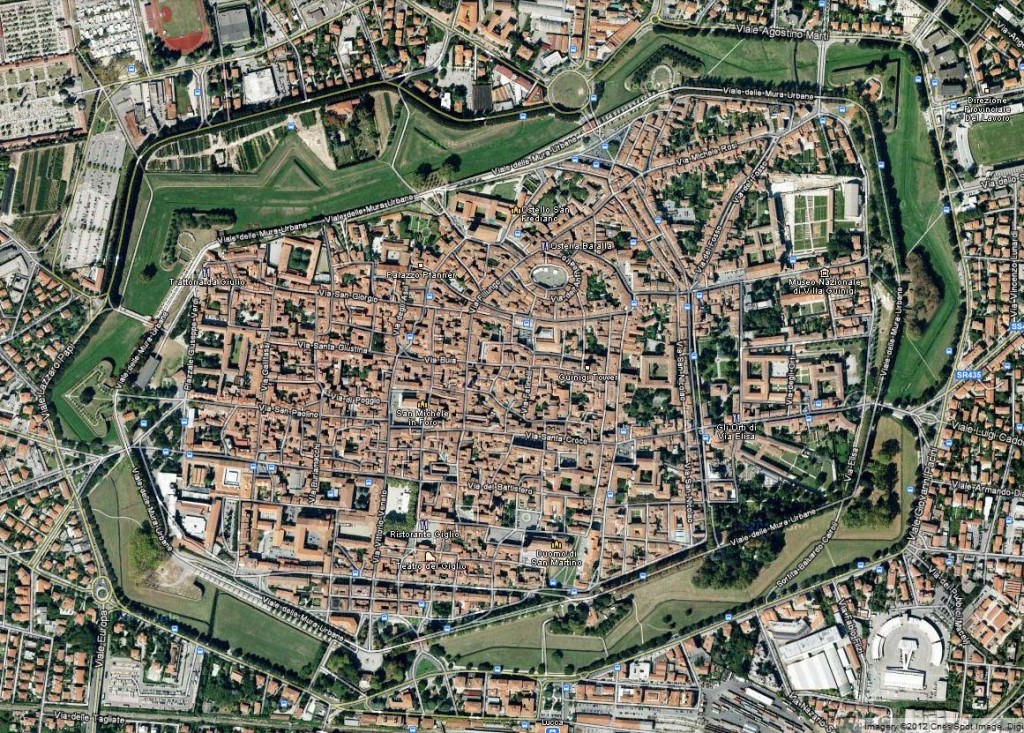 We decided to stay outside the city walls in a tranquil classical country estate called Villa La Principessa, which was the home and court of Castruccio Castracani (1281-1328), Lord and Duke of Lucca.  From the Principessa, it was a scenic 3 mile drive to Lucca's city walls.
Lucca is famous for its Renaissance-era city walls that have remained intact while so many other Tuscan towns saw theirs destroyed in past centuries. Lucca is located on a plain at the foot of the Apuan Alps and is less than half an hour from the Tuscan coast.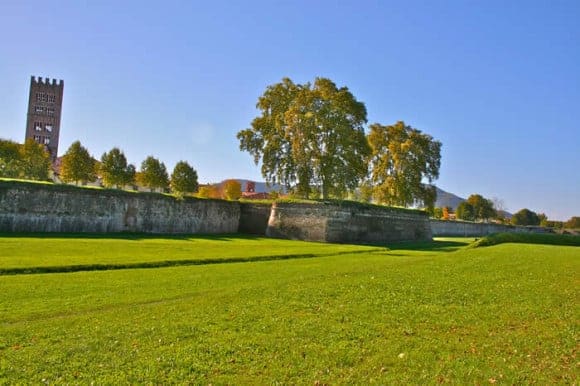 As the city grew and modernized, the walls that surrounded the old town were maintained. As the walls lost their military importance, the top of the walls became a pedestrian promenade. Today they are one of Lucca's attractions. The area around the walls is well taken care of, with green grass and trees everywhere along the walls.   Here you can enjoy a bike ride around the entire 2.5 mile perimeter, a stroll as you enjoy a gelato or simply a period to rest from sightseeing on one of the many shaded benches that line the main walkway.
We dropped off our bags and freshened up at little before we drove inside the city walls of Lucca and found a parking lot with a Parking Machine.   When we went to get a ticket we realized the machine was in Italian.   What seems like a simple task went horribly wrong when my husband put his credit card in the slot where the ticket was suppose to go and his card got stuck in the machine.  People started lining up to use the now-jammed machine. Here we were, not even five minutes in town and we were slowly creating a mob scene as people parked, came over the meter, and lined up behind us as we fiddled with the machine, trying to get our our card.  Someone suggested that we use a pair of tweezers or pliers.  Thankfully, one of the store owners was kind enough to loan us a pair of tweezers and out came the card.
We walked around a little and found ourselves in the center of Lucca near its famous open air square called Piazza Napoleone.  It was still early in the evening and we were hungry.  We sat at one of the trattorias nearby while enjoying the music from the concert resonating around this 13th century city with its perfect unspoiled architecture.  The woman who was singing sounded very familiar although I couldn't see who it was from the distance.  Until, I heard her sing "Don't Know Why", and said to my husband that's Norah Jones.  If we stood on our chairs, we could look over the wall and see her performing, about 30 yards away. What an amazing evening!
We were there during week-long July Lucca Summer Music Festival.  I was excited when I saw the lineup of musicians that were performing. Ricky Martin and Elton John were scheduled to perform in the next few days.  We bought tickets for the Ricky Martin concert the next day.  We stood literally 30 feet away from Ricky.  Who would of known that in the middle of this town in Italy they had this event going on?
We spend the next few days walking around this charming town and exploring all the piazza's, cathedrals,  and churches.
What to See
Piazza dell'Anfiteatro. This charming piazza enables one to imagine Lucca in ancient times. It was built around an ancient Roman amphitheater, while the arena is long gone, its oval shape is a reminder of its classical heritage.  You can enter through one of the four entrance ways to emerge into a beautiful circle of outdoor trattoria restaurants, shops, art galleries, and apartments around the edge of the piazza.   I happen to wander into a local artist store and watched while he painted scenes capturing the piazza.  I purchased two of his painting for our house.
Piazza of San Michele has hosted a market since Roman times when it was the forum. Today, it's dominated by the beautiful Roman Catholic basilica Church of San Michele in Foro.  Towering above its fancy romanesque facade is the Archangel Michael waiting to flap its wings, so during festivals they can flap away wildly or in high winds they can be retracted.
Basilica of San Frediano  is named after Fridianus, a sixth-century Irish bishop who built the first church on this site. The current structure dates from the middle of the 12th century.  Inside the church to the side chapel of St. Zita, an important religious figure in Lucca. Her mummified body is displayed in a glass cabinet; you can see her face and hands through the glass. When her body was exhumed in 1580 it was found to be intact, barely touched by the effects of decomposition.
Cathedral of St. Martin with its precious relic of the Sacred Countenance. Traditional legend says the wood crucifix with the image of Christ was carved by Nicodemus, a disciple of Christ, and the sacred cross was miraculously conveyed to Lucca in 782.  Rick Steves' invaluable guidebook describes it as "… an entertaining mix of architectural and artistic styles." It is eye-catching. If you take time to look carefully at the facade, especially the upper levels, you will see numerous animals, a variety of column styles, and depictions of Bible stories.
Clock Tower is situated in the Fillungo street which is one of the main streets of Lucca. This is the tallest tower of the city and its clock is active since 1390. After climbing the 207 steps of the stairs to the peak to admire the panorama of the city of Lucca and the surrounding mountains, it is possible to observe the eighteenth-century manually wound clockwork of the public clock, which is one of the most interesting, and still functioning specimens in Europe.
Guinigi Tower built around the end of the 1500, is a typical palace in Roman-Gothic style. Thanks to its height the tower offers a magnificent view and is also a city symbol because of the tree planted at the top.  The Guinigi Tower or (The Torre Guinigi) is the most important tower of Lucca.
There is much to be said for Lucca. Perhaps most unique are the intact fortress walls that surround the city that have been revamped into a pedestrian walkways. Secondly, while it is a great city to visit, it remains relatively unknown so there aren't the crowds that hamper enjoyment of Florence or Sienna. We thoroughly enjoyed our few days in Lucca.  There were an amazing number of interesting sites and piazzas in Lucca, more than I could possibly list here. Lucca is centrally located making it easy to take day trips to both Pisa and Florence. So while I can whole heartily recommend Lucca as the best place to stay in Tuscany, I sort of hope that most of you won't listen so that it will remain unspoiled for my next visit.