The Loews Regency New York Hotel sets the precedent for a luxurious stay in the bustling Big Apple. Travelers know they can expect expert service and amenities while enjoying the close proximity of major landmarks such as Central Park. With 379 state-of-the-art guestrooms and suites, Loews Regency New York Hotel presents you with the chance to take on New York City with sophistication, with their attentive staff as your guide.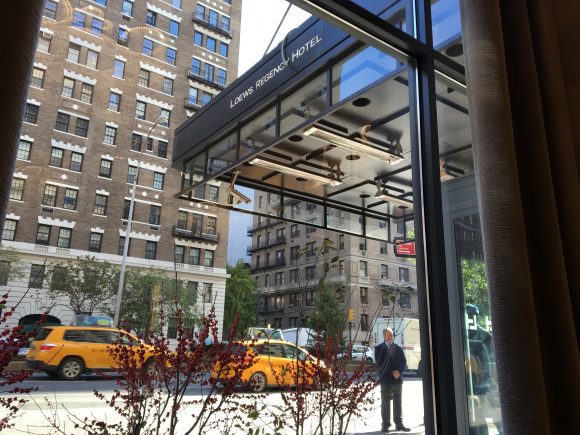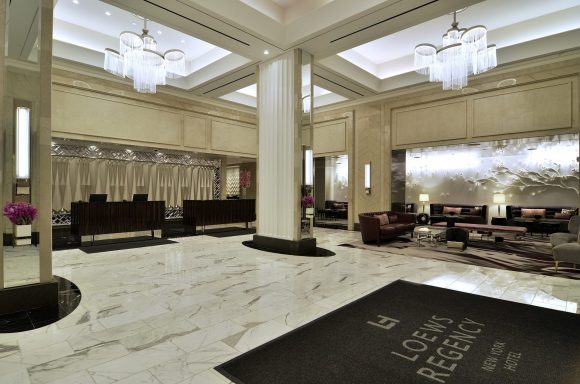 Whether you're interested in a room or a deluxe suite, Loews Regency New York is dedicated to making your trip luxurious. All rooms contain a convenient workspace, high-speed internet, flat-screen TVs (even in the bathrooms!), and, most memorably, soft, Frette linens. The Superior King, Luxury King, and Luxury 2 Doubles are a great way to upgrade your experience.  For breathtaking views of Park Avenue or 61st Street, the Avenue King, Avenue 2 Double, Grand Studio King, and Grand 2 Double are available.
For a true, first-class arrangement, there are 58 expansive suites to choose from. Beautifully designed with sleekness and style in mind, the views and amenities ensure spectacular views in the Terrace/Atrium and Signatures suites. You can go for the Nate Berkus Apartment Suite for a more retro vibe or pick the art-adorned Pop Art Signature Suite; whatever your preference, Loews Regency New York is guaranteeing a wide selection of choice depending on the nature of your visit, and the length of your stay.
Those planning an event at the Loews Regency New York Hotel have chosen well; with experienced Meeting Planners and high standards of service, your private meeting or celebration will be coordinated with the most effective tools available. The hotel offers different packages for weddings as well as the pre/post events surrounding them. The accompanying services include benefits at the spa and a list of carefully selected partners whom you can rely on for details such as flower arrangements, photography, and transportation (to name a few). Four meeting rooms are available for business meetings that can also be used for private dining.
A busy day in the big city must be accompanied by unique eats, naturally starting with breakfast. The Regency Bar & Grill helps you begin the day with a hearty tradition known as "Power Breakfast". A small trip back in time sets the scene for the kind of theme that goes along with such a name: in the mid-70s, the founder of Loews Regency New York Hotel held breakfast for the political leaders and businessmen during New York City's financial crisis. They would meet there in the mornings before heading to work, which often meant powerful people were discussing details that later shaped New York's economy in that very room. Today, it's a great place to people-watch and fuel up for whatever tasks or adventures you're about to face. The Regency Bar & Grill is also perfect for enjoying classic food at lunch or dinner. Should you find yourself in the mood for a drink, the Regency Bar is an extension of the restaurant located just off the hotel lobby. There is also the Lobby Lounge, a spot where folks can go to relax, talk business, or people watch.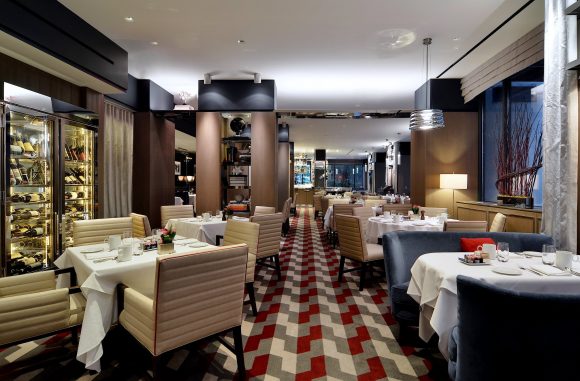 ­­­­­­­­Explore a range of exquisite services, starting with the attentive concierge, the Mercedes Car service, and special programs for kids. For fitness, you can enjoy the amenities at the hotel which include the invigorating fitness center, private health assessment, and personal training sessions, or, you can arrange to have a yoga or Pilates class next-door in beautiful Central Park!
The spa treatment at Loews Regency New York is more than just a day of self-care; the Julien Farel Hair Care & Day Spa offers you the VIP experience. Celebrated stylist Julien Farel is renowned in for his work with celebrity clientele in New York, Miami, and Cabo San Lucas (Mexico).
As the pièce de résistance, Loews Regency New York Hotel provides its guests with special offers and packages. Some of these include the Stay Longer, Save More offer, saving clients up to 20% during a three-night stay. During longer trips, one should consider the Daily $75 Food Credit, granting guests 75 dollars of Food and Beverage credit per night. There is also a smaller $25 Food Credit Package, the Ultimate Shopping Package, the Ultimate Proposal Package, and even a Girls' Night in Extra Perks Package! The latter is an unexpected twist on Valentine's Day, involving lots of bubbly champagne, luxurious spa treatments, and movies!
LOEWS REGENCY NEW YORK 540 Park Avenue & 61st Street New York, New York, 10065
Save
Pin This!