The bright red tones of Jaleo restaurant invites the passerby with a warm glow reminiscent of Spanish culture. Renown for the exquisite machinations of the chef, Jose Andres, Jaleo offers a variety of Spanish dishes with a modern twist in the traditional form of Tapas.
Tapas are best defined as small, tasty dishes meant to be shared in groups. They allow the customer to eat a wide variety of foods without getting unpleasantly full. To get the authentic experience, one usually has to travel a great distance to Spain, however, Jaleo allows you to enjoy Tapas of the best quality in Bethesda, Maryland.
The restaurant even has two glass-covered foosball tables at Jaleo in Bethesda—feature characters designed by Andrés. Guests can order food and eat and play at the same time.
For our meal, we started with Manchego cheese, jamon serrano, and jamon iberico. Manchego is a hard cheese with a slightly nutty flavor that is common all across Spain.  The older a cheese is cured, the better the taste.
The jamon serrano and jamon iberico are cured, salty meats that commonly accompany manchego, but they are also eaten often in flautas, or small sandwiches, which we ordered as well. The Flautas at Jaleo contain the delicious cured ham from the legendary acorn-fed iberico pigs of Spain, olive oil, and chopped tomatoes.
Next, we ordered the ham croquettes (or croquetas) as they are called in Spanish. Give me a good old croqueta any day! Croquetas are made of a thick bechamel usually containing flecks of serrano ham (though chicken, fish, and meat are also commonly used), coated in breadcrumbs and deep fried. They are a meal in themselves, that is, if you eat enough of them.  Which I did of course, since I ordered two servings!
Like many Spanish dishes, the croqueta was born out of necessity, when Spain was suffering one of its many periods of hunger, resourceful cooks had to invent good food from basic raw materials.
While I was devouring all the croquettes, the others ordered Fried egg with Caviar "Huevo frito con caviar."  It's a fried organic egg topped with white sturgeon caviar.  Both my husband and daughter were besides themselves with this dish.
Jaleo is my favorite dining experience in Bethesda, Maryland, apart from the most excellent food, I love the ambience of the restaurant and service is impeccable.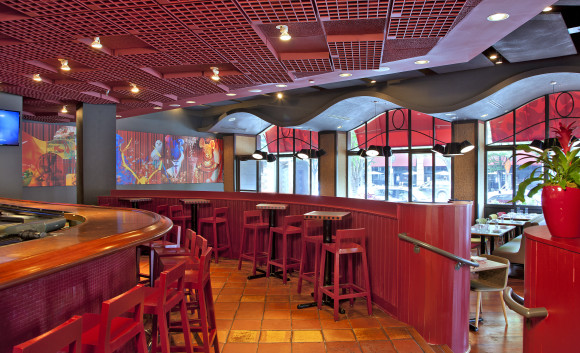 Chef Jose Andres has a magical take on Tapas.  His restaurant in LA, The Bazaar, has more of an avant garde conceptual Tapas line-up, while Jaleo has both traditional and contemporary dishes in a stylish, casual environment that promotes a convivial dining experience.  It's a great place to take friends, and its special enough for a romantic evening.
Which tapas would you pick?
JALEO 7271 Woodmont Ave, Bethesda, MD 20814